Effect of Charcoal on Soil Physico-Properties in Ndele, Rivers State: Implication for Organic Farming
Keywords:
Heavy metals, Immobilization, Organic carbon, pH, Total nitrogen
Abstract
The study was aimed at evaluating effect of charcoal on the Physico-chemical properties of Ndele soil .The study was conducted during the first farming season at the Teaching and Research Farm Ignatius University of Education Ndele Campus. The design adopted was randomized complete block design (RCBD) , topography was block , five treatments, 0,2, 4,6 and 9 tonsha-1 charcoal . The experimental area was cleared, seed beds were constructed before grounded charcoal was measured and applied in each of the experiment units and each treatment was replicated three times. The duration for experiment was six weeks and soil samples were collected using soil augur at the depth of fifteen centimeters (15cm). The collected samples were taken to laboratory for analysis. The data generated were subjected to analysis of variance using SPSS version and means separated with Duncan multiple range test. It was observed that organiccarbon, moisture, phosphorus (P), Manganese (Mn), Magnesium (Mg) and Iron (Fe) content of the soil increase as the level of treatment increased from 2 ton ha-1 to 6 tons ha-1 charcoal. Potassium (P), Zinc (Zn) Calcium (Ca), Boron (Bo) and Chlorine (Cl) content of the soil reduce as the quantity of treatment increased. It was also observed that Fe was not significantly (p< 0.05) different among treatments .Higher treatment 8 tons ha-1had no significant effect on Physico- chemical properties measured. Finally it was observed that the range of 4 tons ha-1 and 6tons ha-1charcoal gave the best concentration of the tested Physico- chemical properties of the soil. It concluded that charcoal should be used to improve the fertility of the soil in Ndele but higher application of 8 tons ha-1 should be avoided.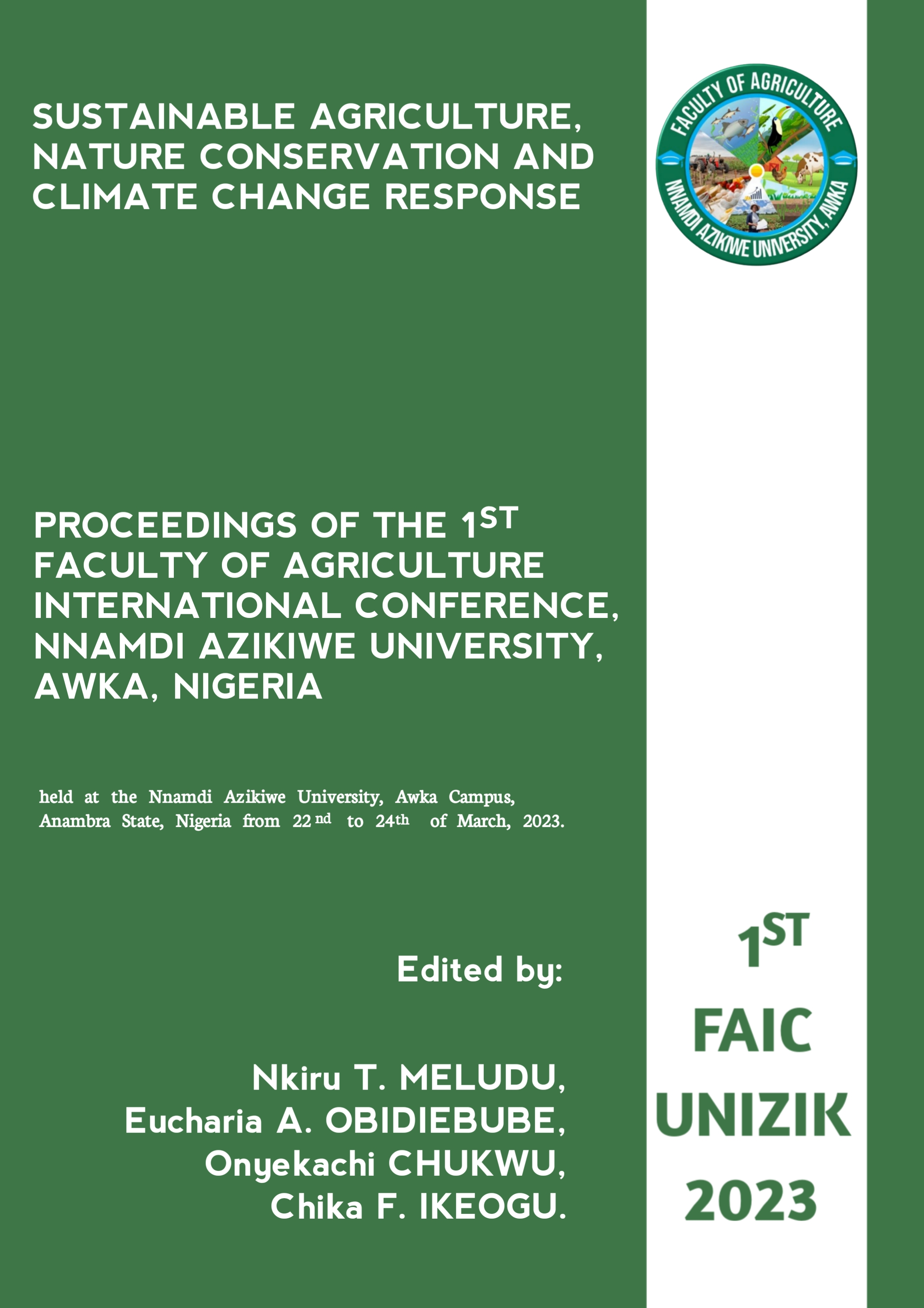 Downloads
How to Cite
Ukpong, G. U., & Egbulefu, G. U. (2023). Effect of Charcoal on Soil Physico-Properties in Ndele, Rivers State: Implication for Organic Farming. E-Proceedings of the Faculty of Agriculture International Conference, 103–107. Retrieved from https://journals.unizik.edu.ng/faic/article/view/1900