Effect of Different Live Mulches on Soil Physicochemical Properties and Yield of Okra in Nnamdi Azikiwe University, Awka, Nigeria
Keywords:
Soil properties, Live Mulches, Calopogonium mucunoides, Wild ground nut, Pumpkin, Melon, Cowpea
Abstract
This experiment was carried out in the Department of Soil Science and Land Resources Management Research Farm, Faculty of Agriculture, Nnamdi Azikiwe University Awka, to determine the effect of different live mulches on physico-chemical properties of soil and yield of okra. Treatments include cowpea + Okra (CO), Melon + Okra (MO), pumpkin + Okra (PO), Wild ground nut + Okra (WgO) and the control (O). The experiment was laid in a Randomized Complete Block Design (RCBD). Plant height, number of leaf and leaf area index were collected at 4, 6 and 8 weeks after planting. Soil samples were collected, air dried, sieved and analyzed for physical and chemical properties using outlined standard and scientific methods in the laboratory. Data collected from field and laboratory was subjected to Analysis of Variance while significant means were separated using Fishers Least Significant Difference at 5%. Results indicated that live mulches conserved soil moisture and reduced bulk density of the soil while increasing soil pH, Organic matter, nitrogen, phosphorus and most basic cations (Ca, Mg, K, Na) tested. It also improved growth and development of the crop (okra). Among the live mulches tested, Calopogonium mucunoides(wild ground nut) had better capability of improving soil properties and the growth of okra when compared to other live mulches.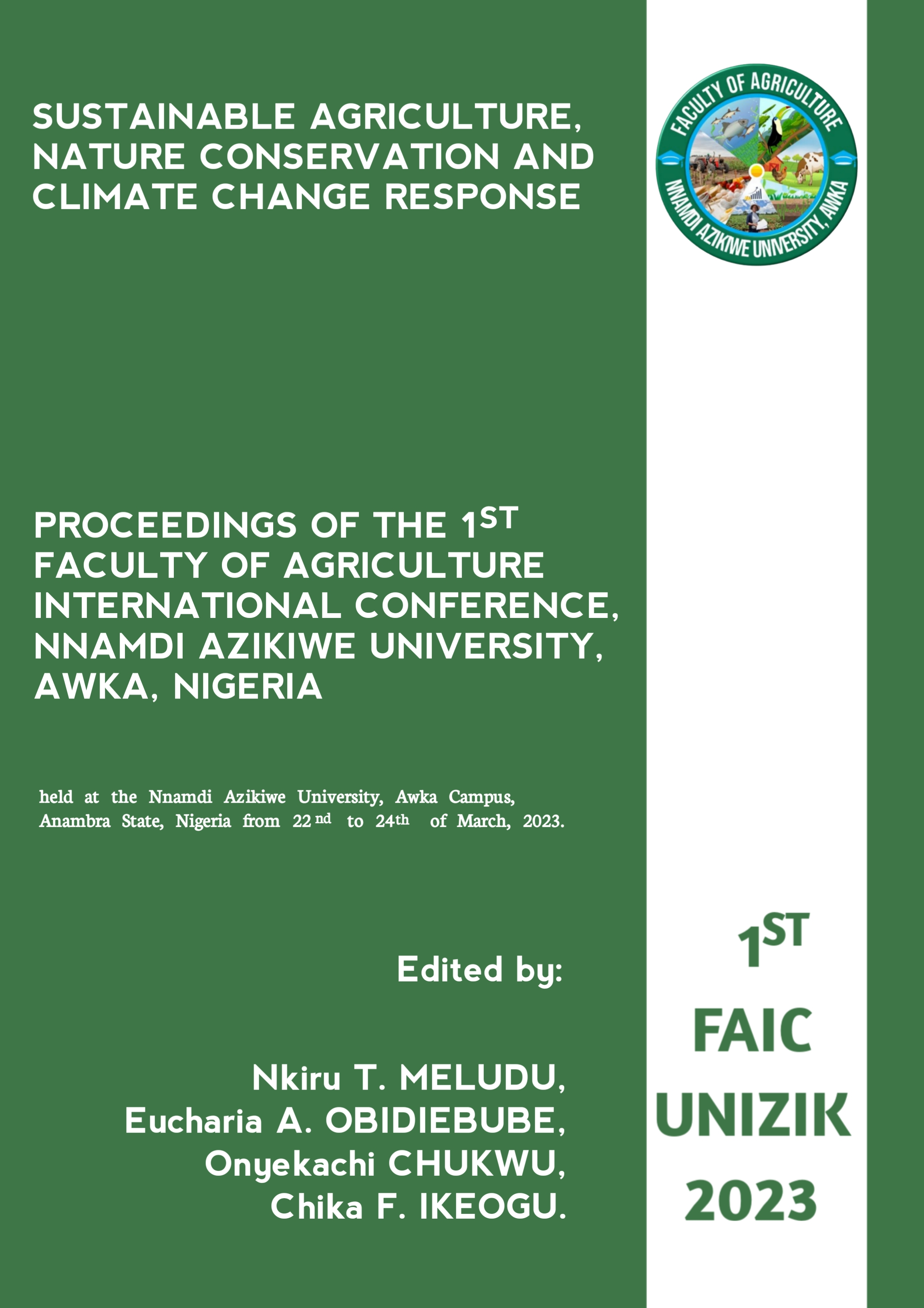 Downloads
How to Cite
Onunwa, A., Nwankwo, J. E., Nwaiwu, C. J., Nwaigwe, C. E., & Uko, I. (2023). Effect of Different Live Mulches on Soil Physicochemical Properties and Yield of Okra in Nnamdi Azikiwe University, Awka, Nigeria. E-Proceedings of the Faculty of Agriculture International Conference, 115–120. Retrieved from https://journals.unizik.edu.ng/faic/article/view/1903