Determination of some Anatomical Properties of Acetylated Bamboo (Bambusa vulgaris Schrad.) for Construction Applications
Keywords:
Bambusa Vulgaris, Fibre length, Fibre diameter, Lumen width, Cell wall thickness
Abstract
Due to its high specific strength and renewability, bamboo fiber has generated a lot of interest. At the University of Ibadan, Nigeria, five matured bamboo plants (Bambusa vulgaris) with comparable heights and internode counts were cut down at a height of 30 cm above the ground. Modified bamboo test samples with dimensions 20mm (tangentially) x 60mm (longitudinally) x 5mm (radially) as well as the unmodified test samples with the same dimensions from each individual culm were used for this study. Test samples were sliced into match stick size splints with one side blade and placed into test tubes. Splints were macerated with an equal volume (1:1) of 10% glacial acetic acid and 30% Hydrogen Peroxide (H2O2) at 100±2˚C, the macerated slivers were boiled in a water bath at a temperature of 100°C for 10minutes. Results show that rate of reaction mean range between 0.95 to 1.41% with a marked effect along culm height. Fibre length shows no significant differences between the treated and the untreated samples with a mean of 1.78 to 2.44mm. The fibre diameter, lumen width and cell wall thickness of bamboo showed positive correlation between the treated and the untreated bamboo samples with mean of 9.65 to 13.24μm, 2.35 to 4.62μm and 7.32 to 9.1μm respectively, along the sampling height. The strength of the bamboo fiber is relatively greater among the plant fibers and its superior mechanical properties originate from the intricate lamellar structure of its cell wall is excellent for construction purposes.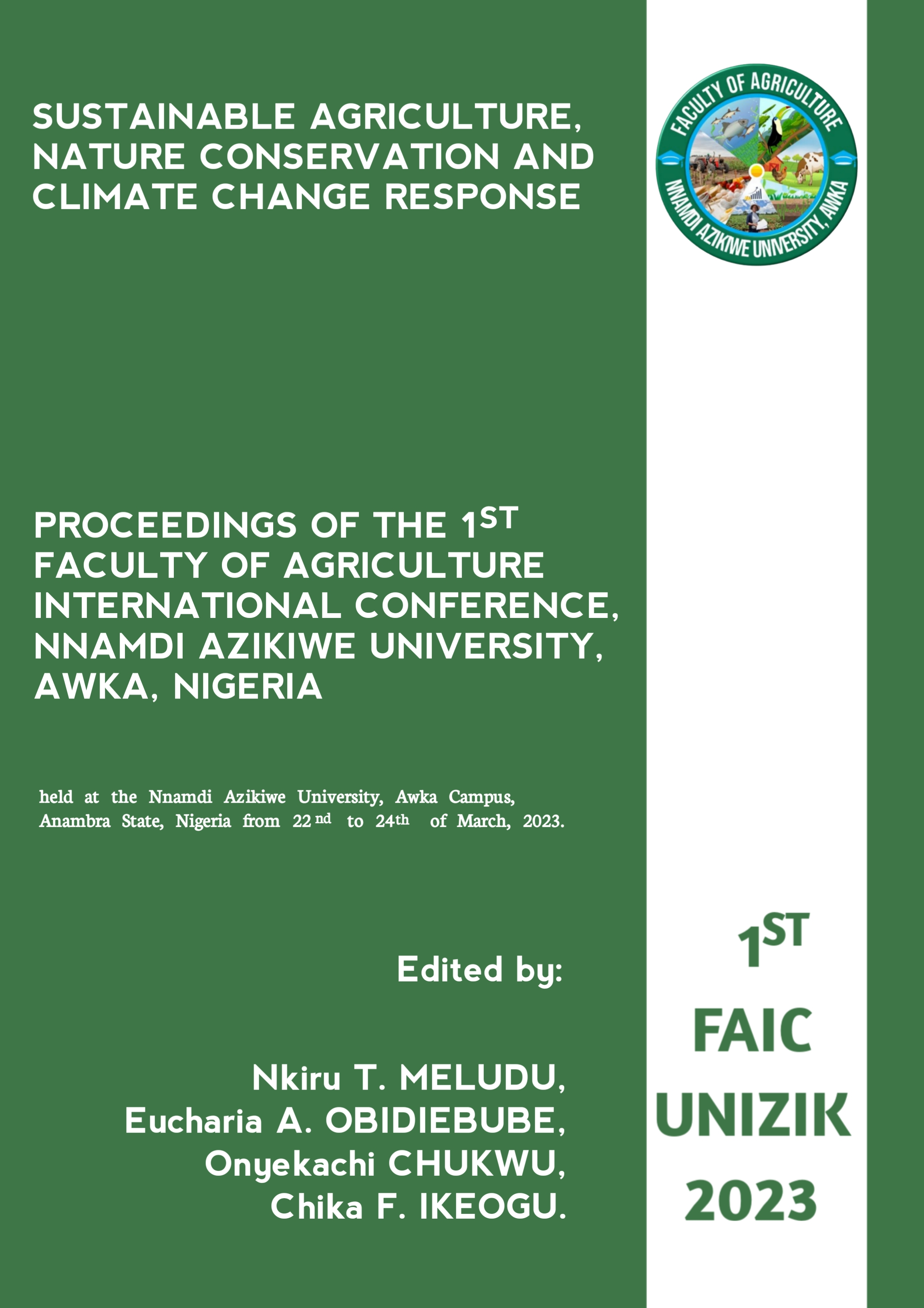 Downloads
How to Cite
Ajayi, J. A., Riki, J. T. B., & Ogunsanwo, O. Y. (2023). Determination of some Anatomical Properties of Acetylated Bamboo (Bambusa vulgaris Schrad.) for Construction Applications. E-Proceedings of the Faculty of Agriculture International Conference, 138–145. Retrieved from https://journals.unizik.edu.ng/faic/article/view/1909