Wildlife Conservation Awareness Level Among Secondary School Students in Imo State, Nigeria
Keywords:
Wildlife Conservation, Awareness, Curriculum, Outreach, Young children, Secondary school
Abstract
Wildlife has suffered a lot of threats in the hands of some humans because of a lack of conservation awareness. An investigation about the level of this awareness was carried out among senior secondary school students in three different secondary schools located at Owerri West Local Government Area of Imo State, Nigeria. These schools were Ihiagwa secondary school (ISS), El-Betty Model secondary school (EMSS), and Nekede secondary school (NSS). Random sampling was used to select thirty (30) students from each school and a total of (90) questionnaires were administered. Data were collected on personal characteristics of respondents (age, sex, and class) and conservation awareness. Descriptive statistics was used for analyzing the data obtained. The results obtained indicated that the highest respondents (73.3%) fall within the age bracket 13-16 years old. (8.9%) falls within the age bracket 9-12 years old, while none of the respondents (0.0%) fall into the age bracket 6-8. (57.8%) were females while (42.2%) were males. (37.8%) were from senior secondary one (SSI) while (31.1%) were from both senior secondary two (SS2) and senior secondary three (SS3) students respectively. The result of conservation awareness showed that (>70%) of the respondents were not aware of wildlife conservation (P<0.05) while (<30%) were aware (P>0.05). The conclusion of this study shows that majority of secondary school students were not aware of biodiversity conservation. This study recommends that conservation awareness education; mostly practice should be incorporated into the secondary school curriculum, to start on time to teach young children their responsibilities regarding wildlife conservation. Also to create conservation awareness in all levels of education, through outreach, posters, news broadcast, interviews, and public lectures.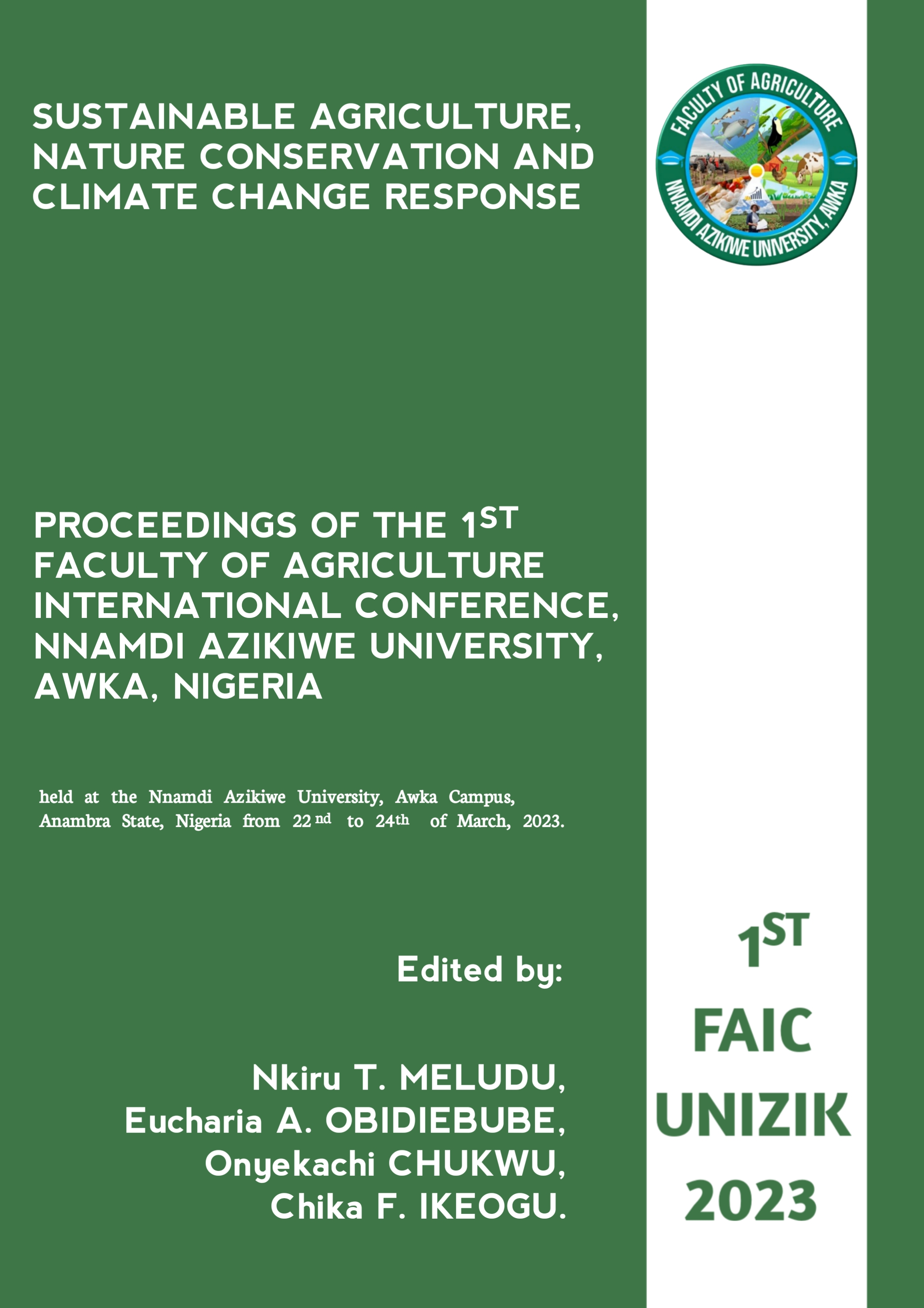 Downloads
How to Cite
Okeke, A. (2023). Wildlife Conservation Awareness Level Among Secondary School Students in Imo State, Nigeria. E-Proceedings of the Faculty of Agriculture International Conference, 150–155. Retrieved from https://journals.unizik.edu.ng/faic/article/view/1911