Impact of Different Land Uses on Soil Erodibility Assessed using selected Indices in Awka, Southeastern Nigeria
Keywords:
Erodibility, Grassland, Impact, Indices, Landuse
Abstract
Land use is considered to be one of the drivers of many processes of environmental change that includes erosion. The impact of land use on soil erodibility were evaluated at Nnamdi Azikiwe University, Awka. Five land use types (forest land, rice farm, cassava farm, grassland and plantain farm) were used for this study. Soil samples were collected from each of the land use in five (5) replicates at 0-20 cm depth. Collected samples were subjected to laboratory analysis. Selected erodibility indices such as dispersion ratio (DR), clay dispersion index (CDI), clay flocculation index (CFI), clay ratio (CR) were used to assess land use impact on soil erodibility. Results obtained were subjected to data analysis using analysis of variance and Pearson's correlation analysis. Soils of the studied area were generally acidic and had a sandy loam texture. Bulk density and aggregate stability were higher under rice farm. Moisture holding capacity was higher under grassland and lower under plantain farm. Higher organic carbon, CEC and available phosphorus were obtained under grassland when compared to other land use types. The higher the dispersion ratio (DR) and clay dispersion index (CDI), the higher the ability of the soil to disperse while the higher the clay flocculation index (CFI), the better aggregated the soil becomes. Higher CFI was obtained under cassava farm while plantain farm had the highest CR value. This study encourages land use practices that improve the physical and chemical conditions of the soil so as to reduce susceptibility to erosion.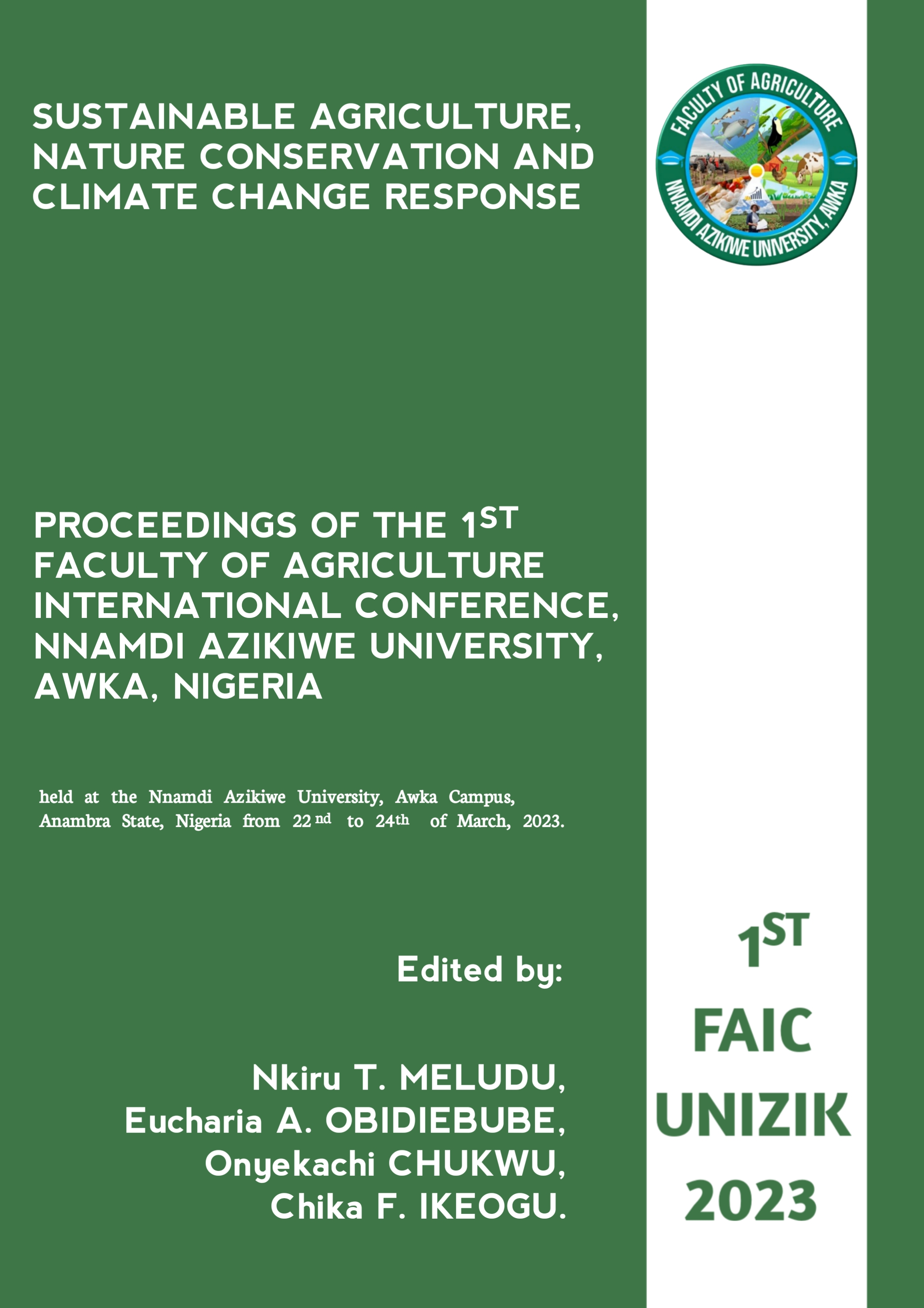 Downloads
How to Cite
Nwosu, T. V., Orji, O., Nnabuihe, E. C., Igboka, C. R., & Nwaiwu, C. J. (2023). Impact of Different Land Uses on Soil Erodibility Assessed using selected Indices in Awka, Southeastern Nigeria. E-Proceedings of the Faculty of Agriculture International Conference, 156–160. Retrieved from https://journals.unizik.edu.ng/faic/article/view/1912