Correlating Forest Cover Loss with Land Surface Temperatures of Nnamdi Azikiwe University, Awka using Remote Sensing Methods
Keywords:
Forest cover, Forest loss, Land surface temperature, Remote sensing, UNIZIK
Abstract
Human pressures, combined with changing hydrology and land resources, have a distinct effect on the carbon chain and ecosystem resilience. The increase in urban areas contributes significantly to the loss of vegetation cover (VC), which accelerates carbon emissions, increasing land surface temperature (LST) and global warming. This study used remote sensing and GIS techniques to estimate the Land Use/Land Cover (LU/LC) changes by focusing on VC loss and its impact on LST and carbon emissions in Nnamdi Azikiwe University during 2001-2021. The study's findings confirmed an reduction of VC of about -39% from 2001- 2011 with around 27.2% increase of vegetation cover loss, and corresponding LST rise from 22˚C to 35˚C. The trends were continuous, with a decrease in VC loss by -30% during 2011–2021, contributing 26˚C– 42˚C LST rise in the study area. Results indicate that the massive amount of carbon attracted the sun's rays due to the VC loss and raising the surface temperature by 20˚C since 2001, which directly contributing to global warming. Thus, to mitigate climate hazards, efforts to slow urbanization to reduce pollution gateways and increase carbon sinks through afforestation will significantly contribute to protecting humanity from global warming.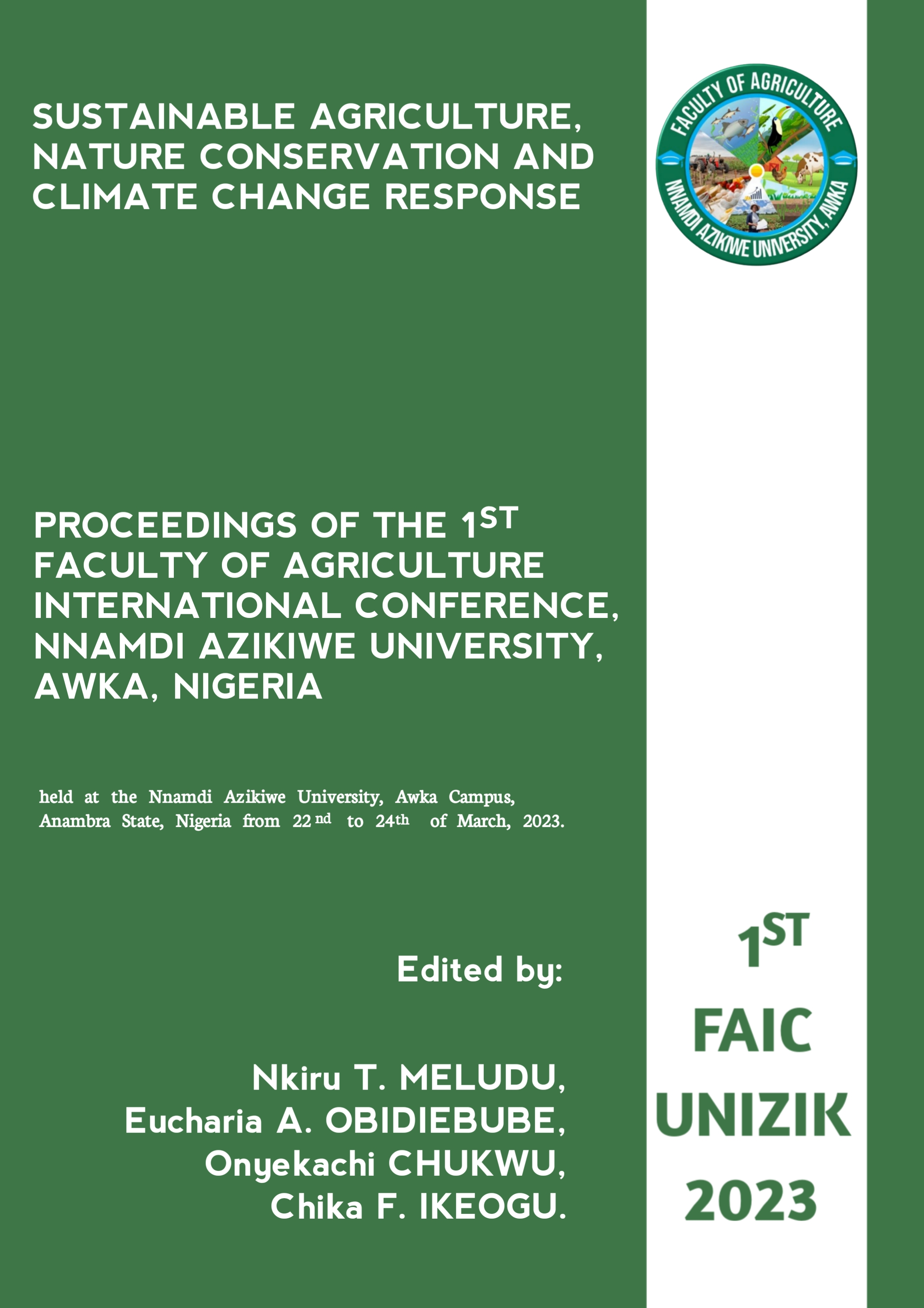 Downloads
How to Cite
Ogbodo, J. A., Chukwufulike, L. A., Umeh, C. L., & Odey, P. O. (2023). Correlating Forest Cover Loss with Land Surface Temperatures of Nnamdi Azikiwe University, Awka using Remote Sensing Methods. E-Proceedings of the Faculty of Agriculture International Conference, 161–164. Retrieved from https://journals.unizik.edu.ng/faic/article/view/1913