Influence of Organic Fertilizers on the Growth Performance of Eucalyptus torilliana Seedlings in Nasarawa State, Nigeria
Keywords:
Eucalyptus torilliana, Fertilizer, Seedlings, Forest Plantation
Abstract
The study aimed to investigate the influence of organic fertilizers on the growth performance of Eucalyptus torilliana seedlings in Nasarawa, Nigeria. Seeds were sown in germination boxes filled with topsoil. At four weeks after germination, 240 seedlings were randomly selected and transplanted into polythene pots filled with 1000 g of top soil. After two weeks of acclimatization, 5 g and 10 g each of poultry manure and cattle dung and 0 g of control were applied as treatments. The experiment was laid out in a completely random design with four treatments. Each treatment consists of 60 experimental pots. Seedling variables such as plant height, number of leaves, leaf area, collar girth, leave length, and leave width were taken fortnightly. The collected data was subjected to an analysis of variance at p <0.05. Results indicated that organic fertilizers significantly (p <0.05) improved the growth of E. torilliana seedlings over the control. The highest mean plant height (9.24±2.29a) was recorded on seedlings treated with poultry manure + cattle dung. Seedlings treated with 10 g of poultry manure produced the greatest mean collar girth (2.05±0.35a). The best mean number of leaves (9.65±5.62a) was obtained in seedlings treated with poultry manure and cattle dung. There were significant differences (p<0.0.5) in plant height) from week 3 (6.33±1.53f) to week 8 (10.10±1.83a). Poultry manure plus cattle dung performed better than cattle dung, while control performed the least. It is recommended that the application of poultry manure and cattle dung for proper growth of E. torilliana should be encouraged for plantation establishment.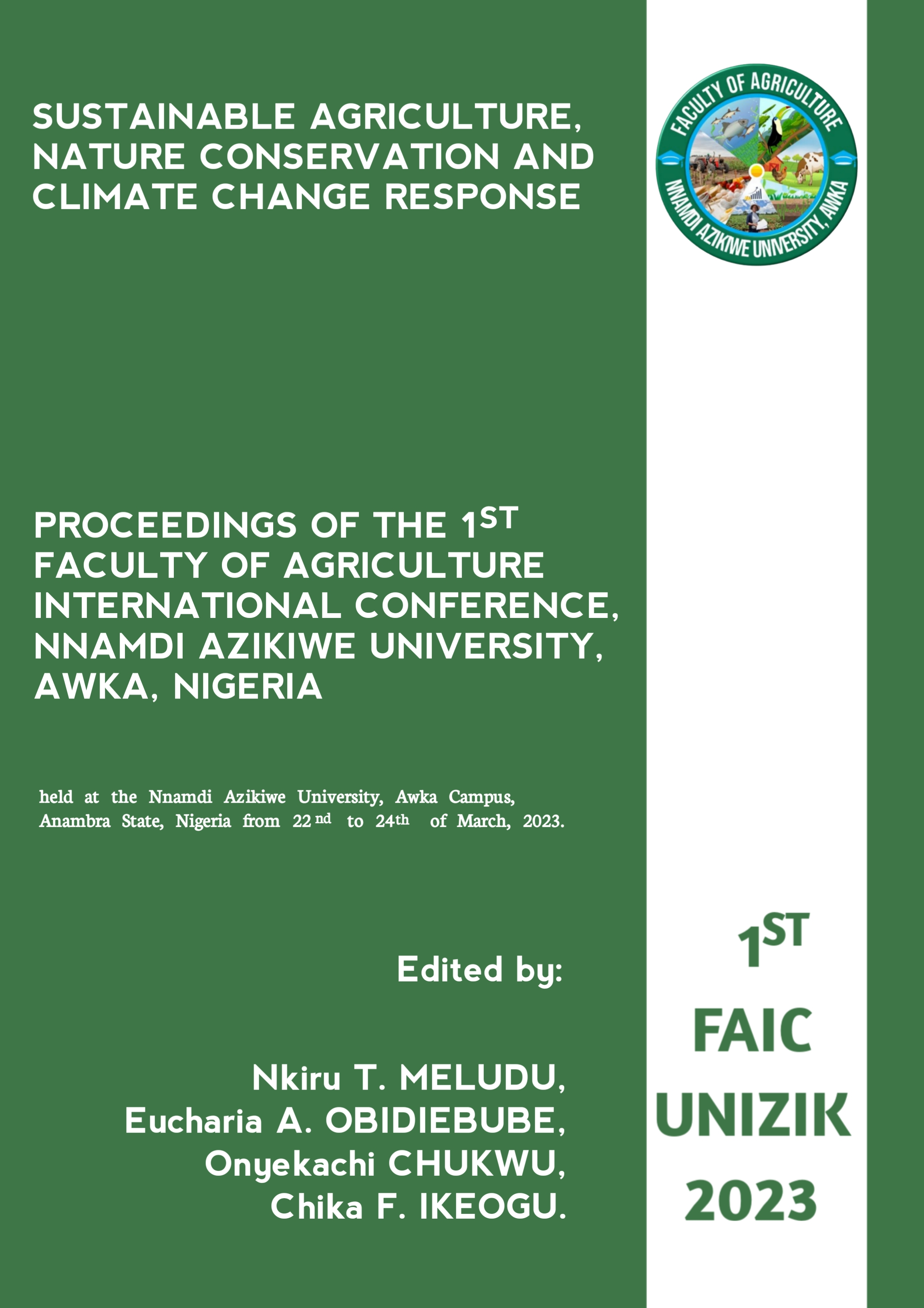 Downloads
How to Cite
Kuje, E., Agera, S., Japheth, H., Soba, T., & Ndagi, H. (2023). Influence of Organic Fertilizers on the Growth Performance of Eucalyptus torilliana Seedlings in Nasarawa State, Nigeria. E-Proceedings of the Faculty of Agriculture International Conference, 171–176. Retrieved from https://journals.unizik.edu.ng/faic/article/view/1917