Sensory Evaluation and Physicochemical Qualities of Maize-Based Flaked Snacks Complemented with Mucuna Pruriens Seed Flour
Keywords:
Maize, Mucuna, Snacks, Flour, Complement
Abstract
The objective of this study was to produce Maize-Mucuna pruriens seed flaked snacks and evaluate their consumer acceptability and physicochemical properties. Maize was cleaned, tempered, decorticated, milled and sieved to obtain maize flour. Mucuna pruriens seed was soaked (twice for 6 h respectively with change of water), dehulled, boiled (1 h), dried (70ºC) and milled into flour. The five Maize-Mucuna seed flour ratios were formulated as follows: 95:5 (EFA), 90:10 (EMU), 85:15 (PRO), 80:20 (UZY) and 100:0 (ABC – control). The snacks proximate composition, functional and sensory qualities were evaluated. With the addition of Mucuna pruriens seed flour the moisture content of the samples had no significant difference (p > 0.05) while significant increase (p < 0.05) existed in the ash and protein contents. Sample with 90:10 Maize:Mucuna flour (EMU) had the lowest value of 7.20% while sample with 80:20 Maize:Mucuna seed flour (UZY) had the highest protein value of 11.59%. Swelling power increased significantly (p < 0.05) with inclusion of Mucuna pruriens seed while water absorption capacity decreased significantly (p < 0.05). Sample with 80:20 Maize:Mucuna flour (UZY) had the lowest water absorption capacity (183 g/ml). The control sample ABC (100:0 Maize:Mucuna) had the highest overall acceptability score (8.33) and significantly differed from the other samples. Inclusion of Mucuna pruriens seed significantly reduced the overall acceptability of the snacks. This research showed that maize-based snacks could be complemented with up to 20% Mucuna pruriens seed flour which could help decrease protein-energy malnutrition.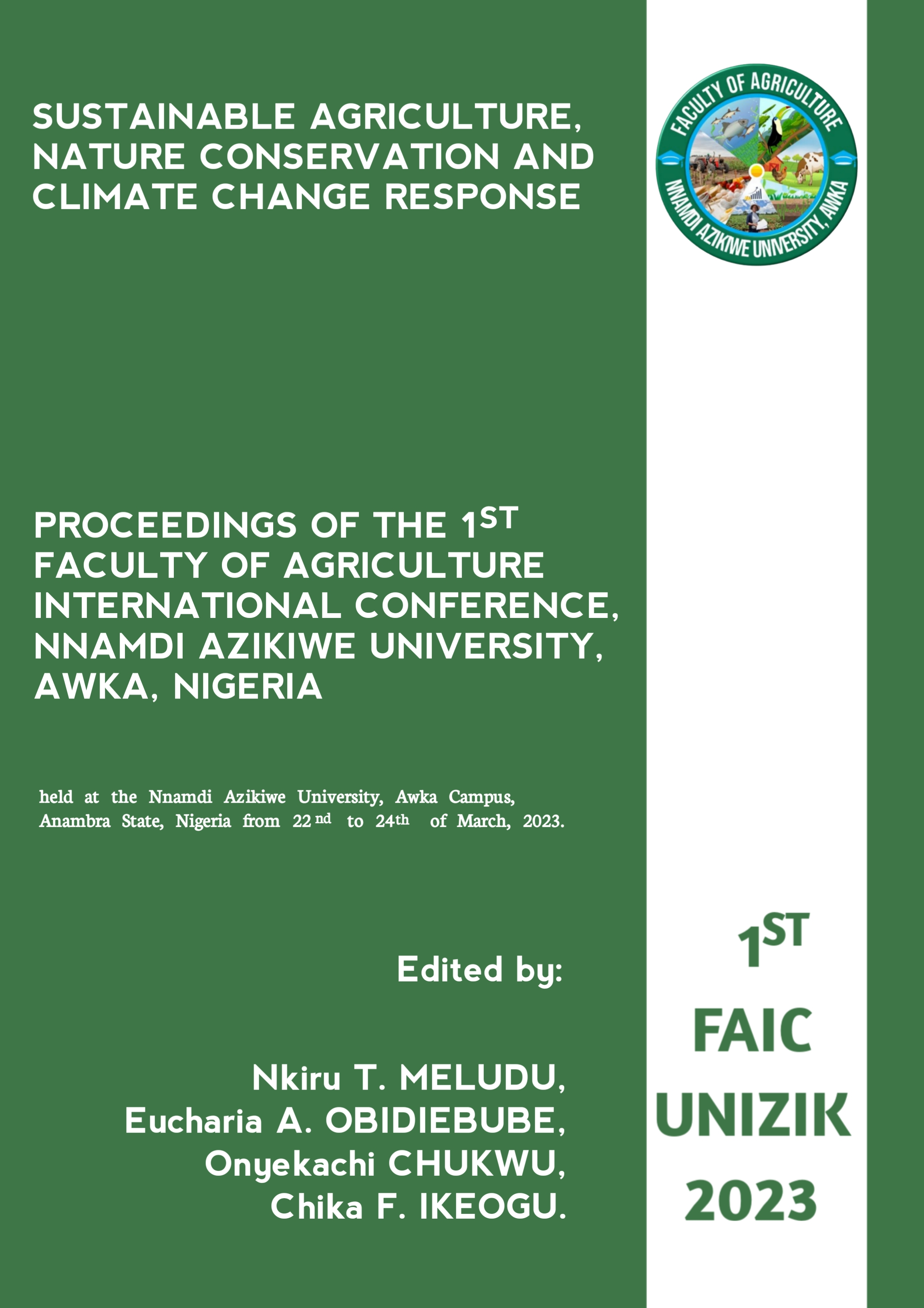 Downloads
How to Cite
Ezegbe, C. C., Onyekwelu, P. U., Mmuoh, C. S., Okocha, K. S., & Igwe, N. P. (2023). Sensory Evaluation and Physicochemical Qualities of Maize-Based Flaked Snacks Complemented with Mucuna Pruriens Seed Flour. E-Proceedings of the Faculty of Agriculture International Conference, 189–195. Retrieved from https://journals.unizik.edu.ng/faic/article/view/1921