Effect of Variety on Growth and Forage Yield of Orange Fleshed Sweet Potato (OFSP) on Tropical Humid Soil: Implication for Animal and Human Nutrition
Keywords:
OFSP, UMUSPO 3, UMUSPO 4
Abstract
The study was conducted to determine the effect of OFSP variety on growth and forage yield in humid soil: Implication for animal and human nutrition. The experiment was carried out in The Teaching and Research Farm, Federal College of Education (Technical) Omoku during the first farming season. The design adopted for the study was randomized complete block design (RCBD) with two (2) treatments (solo gold and mother's delight) each replicated three (3) times and lasted ninety (90) days. The length of planting materials was thirty centmetres (30cm), planted at a distance of 10m by 75 cm, weeding was done once and data were collected on the following sprouting, number of leaf and branches, vine length, fresh tuber yield and fresh forage yield. The data were summarized and subjected to mean, percentage and t-test .It was observed that the breeding lines had more 50% (solo gold, 56% and mother's delight,60% sprouting from the first seven (7) days after planting (DAP) and continued to above 80% at 21DAP (solo gold, 84.67% and mother's delight, 85.2%). The growth parameters mean number of leaves, number of branches and vine length showed numerical difference between varieties. The fresh tuber and forage yields were significantly different at 0.5 % probability. It was concluded OFSP varieties have unique characteristics the meet human nutrition demands. Solo gold (UMUSPO 4) had low fresh tuber yield but high forage yield and vegetative growth. Mother's delight (UMUSPO 3) had high fresh tuber yield but low fresh forage. OFSP is recommended for farmers in Omoku depending on the products needed, solo gold breeding line should be cultivated for leafy vegetable and mother's delight for tuber.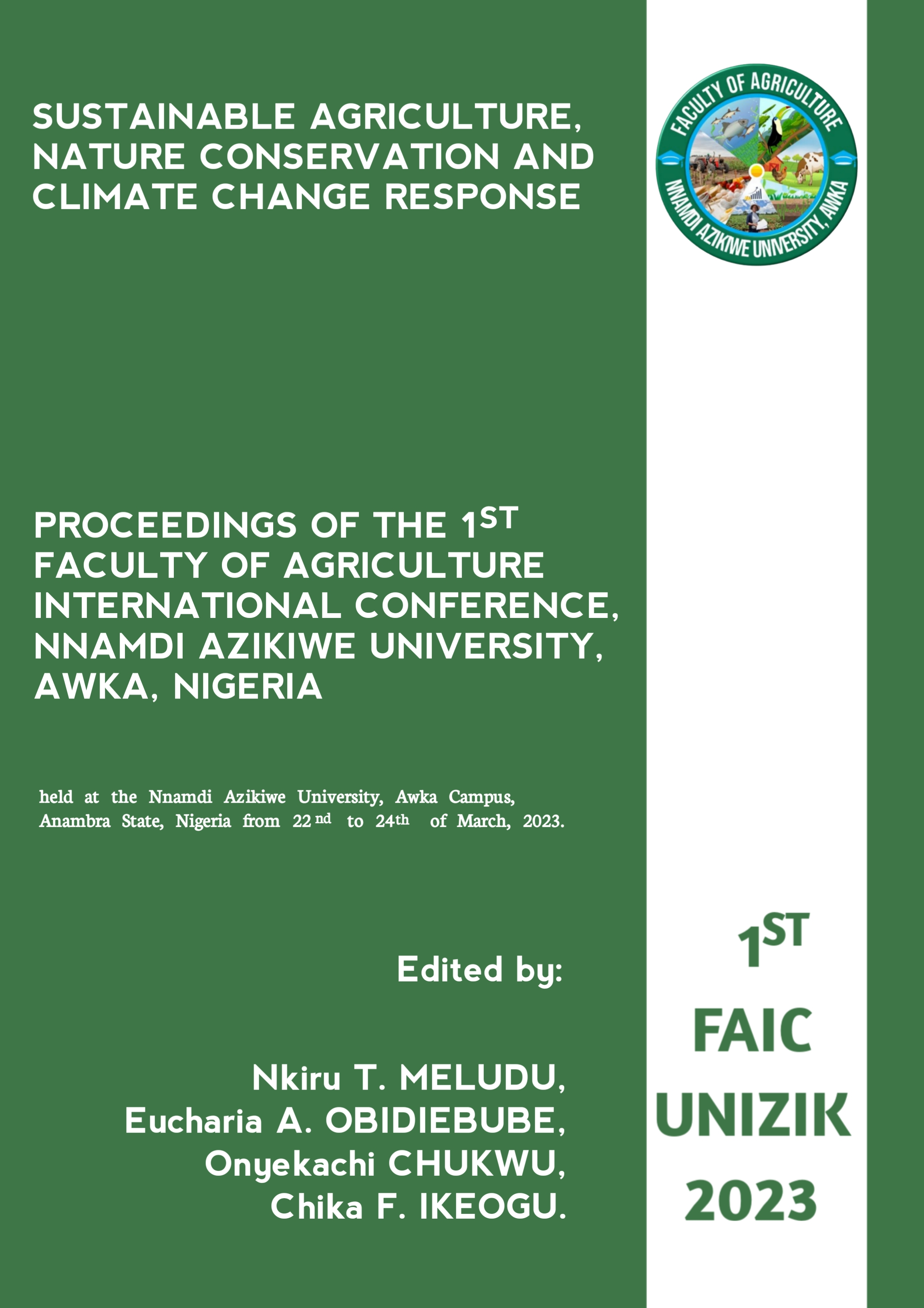 Downloads
How to Cite
Ukpong, G. U. (2023). Effect of Variety on Growth and Forage Yield of Orange Fleshed Sweet Potato (OFSP) on Tropical Humid Soil: Implication for Animal and Human Nutrition. E-Proceedings of the Faculty of Agriculture International Conference, 230–234. Retrieved from https://journals.unizik.edu.ng/faic/article/view/1930