Determinants of Factors Influencing the level of Mitigation of Heat Stress on Broiler in Oyo State
Keywords:
Broiler, Determinants, Mitigation level, Perceived heat stress
Abstract
Compared to developed nations, Nigeria has a gap in its protein consumption. Poultry production being seen as a way out of this problem is faced with climate change challenges. Smallholder broiler farmers were the most vulnerable due to low copping infrastructural capacity. This study, therefore, investigated the determinants of factors influencing the level of mitigation of heat stress (HS) on broiler by farmers in Oyo state. The study employed a systematic sampling technique using registered members of the Poultry Association of Nigeria. Structured questionnaire was used to collect data: demographic, socioeconomic profile, institutional factors, perceived heat stress and coping methods. Data were analyzed using descriptive statistics and multinomial logit regression α=0.05. The study revealed that majority (76.7%) were male, mean age=48years. The average years of education and rearing experience were 12 and 6 years respectively. Majority (71.67%) accessed extension/vet doctor services, while only (23.3%) accessed credit. Temperature was perceived to be highest in January-March, while extremely cold weather was perceived in August. The symptoms of HS identified were gasping, wing raising, docility, reduction in feed, increased water intake, panting, weight loss, slow growth rate, pest and disease infestation, vaccine failure and increase mortality. Multinomial logit result showed all the independent variables to positively influence the level of farmers' mitigation except sex and household size. Age, sex, access to credit and farmers' income, household size, education, rearing experience, labour used and stock size were significant at 1% and 5%. Access to credit and training were recommended.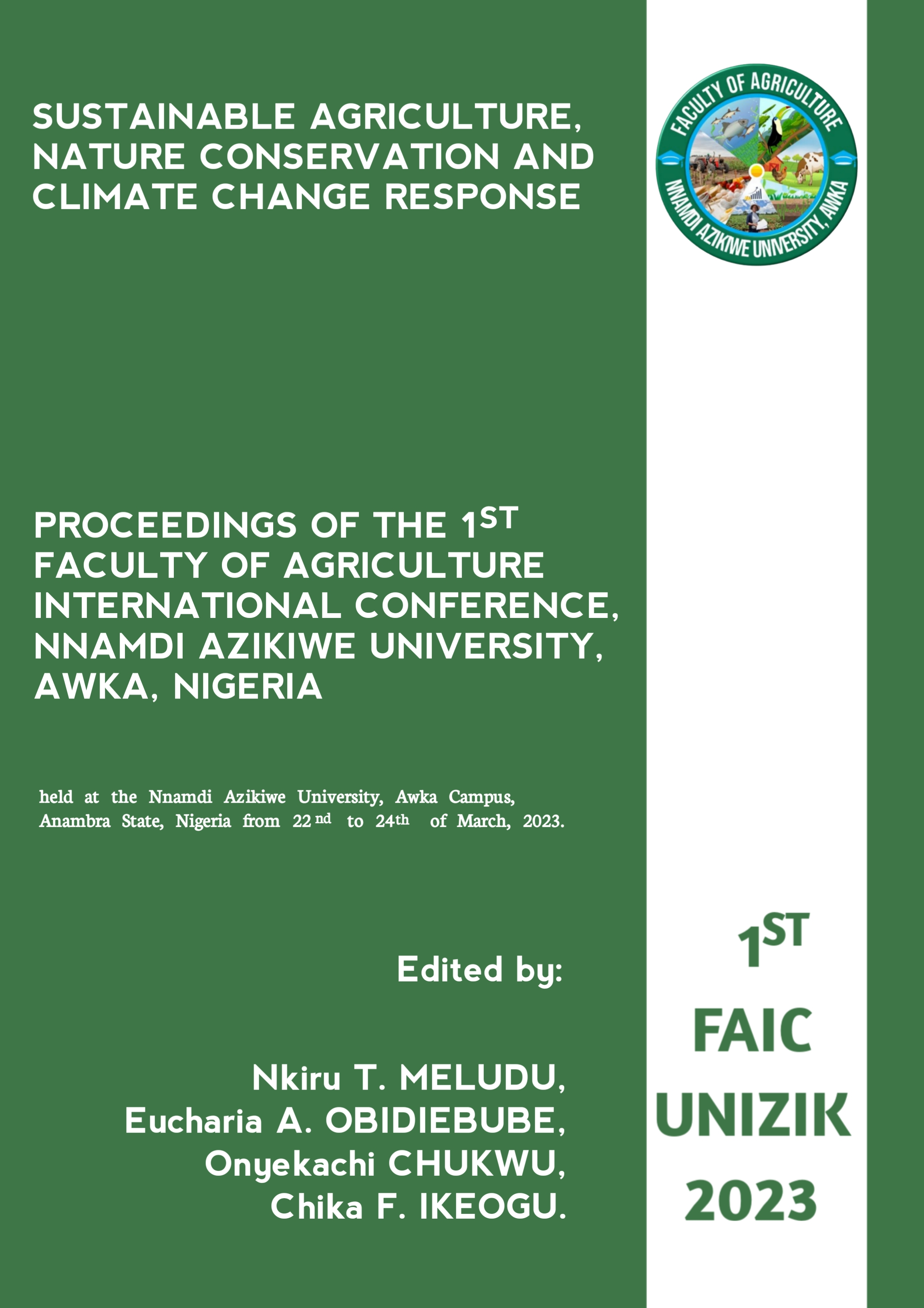 Downloads
How to Cite
Komolafe, O. J. (2023). Determinants of Factors Influencing the level of Mitigation of Heat Stress on Broiler in Oyo State. E-Proceedings of the Faculty of Agriculture International Conference, 275–280. Retrieved from https://journals.unizik.edu.ng/faic/article/view/1939