Effects of Herbicide Application on Soil Bacterial Load under Ginger Production in Kaduna, Nigeria
Keywords:
Bacteria, Effect, Herbicides, Soil
Abstract
Herbicides are commonly used to control weeds in crop productions, in addition to their impact on weeds, these herbicides are also affecting soil microorganisms which are responsible for numerous biological processes essential for crop production. This study was undertaken to determine the some selected physicochemical property of the soil, assess the effects of herbicide application on bacterial load and to identify the bacteria that are presents in the soil samples for the sampling sites. A soil sample that had history of herbicides application was collected from National Root Crops Research Institute Ginger Station, Kajuru, Kaduna State. The physicochemical analysis of the soil property was carried out based on the standard procedures and the colony counts were obtained using serial dilution technique. Bacteria were isolated and identified based on colonial and biochemical characteristics. Results obtained showed that each sampling point had an average bacterial counts of; Point A (1.4×106 cfu/g), Point B (1.5×106 cfu/g), Point C (1.4×106 cfu/g) and Point D which is the control (2.7×106 cfu/g). The bacterial isolates obtained in the study included Proteus sp., Staphylococcus sp., Micrococcus sp., Staphylococcus sp., Bacillus sp. and Enterobacter sp. Conclusively, this study shows that use of herbicides applications at field recommended rate may not have an adverse effects on the bacterial load.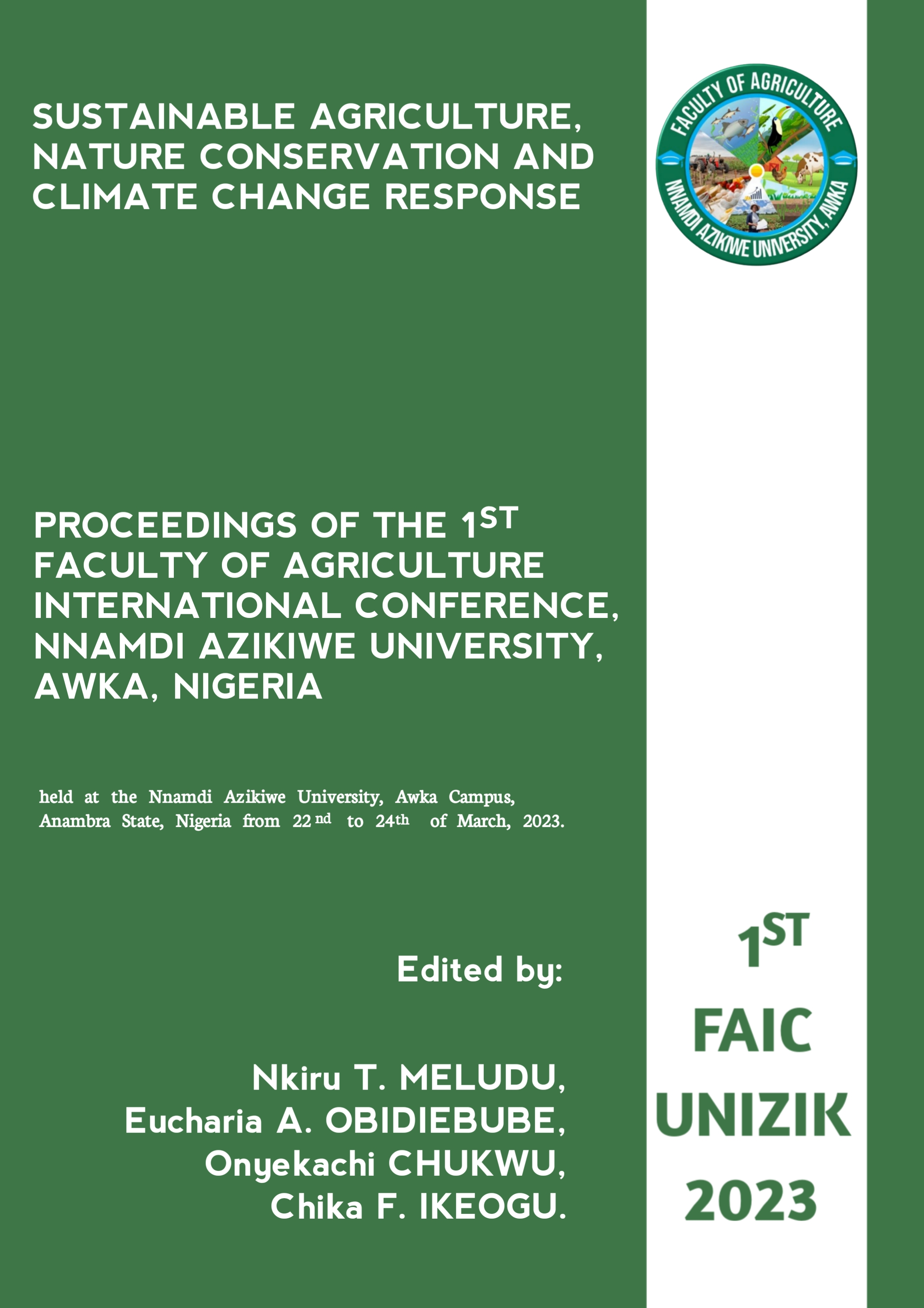 Downloads
How to Cite
Saleh, A. (2023). Effects of Herbicide Application on Soil Bacterial Load under Ginger Production in Kaduna, Nigeria. E-Proceedings of the Faculty of Agriculture International Conference, 367–371. Retrieved from https://journals.unizik.edu.ng/faic/article/view/1955