Assessment of Open Grown Tree Species Diversity in Nnamdi Azikiwe University, Awka, Nigeria
Keywords:
Open grown trees, Conservation, Species diversity, Sustainability
Abstract
Trees, which are important for the sustenance of life and the health of our planet, are disappearing at an alarming rate. In Nigeria, the impacts of climate change will further aggravate the plights of many indigenous and exotic tree species as climatic variability may limit the ability of forest trees to quickly adapt to the changing climate. This study focused on the assessment of open grown tree species diversity in the Nnamdi Azikiwe University, Awka, Nigeria which is considered as a crucial task to design strong conservation action strategies. Open grown tree species with diameter at breast height (Dbh) ≥10 cm in the study area were identified and recorded. Data collected were analyzed using descriptive statistics and alpha diversity analysis. A total number of 479 trees distributed among 25 tree species and 17 families were identified, with high Shannon-Weiner diversity index (2.50) and Simpson dominance index (0.88). The study indicated high species variability within the study area with Fabaceae family having the highest diversity of 4 species. Other important families dominating the study area include Apocynaceae, Lamiaceae, Moraceae and Myrtaceae with same number (2) of species. The study concluded that there is a huge presence of indigenous and exotic tree species in the study area and some are no longer found in most natural forests underscores the potentials of the campus as an important live gene bank. The study therefore recommends the need for policy intervention to aid the identification, documentation and conservation of forest tree resources in the University.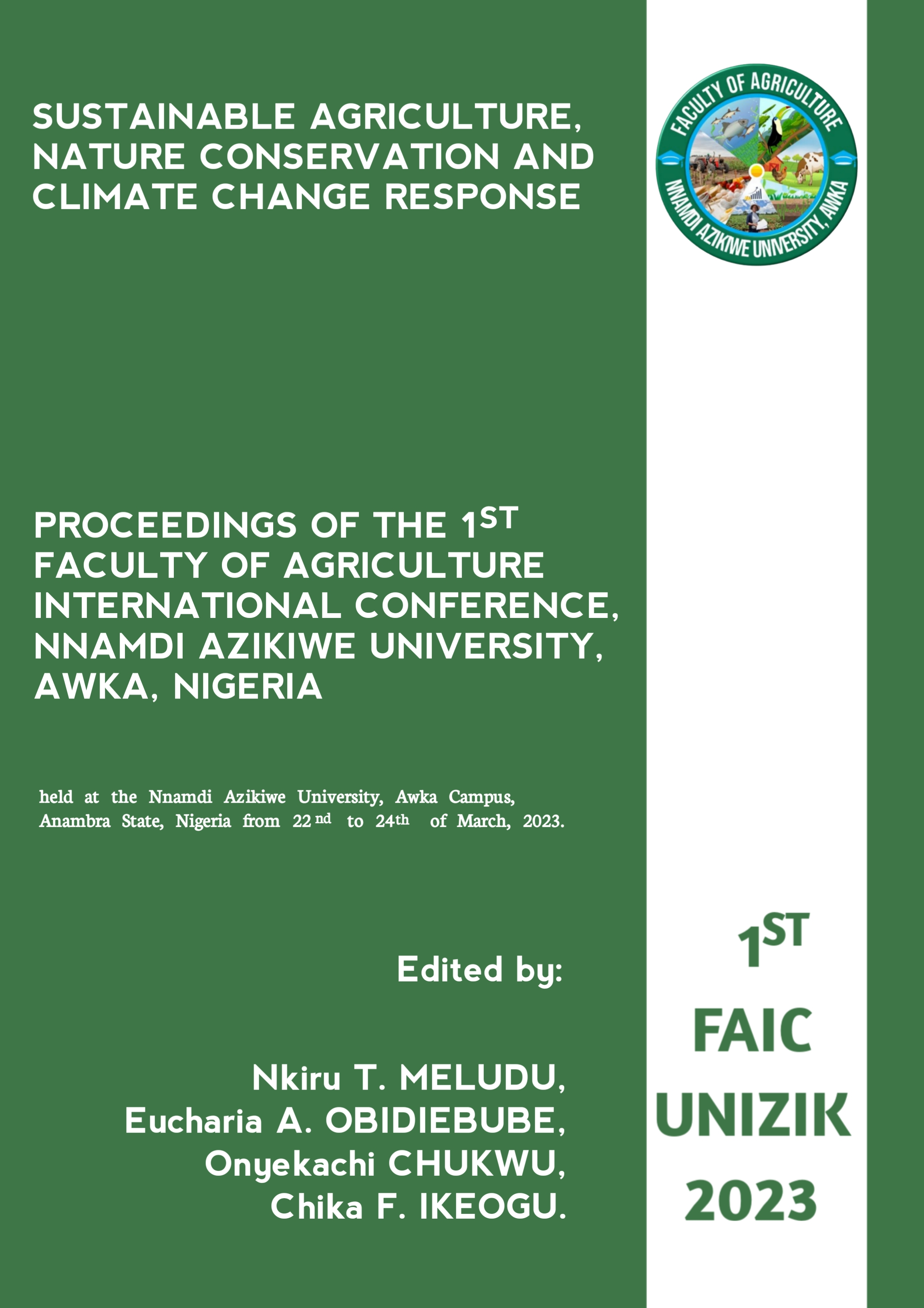 Downloads
How to Cite
Ezenwenyi, J. U., Chukwu, O., Adum, N., Ezeano, C. I., & Eze , J. (2023). Assessment of Open Grown Tree Species Diversity in Nnamdi Azikiwe University, Awka, Nigeria. E-Proceedings of the Faculty of Agriculture International Conference, 383–388. Retrieved from https://journals.unizik.edu.ng/faic/article/view/1958