Evaluation of Flora Composition and Utilization in Ikwe Game Reserve, Igbor, Gwer L.G.A., Benue State, Nigeria
Keywords:
Hilly, Riparian, Species composition, Woodland
Abstract
There are different types of protected areas, and the purpose for their establishment is very broad. Persistent ecosystem monitoring is crucial to the fulfillments of every conservation objectives; however, at present no comprehensive record of flora composition at the study area. This study was carried out to determine the species composition, percentage distribution, and structure and utilization level at the study area. The point centered quarter (PCQ) method and the step point line technique (SPLT) were used as sampling points. All encountered trees species within the PCQ were identified and recorded. The result revealed that there are 32 woody plant species from 20 families. The dominant family was Caesalpinodae. In woodland the common species was Prosopix africana (12.14 %) while in the riparian vegetation Syzygium guineense (24.12 %) was the dominant woody plant species. The hilly vegetation recorded Berlinia auriculata (45 31 %) as the dominant species. The riparian vegetation had the highest density per hectare (617 trees/ha) followed by the hilly vegetation (13 trees/ha) and the woodland (2 trees/ha). The species diversity index showed that the woodland is slightly above the riparian by 0.2, while the hilly has the lowest diversity index (0.3). Only two plants were utilized by animals; Oryza sativa and Manihot esculenta. The difference in species composition is attributed to human activities. It is therefore strongly recommended that Silvicultural management practices should be intensified at the study area.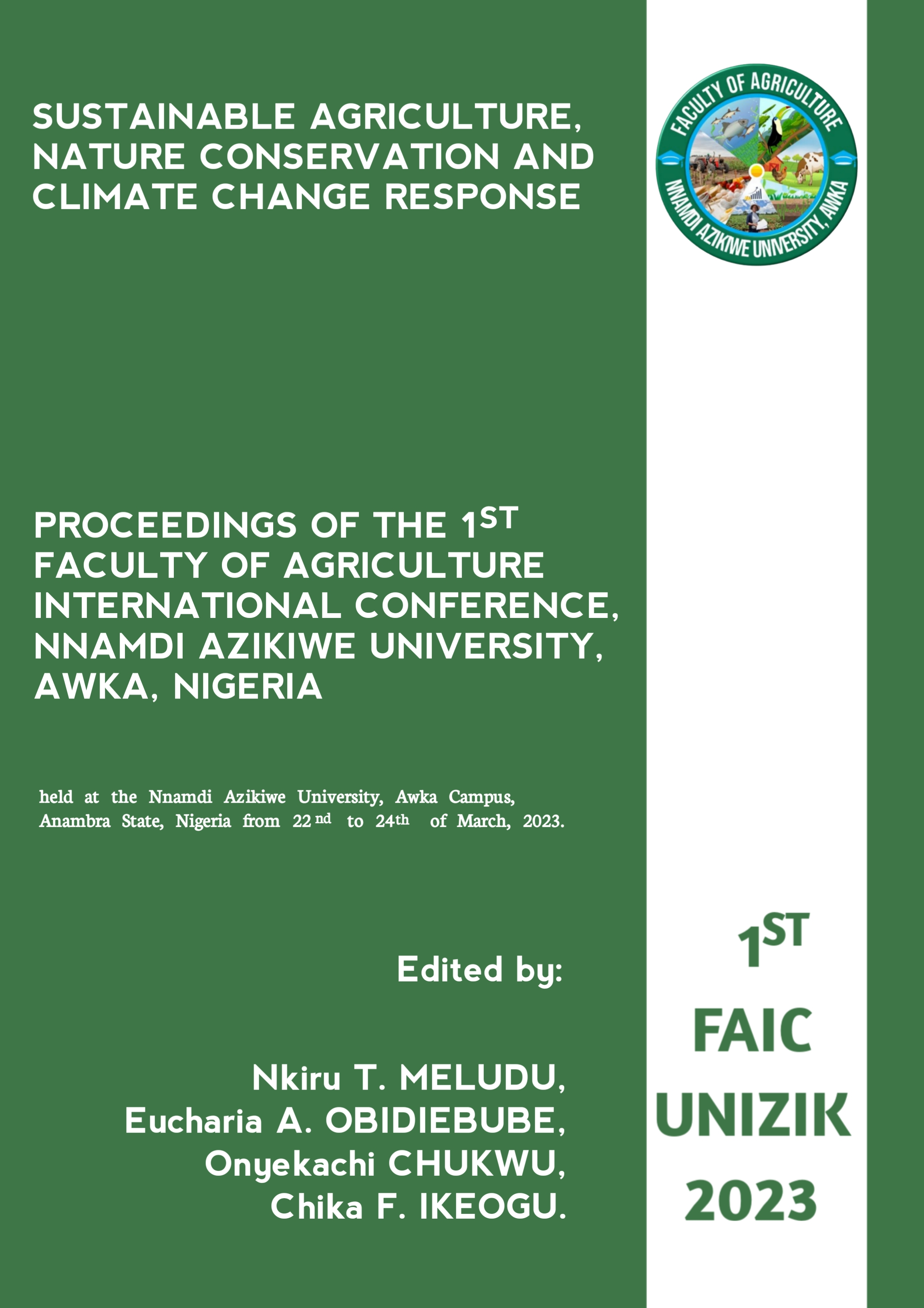 Downloads
How to Cite
Mathew , L. A. (2023). Evaluation of Flora Composition and Utilization in Ikwe Game Reserve, Igbor, Gwer L.G.A., Benue State, Nigeria. E-Proceedings of the Faculty of Agriculture International Conference, 389–394. Retrieved from https://journals.unizik.edu.ng/faic/article/view/1959