Response of Storage Fungi of Onion (Allium cepa) to selected Botanicals
Keywords:
Botanicals, Onion bulbs, Post-harvest fungi, Rot-causing fungi, Pre and post infection
Abstract
Onion (Allium cepa) produced bulbs are mostly lost after harvesting due to rots caused by fungi. Extracts of many plants are effective for control of fungal pathogens. So far, little information is available on the use of several plant extracts in controlling rot of onion bulbs caused by plant pathogens during storage. Therefore, this study aimed to isolate and identify rot-causing fungi of onion sold in Umuahia and their response to selected botanicals. Infected onion (White and red) n= 12, were sourced from Orie-Ugba and Ubani markets for isolation and identification using standard techniques. Also, response of Rhizopus sp, Fusarium sp and Aspergillus niger to aqueous extracts of clove and African nutmeg seeds were evaluated in-vitro and in-vivo (before and after treatment). Experiments were laid out in CRD in triplicates. Clove (Syzgium aromaticum) and African nutmeg (Monodora myristica) extracts respectively reduced Aspergillus niger (71.55, 42.96%) Fusarium sp (63.82,58.28%), and Rhizopus sp (67.79,26.06%) in-vitro. Clove applied before and after fungi inoculation respectively reduced growth of Aspergillus niger (69.64,60.71%), Rhizopus sp, (88.89,84.44%) and Fusarium sp (70.00, 58.89%) in-vivo. Growths of Aspergillus niger (69.64,69.64%), Rhizopus sp, (50.00,53.33%) and Fusarium sp (82.22,58.89%) were reduced by African nutmeg before and after treatment respectively. Extracts showed promising prospect for control of Fusarium sp, Aspergillus niger and Rhizopus sp growth in both trials and could be explored for management of post-harvest onion rots at pre and post stages of fungal infection.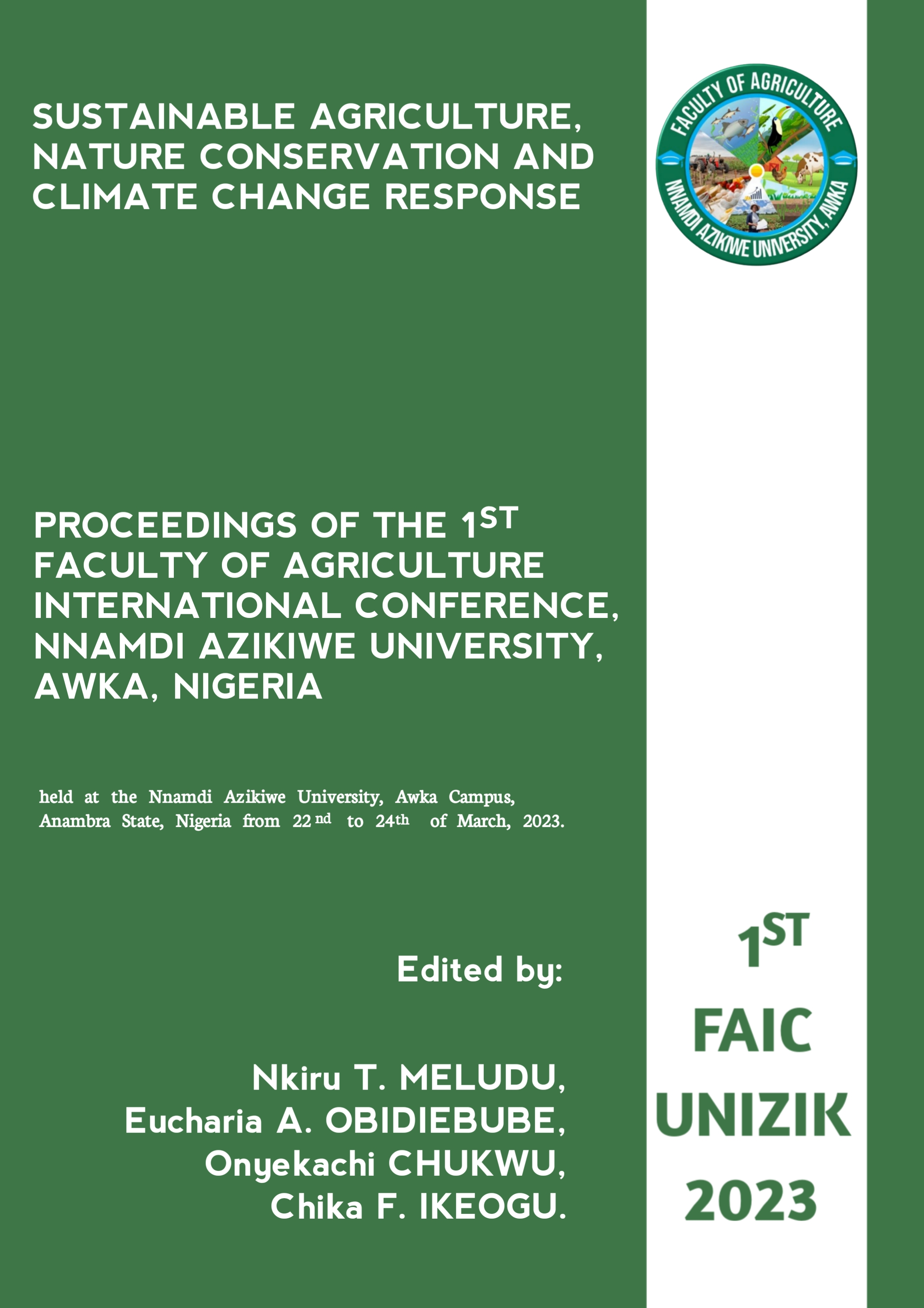 Downloads
How to Cite
Obani, F. T. (2023). Response of Storage Fungi of Onion (Allium cepa) to selected Botanicals. E-Proceedings of the Faculty of Agriculture International Conference, 395–400. Retrieved from https://journals.unizik.edu.ng/faic/article/view/1960