Nematodes Associated with Citrullus lanatus in Kwara State, Nigeria
Keywords:
Abundance, Identification, Occurrence, Nematodes, Watermelon
Abstract
The cultivation of watermelon is rapidly becoming popular in many areas of sub-Saharan Africa because of its economic and nutritional benefits. However, one of the factors limiting watermelon production is plant parasitic nematodes. This study was carried out to determine the abundance, occurrence, and distribution of nematodes infecting watermelon in some areas of Kwara State, Nigeria. A total of 96 root and soil samples were collected from 8 watermelon growing areas of the State, namely; Ajase-ipo 1, Ajase-ipo 2, Unilorin, Olomu, Eyenkorin, Onireke, Lafiaji 1, and Lafiagi 2. Extraction was done using a modified Baermann extraction tray method, while the nematodes were identified to genus level under a compound microscope. Five endoparasitic and ectoparasitic nematode genera were detected from the roots and soils; Meloidogyne, Pratylenchus, Scutellonema, Helicotylenchus, and Criconema. Results revealed that Meloidogyne spp. was the most prevalent nematode with 492.61 and 272.44 for the root and soil samples respectively. Meloidogyne spp. and Helicotylenchus spp. had the highest frequency of occurrence of 87.50% in the root, followed by Pratylenchus spp. with 62.50% and Scutellonema spp. with 50%. More nematodes were also recovered from the root than from the soil. This study provides fundamental information about the distribution of plant parasitic nematodes that infect watermelon in Kwara State.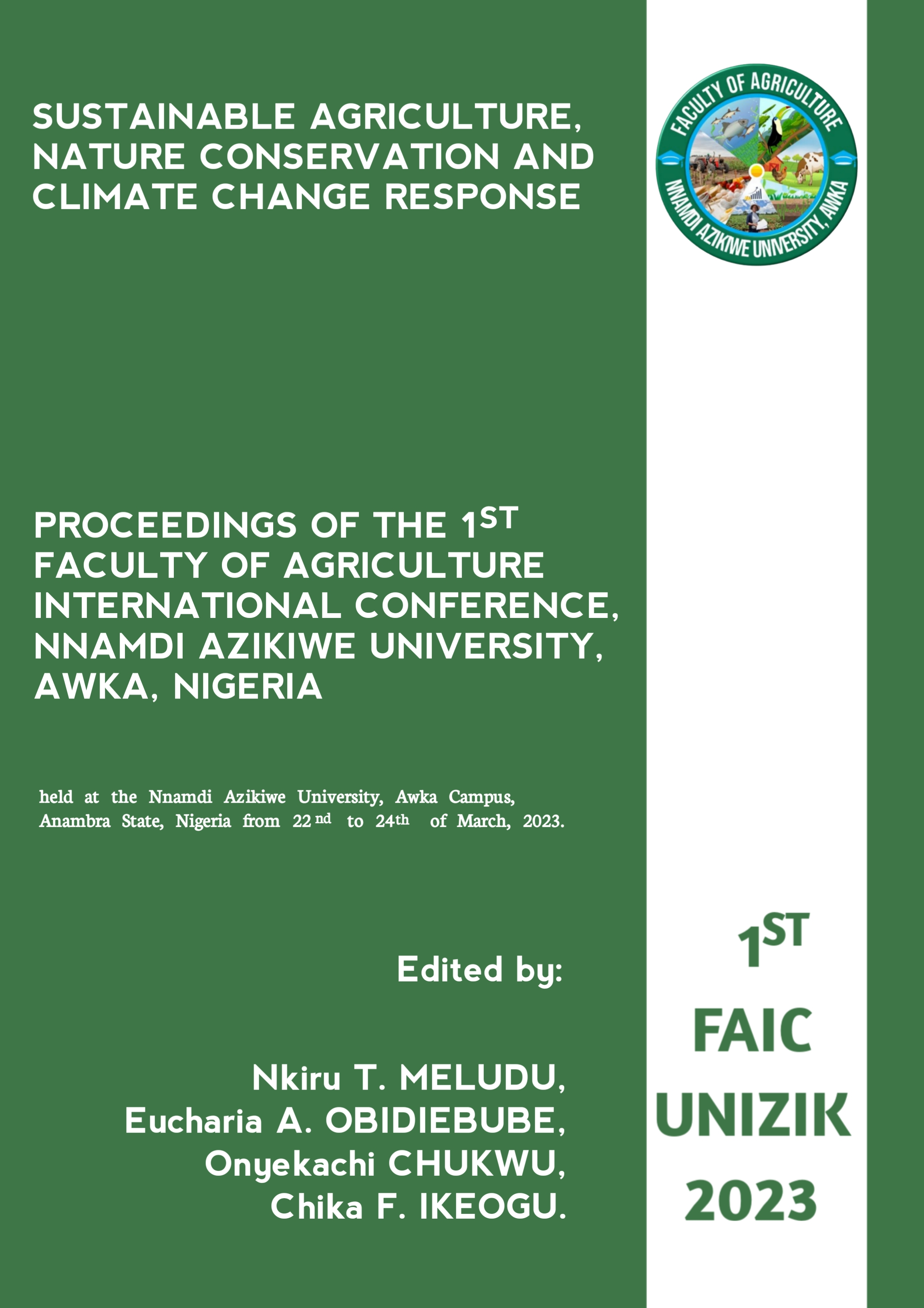 Downloads
How to Cite
Apalowo, O. A. (2023). Nematodes Associated with Citrullus lanatus in Kwara State, Nigeria. E-Proceedings of the Faculty of Agriculture International Conference, 401–407. Retrieved from https://journals.unizik.edu.ng/faic/article/view/1961