ASSESSMENT OF KNOWLEDGE AND ATTITUDE ABOUT TYPE II DIABETES AMONG HAUSA-SPEAKING PUBLIC SCHOOL-GOING ADOLESCENTS IN KANO
Keywords:
diabetes, attitude, knowledge, adolescents
Abstract
Background: Accurate knowledge of Type II diabetes Mellitus (T2DM) is important for early screening and prevention of the disease among individuals. However, evidence is limited on the knowledge and attitude about Type II diabetes among Hausa-speaking public school-going adolescents in Kano, northern Nigeria.
Methods: This study was cross-sectional survey with a multistage cluster sampling technique involving 425 school-going adolescents aged 11-19 years old in five public secondary schools. The Diabetes Knowledge Questionnaire (DKQ) and Diabetes Attitude Scale-3 (DAS-3) were used to assess the levels of knowledge and attitude about T2DM respectively.
Results: None of the participants had a good level knowledge score and only 37.9% of the participants had a satisfactory level knowledge score about T2DM. However, the participants had positive attitude to 'seriousness of Type II diabetes' (3.05±0.44), 'need for special training' (4.35±0.5), 'psychological impact of T2DM' (3.93±0.41) and 'autonomy of patients' (3.89±0.45).
Conclusion: Despite the positive attitude towards T2DM, the level of knowledge on T2DM among school-going adolescents is still poor. Therefore, school-based programs aimed at improving knowledge of T2DM are needed in public secondary schools in Kano.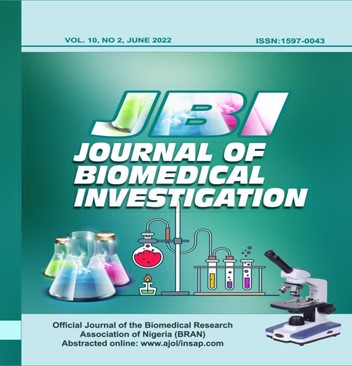 Downloads
How to Cite
Zahraddeen, T., Awotidebe, A. W., Mannir, K., Mukadas, O. A., & Usman, U. Z. (2022). ASSESSMENT OF KNOWLEDGE AND ATTITUDE ABOUT TYPE II DIABETES AMONG HAUSA-SPEAKING PUBLIC SCHOOL-GOING ADOLESCENTS IN KANO. Journal of Biomedical Investigation, 10(2), 8–22. Retrieved from https://journals.unizik.edu.ng/index.php/jbi/article/view/1510