SOCIO-ECONOMIC BURDEN IN THE SUSTENANCE OF SANITATION RELATED DISEASES IN EBONYI STATE, SOUTHEAST, NIGERIA
Keywords:
burden, community, sanitation, socio-economic burden, sanitation related diseases
Abstract
Background: Sanitation related-diseases have affected millions of people, mostly in developing countries. This study aimed to determine the socioeconomic burden in the sustenance of sanitation related-diseases in Ebonyi State, Nigeria.
Materials and Methods: The study was conducted in Ebonyi State, Southeast, Nigeria and adopted a descriptive cross-sectional design; sample size was 461 obtained from primary source. The descriptive statistics of frequency, percentage, mean and standard deviation were used to present the obtained data.
Results: Majority (180 or 39%) of the participants reported the size of their household to consist of 3-4 people followed by 150 (33%) who reported having 5-6 people. Out of the 461 participants, 258 (56%) reported that some children within their household had visited health centre due to sanitation-related diseases (such as stomach pains, fever, headache, blood in stool, watery stool), while 219 (48%) paid ₦1,000-₦3,000 for medical services (drugs, nursing services, doctor's services, laboratory services). Also, 294 (64%) reportedly paid less than ₦1,000 for transportation to and from a health facility due to sanitation-related diseases. Also 253 (55%) reported they spent total estimate of ₦1,000-₦5,000 as cost of treatment of sanitation-related diseases. Majority (291 or 55%) spent less than 5 days in a health facility due to sanitation-relateddiseases, 177 (38%) recorded 5-10 days absence from work, and 306 (66.4%) claimed they lost less than ₦1,000 per day because of a child's admission in the health facility. On weekly basis, 300 (65.1%) reported they lost <₦10,000.
Conclusion: The participant were shown to incur some he financial burden due to sanitation-related diseases. Also, sanitation-related diseases has impacted on the life of people in the Ebonyi State with respect to their average level of income. Consequently, it is recommended that sanitation be accorded necessary attention.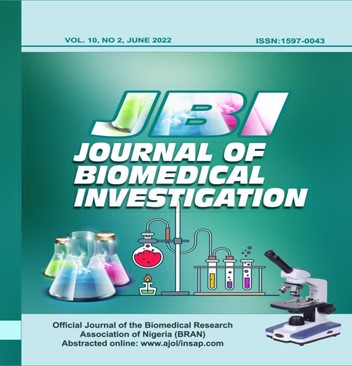 Downloads
How to Cite
Ede, A. O., Amadi, C. A., Okereke, E. E., Anunonwu, C. C. O., Nwankwo, C. J., Obasi, K. O., Udo-Inyang, F., Ohanenye, C. A., Orji, S. M., Abonyi, I. C., Mbaegbu, N. O., Okorie, P. C., Eze, P. M., Ilo, C. I., Amadi, A. N., & Nwazunku, A. (2022). SOCIO-ECONOMIC BURDEN IN THE SUSTENANCE OF SANITATION RELATED DISEASES IN EBONYI STATE, SOUTHEAST, NIGERIA. Journal of Biomedical Investigation, 10(2), 115–125. Retrieved from https://journals.unizik.edu.ng/index.php/jbi/article/view/1528