COMPARATIVE EFFECTS OF TEACHING WITH IMPROVISED INSTRUCTIONAL MATERIALS AND STANDARD INSTRUCTIONAL MATERIALS ON SECONDARY SCHOOL STUDENTS' ACADEMIC RETENTION IN CHEMISTRY
Keywords:
Science, Chemistry, Retention, Standard Instructional Material (SIM), Improvised Instructional Material (IIM)
Abstract
This study investigated the comparative effect of teaching with improvised instructional materials and standard instructional materials on secondary school students' academic retention in Chemistry. It covered the topics; acids, bases and acid- base reactions. Two
research questions and two hypotheses were used to guide the study, relevant literatures were also reviewed. The study was carried out in Awka education zone in Anambra State. The population of the study consists of 8,583 SS1 Chemistry students in the zone. The sample size for the study comprised of 192 SS1 Chemistry students. The study adopted quasiexperimental design. Four purposively selected co-educational schools were used for the study of which students of chemistry in two schools were assigned to experimental group which received treatment of involvement in teaching Chemistry using improvised instructional materials and the other two schools were assigned to control group which were taught using standard instructional materials. Twenty- five (25) Chemistry Retention Test (CRT) was used as the instrument. The instrument was validated by experts in science education department and education foundation (measurement and evaluation) CRT reliability was established using Kudar Richardson 20 (KR-20) which yielded reliability coefficient of 0.81. Mean and standard deviation were used to answer the research questions while analysis of covariance (ANCOVA) was used to test the hypotheses at .05 level of significance. The findings of the study revealed that, there was high knowledge retention when Chemistry students were taught using improvisation instructional material than those taught with standard instructional material and gender has no influence on use of improvised instructional material and standard instructional material. Based on the findings of the study, recommendations were made.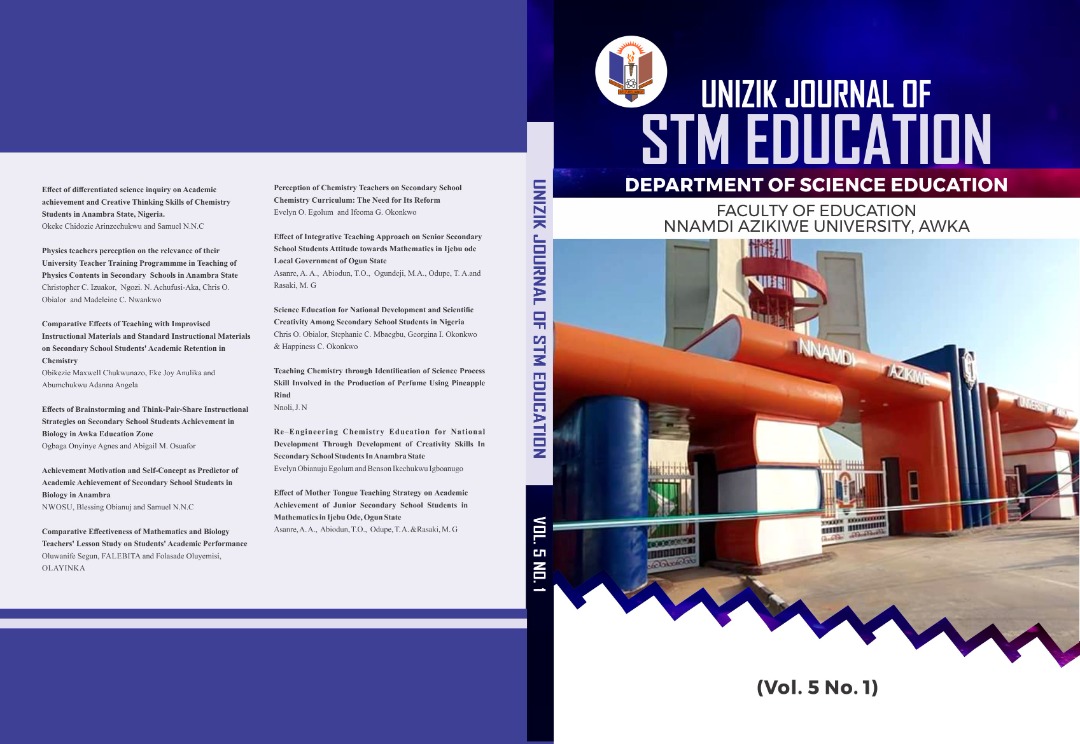 Downloads
How to Cite
OBIKEZIE, M. C., EKE, J. A., & Abumchukwu, A. A. (2022). COMPARATIVE EFFECTS OF TEACHING WITH IMPROVISED INSTRUCTIONAL MATERIALS AND STANDARD INSTRUCTIONAL MATERIALS ON SECONDARY SCHOOL STUDENTS' ACADEMIC RETENTION IN CHEMISTRY. UNIZIK Journal of STM Education, 5(1), 24–36. Retrieved from https://journals.unizik.edu.ng/index.php/jstme/article/view/1495