COMPARATIVE EFFECTIVENESS OF MATHEMATICS AND BIOLOGY TEACHERS' LESSON STUDY ON STUDENTS' ACADEMIC PERFORMANCE
Keywords:
Lesson study, professional development, Mathematics, Biology, performance
Abstract
Teachers collaboratively working to develop and execute classroom instructions until it has been fine-tuned to the greatest extent possible while also collecting data on how well the lessons performs is critical to improving students' performance. This study focused on the comparative effectiveness of mathematics and biology teachers' lesson study on students' academic performance. The research design used in the study is quasi-experimental design of the pretest and posttest control group. A sample of 102 senior secondary school students and 10 (5 mathematics and 5 biology) teachers were selected from two secondary schools in Ekiti State Nigeria. The two schools were purposively selected; the school selected must have more than four mathematics and four biology teachers. The intact classes of the selected schools were used in the study. Three research instruments were used for data collection namely; Mathematics Performance Test (MPT), Biology Performance Test (BPT) and Lesson Study Inventory (LSI). Kudar-Richardson 20 (KR-20) was used to determine the reliability coefficient of the MPT and BPT after administering it to 20 students outside the study area. The analysis yielded a reliability coefficient of 0.741 and 0.796 for MPT and BPT respectively. The MPT and BPT were administered to the students as a pretest before the treatment and as a posttest after the treatment, while data was collected from the instruments.
Mean, standard deviation and bar charts, t-test, Analysis of Covariance (ANCOVA) and Estimated Marginal Means (EMM) were used to analyze the data collected. The study revealed that teachers' lesson study significantly affect the students' mathematics performance (F(2, 99) = 185.915; p<0.05); teachers' lesson study significantly affect the students' biology performance (F(2, 99) = 616.335; p<0.05); there was a significant difference between the academic performance of students whose teachers engage in lesson study in mathematics and biology (t = 12.562; df = 90; P < 0.05) in favour of biology. It was recommended that mathematics and biology teachers should regularly engage in lesson study over a long period.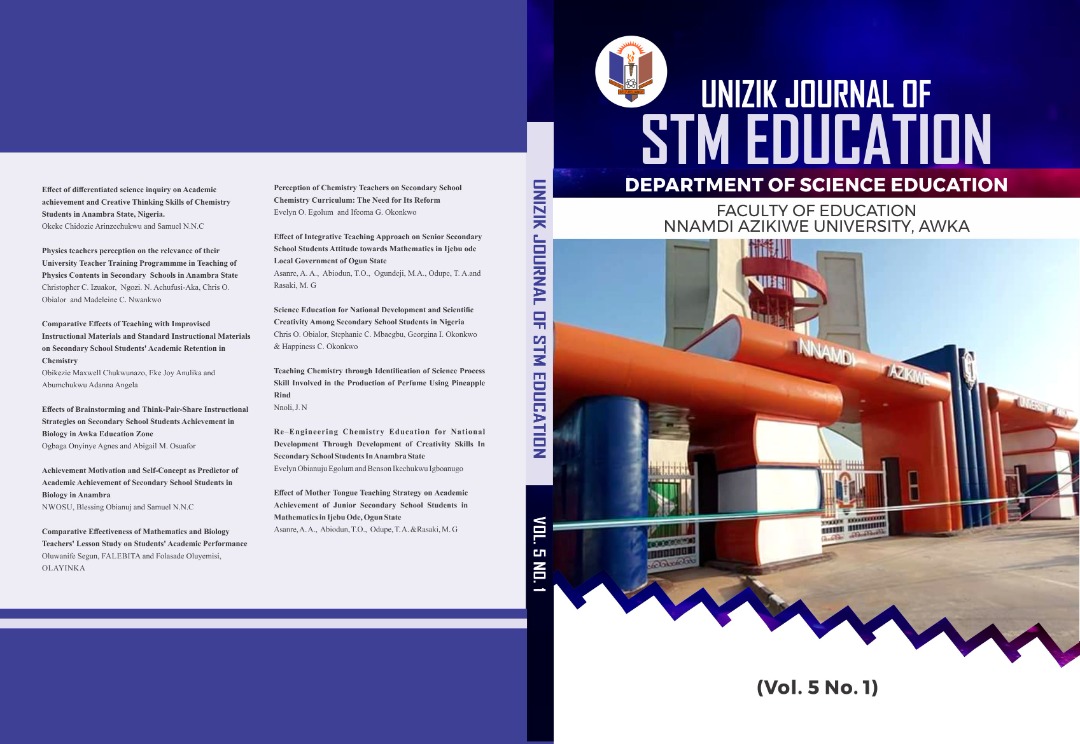 Downloads
How to Cite
OLUWANIFE, S. F., & FOLASADE, O. O. (2022). COMPARATIVE EFFECTIVENESS OF MATHEMATICS AND BIOLOGY TEACHERS' LESSON STUDY ON STUDENTS' ACADEMIC PERFORMANCE. UNIZIK Journal of STM Education, 5(1), 37–49. Retrieved from https://journals.unizik.edu.ng/index.php/jstme/article/view/1496