EFFECTS OF BRAINSTORMING AND THINK-PAIR-SHARE INSTRUCTIONAL STRATEGIES ON SECONDARY SCHOOL STUDENTS ACHIEVEMENT IN BIOLOGY IN AWKA EDUCATION ZONE
Keywords:
Biology, Brainstorming, Think Pair Share, Achievement
Abstract
The study investigated the effects of brainstorming and Think-pair-share instructional strategies on secondary school students' achievement in Biology in Awka Education Zone. Three research questions guided the study and three hypotheses were tested at 0.05 alpha level of significance. A quasi- experimental design using 3×2 factorial was adopted, specifically the pretest-posttest non-equivalent control group was used. Population of the study was 4023 SS 2 students offering Biology for 2019/2020 academic section in the zone. A sample of 139 SS2 Biology students from three schools obtained using purposive and random sampling were involved in the study. The instrument used for data collection was Biology Achievement Test (BAT), validated by two lecturers in Departments of Science Education and Educational Foundations of Nnamdi Azikiwe University, Awka and one experienced secondary school Biology teacher. Reliability was established using Kuder Richardson 21(KR-21) for BAT which yielded coefficient of 0.71. The two experimental groups were taught using Brainstorming and think-pair-share instructional strategies respectively while the control group was taught using conventional strategy. This treatment lasted for six weeks. The students were given pretest, posttest and delayed posttest
after two weeks of treatment. The data collected were analysed using mean and standard deviation to answer the research questions while analysis of covariance was used to test the null hypotheses. Findings of the study revealed that there was significant differences in the mean academic achievement scores of students taught using brainstorming and think-pair-share strategies than those taught using conventional strategy, but had no significant effect on male and female students. It was recommended among others that seminars, workshops and conferences should be organized by school heads to orient Biology teachers on how to use brainstorming and think-pair-share instructional strategies in teaching.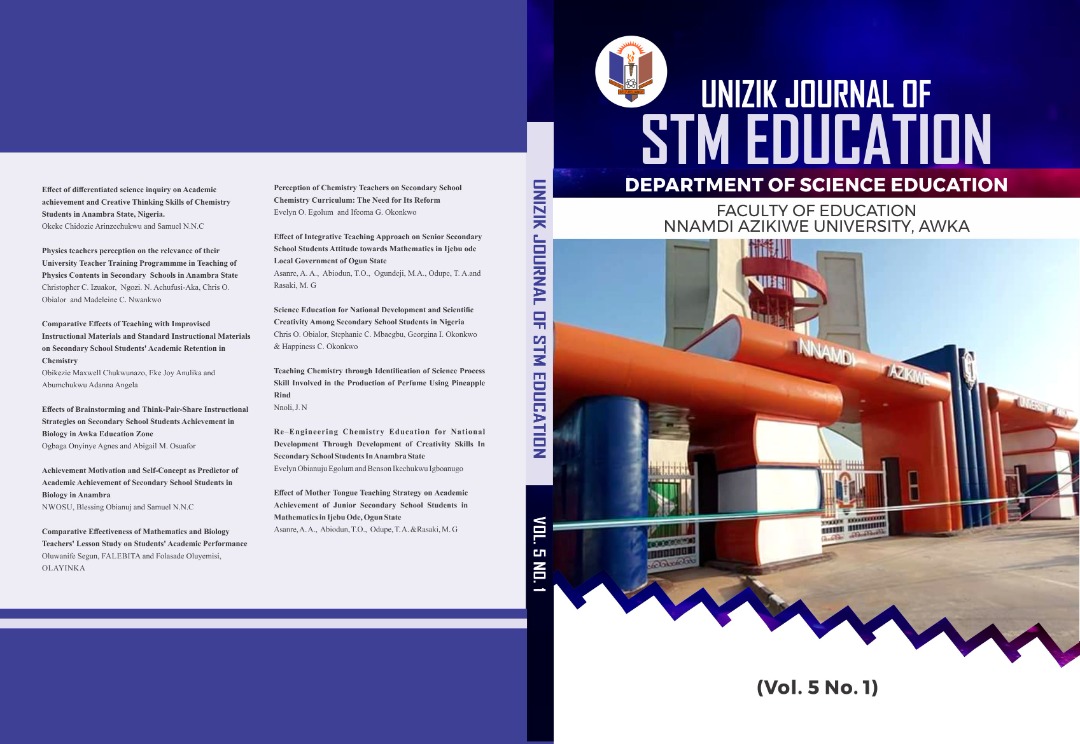 Downloads
How to Cite
OGBAGA, O. A., & OSUAFOR, A. M. (2022). EFFECTS OF BRAINSTORMING AND THINK-PAIR-SHARE INSTRUCTIONAL STRATEGIES ON SECONDARY SCHOOL STUDENTS ACHIEVEMENT IN BIOLOGY IN AWKA EDUCATION ZONE. UNIZIK Journal of STM Education, 5(1), 50–63. Retrieved from https://journals.unizik.edu.ng/index.php/jstme/article/view/1497