ACHIEVEMENT MOTIVATION AND SELF-CONCEPT AS PREDICTOR OF ACADEMIC ACHIEVEMENT OF SECONDARY SCHOOL STUDENTS IN BIOLOGY IN ANAMBRA
Keywords:
achievement motivation, academic achievement, self-concept, biology
Abstract
The study investigated Achievement motivation and self-concept as predictor of academic achievement of secondary school students in biology in Anambra state. Three research questions and three hypotheses guided the study. The correlational survey design was adopted for the study. The population of the study was 4,603 senior secondary school year two (SS2) biology students in Awka Education Zone. A sample of 720 SS2 biology students was involved in the study. The instrument for data collection were Achievement Motivation Scale (AMS) and Selfconcept Questionnaire (SCQ) validated by three experts in Department of Science Education and
Measurement and Evaluation. The student's achievement scores were obtained from school's biology student's diary. The reliability was established using Cronbach Alpha which yielded 0.713and 0.701 for achievement motivation scale and Self-concept Questionnaire respectively. The data were analyzed using Pearson Correlation Coefficients and multiple regressions. The findings of the study revealed achievement motivation and self-concept correlated students' academic achievement in biology significantly. The implication of the study was stressed. The study recommended that achievement motivation and self-concept should be enhanced by using
appropriate teaching and counseling strategies.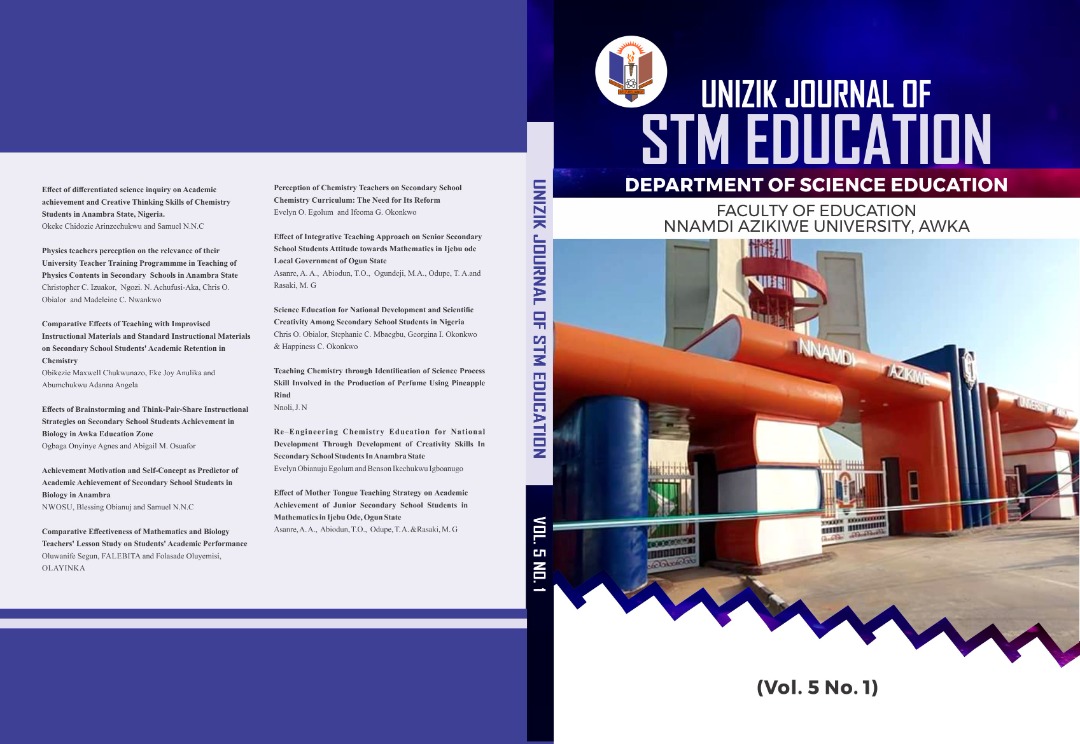 Downloads
How to Cite
NWOSU, B. O., & SAMUEL, N. N. (2022). ACHIEVEMENT MOTIVATION AND SELF-CONCEPT AS PREDICTOR OF ACADEMIC ACHIEVEMENT OF SECONDARY SCHOOL STUDENTS IN BIOLOGY IN ANAMBRA. UNIZIK Journal of STM Education, 5(1), 64–74. Retrieved from https://journals.unizik.edu.ng/index.php/jstme/article/view/1498