PERCEPTION OF CHEMISTRY TEACHERS ON SECONDARY SCHOOL CHEMISTRY CURRICULUM: THE NEED FOR ITS REFORM
Keywords:
Chemistry Teachers, Perception, Curriculum, Chemistry Curriculum, Reform
Abstract
The study investigated the perception of chemistry teachers on secondary school chemistry curriculum in terms of its content,  relevance, adequacy and the need for reform. Four research questions guided the study. The design for the study was a descriptive survey. A sample of 148 chemistry teachers randomly sampled from 86 secondary schools drawn out of the 229 government owned secondary schools in Anambra state was used for the study. A validated questionnaire which had a reliability index of 0.89 using Cronbach Alpha technique was used to collect data for the study. The data collected were analyzed using mean, standard deviation, frequency and percentages. The results revealed that the chemistry teachers used for the study perceived that the chemistry curriculum used in secondary schools is overloaded with many contents that cannot be covered within the stipulated time, some topics are too abstract for the students to understand so they suggested that some of the contents need to be reformed to make the teaching of chemistry relevant, adequate and one that can instill skills in students. They also suggested that concepts on environmental changes and of our immediate societal concerns should be included in the curriculum to prepare students to be able to solve the problems of their immediate environment and that of the society as the need arises when they graduate. The researchers recommended among others that the topics in the chemistry curriculum should be reduced and topical issues relevant to our environment should be included in the curriculum.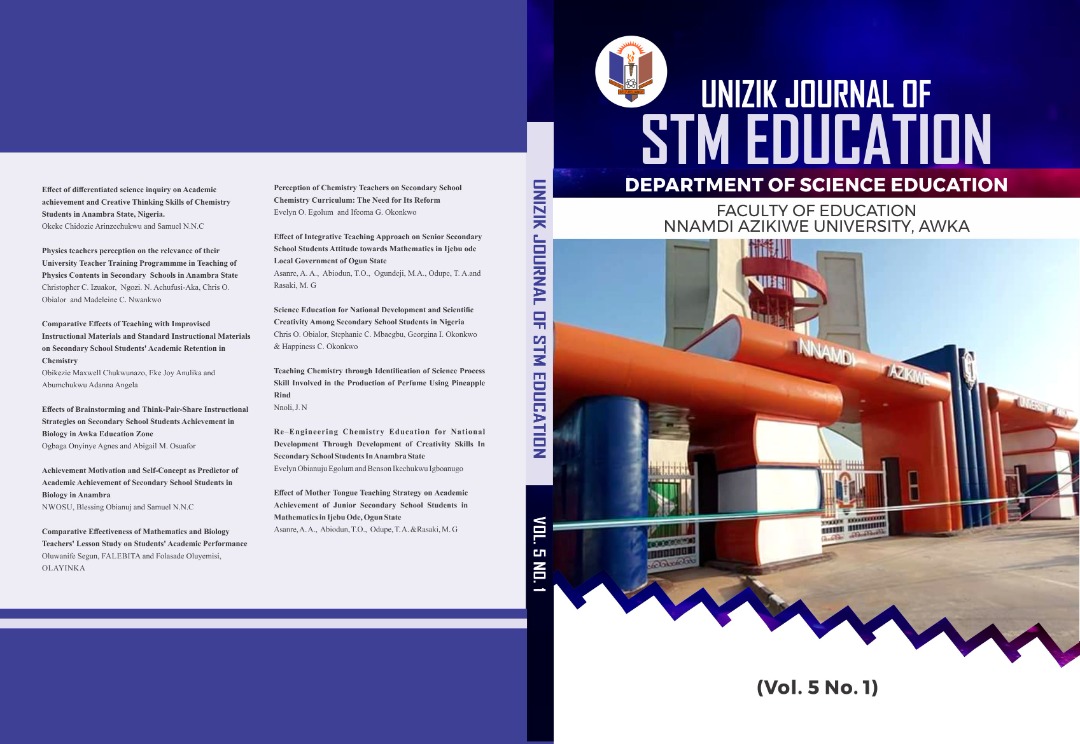 Downloads
How to Cite
EGOLUM, E. O., & Okonkwo, I. G. (2022). PERCEPTION OF CHEMISTRY TEACHERS ON SECONDARY SCHOOL CHEMISTRY CURRICULUM: THE NEED FOR ITS REFORM. UNIZIK Journal of STM Education, 5(1), 75–85. Retrieved from https://journals.unizik.edu.ng/index.php/jstme/article/view/1499