SCIENCE EDUCATION FOR NATIONAL DEVELOPMENT AND SCIENETIFIC CREATIVITY AMONG SECONDARY SCHOOL STUDENTS IN NIGERIA
Keywords:
Science education, scientific creativity, national development, secondary school
Abstract
This paper discussed science education for national development and scientific creativity among secondary school students in Nigeria. It examined the concepts of science education, scientific creativity and national development. It also highlighted the importance of science education to national development and strategies for enhancing scientific creativity development through science education in Nigeria. The paper recommended among others that Science teachers should adopt activity- oriented teaching strategies in teaching of secondary school science subjects in order to inculcate in the students the necessary skills and knowledge needed for scientific creativity and national development.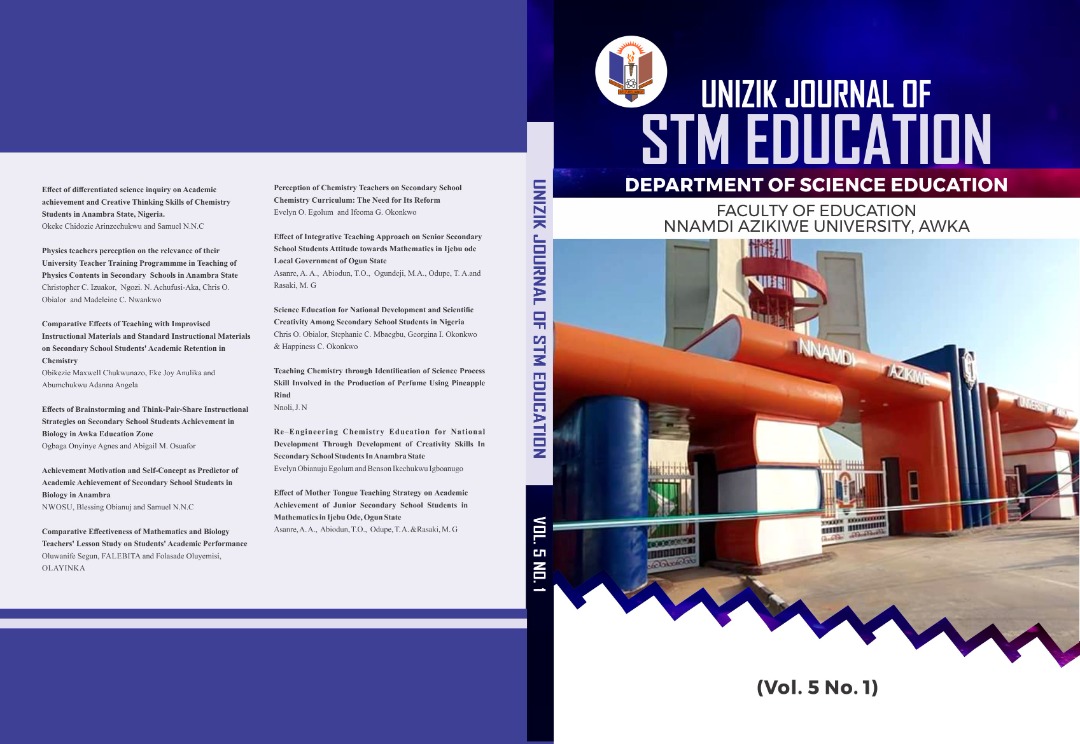 Downloads
How to Cite
OBIALOR, C. O., MBAEGBU, S. C., OKONKWO, G. I., & OKONKWO, H. C. (2022). SCIENCE EDUCATION FOR NATIONAL DEVELOPMENT AND SCIENETIFIC CREATIVITY AMONG SECONDARY SCHOOL STUDENTS IN NIGERIA. UNIZIK Journal of STM Education, 5(1), 92–100. Retrieved from https://journals.unizik.edu.ng/index.php/jstme/article/view/1501