COMPARATIVE STUDY OF IDENTIFYING BIOLOGY ESSAY ERROR TYPES COMMITTED BY SCIENCE AND NON-SCIENCE STUDENTS IN SENIOR SECONDARY SCHOOL IN DEKIN
Keywords:
Biology, Science, Non-Science
Abstract
This study compared error types committed by science and non-science biology students in Senior Secondary School. The study was conducted in Anyigba, Dekina Local Government Area of Kogi State, Nigeria. Two research questions and one null hypothesis were used for the study. The study population comprise 764 ss2 biology students in public government secondary school in Anyigba while the sample used for the study consist of 240 samples, selected using stratified random sampling from 8 schools. The instrument used for data collection was Biology Test for identification of students essay Error Types developed by the researcher including the marking scheme used for data collection, which have been validated and found reliable at 0.87 using Pearson's Product Moment Correction Coefficient. The researcher used descriptive survey design. The questions comprised of short answer questions from two topics in the biology syllabus. Data obtained from the science and non-science groups, error types and their frequencies were recorded. The hypothesis was tested using t-test for independent group at 0.05 level of significance. The result showed that there is significant mean difference in the frequency of error types among the science and non-science students in biology essay. Among the findings of the survey result showed that science and non-science senior secondary school ii biology student committed error, the least error included little knowledge of the topic. The most error types included poor approach to answering essay questions, poor expressions of English language, poor understanding of some basic concept in biology, inability to relate biological concepts to given situation,
student depending on root memory rather than understanding biological concept to reason out solutions and student demonstrated lapses in spellings. Based on the findings of this study among others, revealed that secondary school students generally commit a number of errors and there was a significant difference in error types committed by student which also affect their performance in essay examination and hence the students as a whole. It is therefore recommended that biology teachers should teach the possible error type to the students as students awareness of these errors will help them to guide against committing them.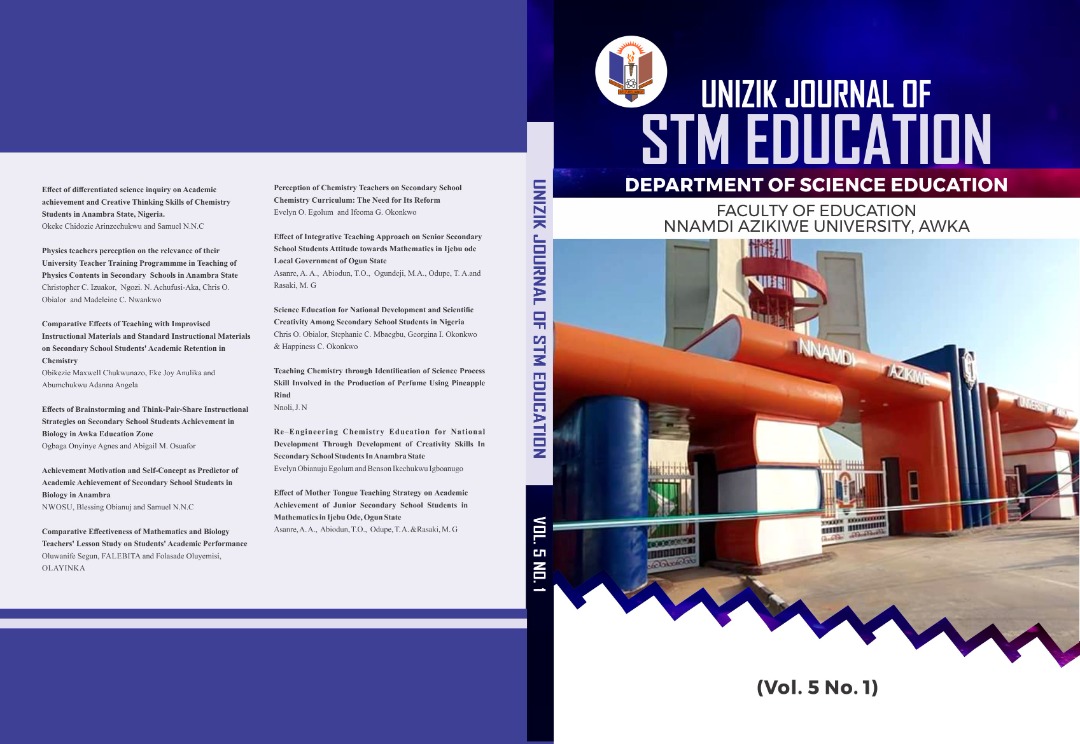 Downloads
How to Cite
ABU, A. O. (2022). COMPARATIVE STUDY OF IDENTIFYING BIOLOGY ESSAY ERROR TYPES COMMITTED BY SCIENCE AND NON-SCIENCE STUDENTS IN SENIOR SECONDARY SCHOOL IN DEKIN. UNIZIK Journal of STM Education, 5(1), 137–146. Retrieved from https://journals.unizik.edu.ng/index.php/jstme/article/view/1506