ENHANCING STUDENTS' ACADEMIC ACHIEVEMENT IN BASIC SCIENCE THROUGH THE USE OF REFLECTIVE INSTRUCTIONAL STRATEGY
Keywords:
Basic Science, Reflective Instructional Strategy, Achievement, Gender
Abstract
The effect of reflective instructional strategy was investigated on upper basic VIII students' achievement in Basic Science in Onitsha Education Zone of Anambra State. Anon-equivalent groups' quasi-experimental research design was used for the study with a sample size of 89 students. Two research questions and three hypotheses guided the study. Students' achievement was measured using Basic Science Achievement Test (BSAT). The reliability coefficient of the instrument was established through a pilot study using Kuder-Richardson 20(KR-20) formula, and the instrument was found to be reliable with a coefficient value of 0.83. To answer the research questions, the data were analyzed using mean, standard deviation, and ANCOVA for testing of hypotheses at 0.05 level of significance. The study also recorded no significant difference between male and female students' achievement. Based on the findings, the study recommended that Basic Science teachers/science educators should adopt reflective instructional strategy as a medium of classroom instruction for teaching science, and basic science in particular.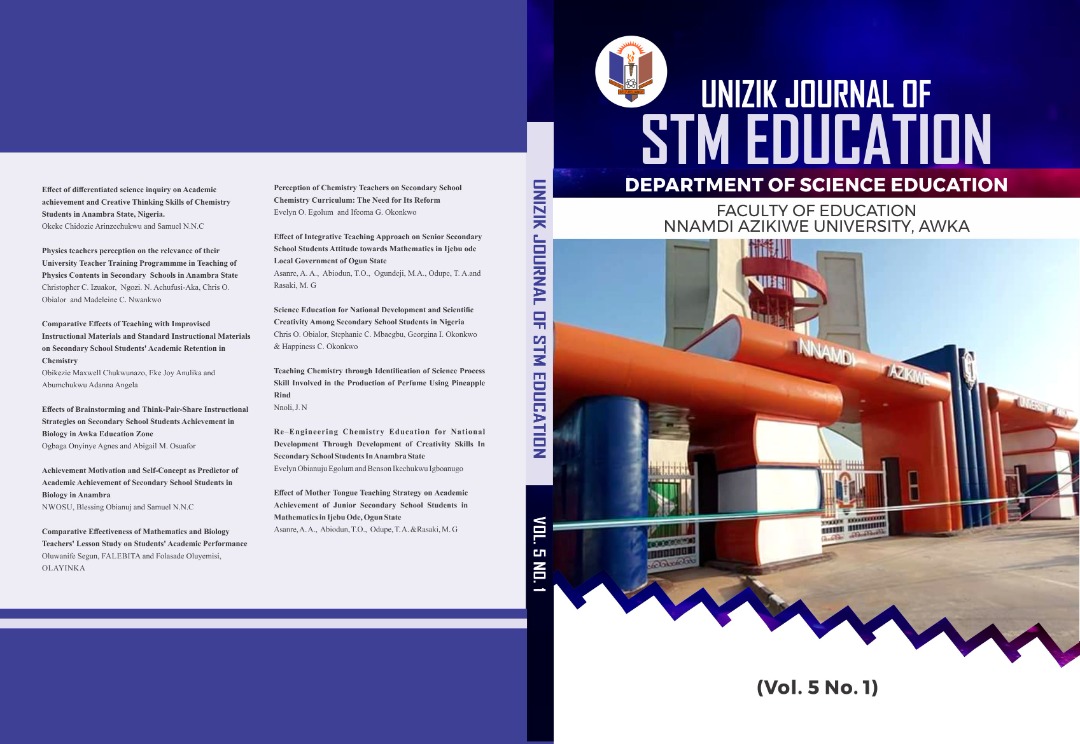 Downloads
How to Cite
OGUEZUE, N. K., OSUAFOR, A. M., & EKOYO, D. O. (2022). ENHANCING STUDENTS' ACADEMIC ACHIEVEMENT IN BASIC SCIENCE THROUGH THE USE OF REFLECTIVE INSTRUCTIONAL STRATEGY. UNIZIK Journal of STM Education, 5(1), 147–158. Retrieved from https://journals.unizik.edu.ng/index.php/jstme/article/view/1507