EFFECT OF SELF-DIRECTED LEARNING AS TEACHING METHOD ON SELF- CONFIDENCE OF SENIOR SECONDARY SCHOOL GOVERNMENT STUDENTS IN FEDERAL CAPITAL TERRITORY, ABUJA, NIGERIA
Keywords:
self-directed learning, conventional method and self-confidence
Abstract
The study was conducted to determine the effect of self-directed learning as a teaching method
on self-confidence among senior secondary school students in the Federal Capital Territory
(FCT), Nigeria. A true experimental research design was adopted for the study. The
population of the study comprised all senior secondary school government students in FCT
Abuja. While the sample size of the study comprised 90 senior secondary school government
(SSS 2) students were drawn from three Area Councils in FCT using multistage sampling
techniques. Data was collected for the study using a Students Self-confidence Rating Scale
(SSCRS) developed by the researchers. Two research questions and three hypotheses guided
the study. Mean and standard deviation were used to answer the two research questions while
a t-test was used to test hypotheses at 0.05 level of significance. Findings of the study revealed
among others that the mean self-confidence rating scores of senior secondary school
government (SSS 2) students taught using self-directed learning as a teaching method were
higher than those taught using the conventional (lecture) method and was statistically
significant in favour of self-directed learning. Though the group taught using the conventional
method gained, slightly higher mean self-confidence score than the control group but was not
significant at 0.05 significance level. It was therefore concluded that the teaching method has
an effect on theself–confidence of the learner. Based on the findings of the study it was
recommended among others that proactive action such as organizing symposium for teachers
and campaign on how to boost learners' self-confidence and effect of teaching methods of
teaching on the self-confidence of the learner should be initiated by the Ministry of Education
and other stakeholders in education.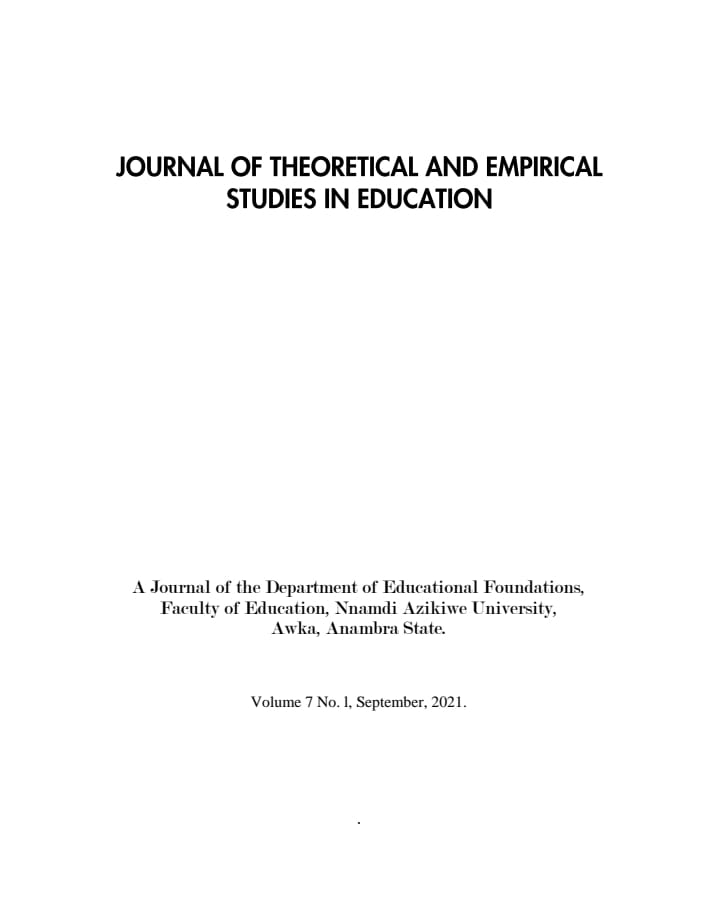 Downloads