THE IMPERATIVES OF CONTINUOUS AUDITING IMPLEMENTATION FOR PERFORMANCE EVALUATION OF BUSINESSES IN NIGERIA: A QUALITATIVE EXAMINATION
Keywords:
Continuous auditing, Annual audit, Reliable Internal Control, Invest in technology, Nigerian environment
Abstract
Continuous auditing methodology has gained prominence and it is replacing the traditional annual (end of the year) audit business across the globe. It is in view of this, that the study attempts to examine the nature of the auditing approach, its advantages /benefits and steps to take by organizations in maintaining and keeping the auditing approach working. This is with the view of enlightening business operators and auditors in the Nigerian environment on the need to embrace the approach in their auditing process. The study is a descriptive one that made use of relevant literature (theoretical and empirical on the subject matter. Findings suggest that while many businesses in advanced economies like USA have adopted continuous model in their auditing processes, the adoption and implementation of the auditing approach is still low in developing nations like Nigeria the focus of the study. It was further revealed that issues such as inability of develop reliable system of Internal Control, inability of auditors to access required information instantaneously on client's transactions and inadequate technology of auditors to assist real time access to data have hindered the adoption of continuous auditing approach in Nigerian business environment. The study concluded by recommending that organizations in Nigeria should develop reliable Internal Control System, allow auditors access to required information and auditors on their own part should invest in technology and automation to be able to access information on clients' operations on real-time basis.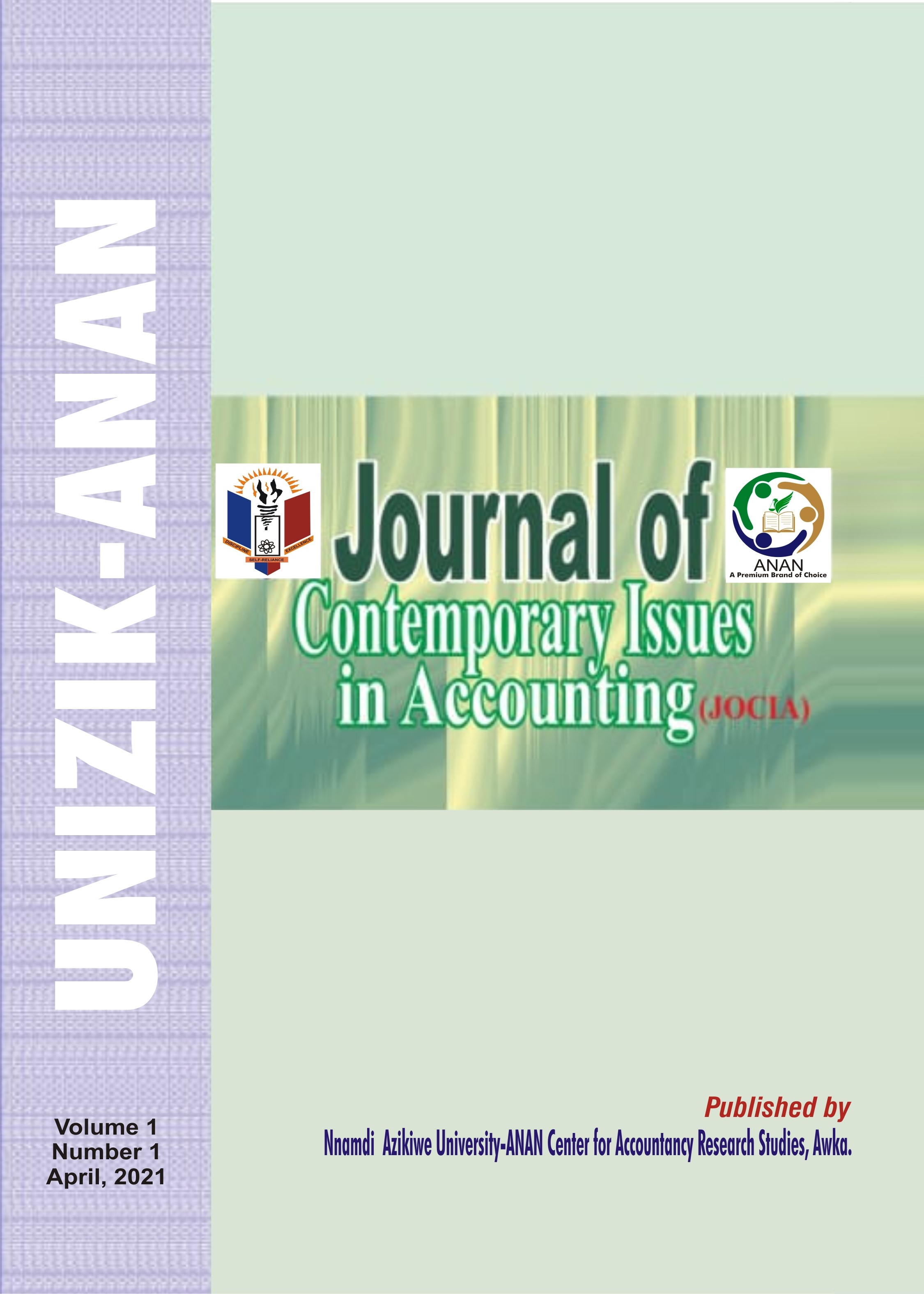 Downloads
How to Cite
Sani, A. I., & Nwite, S. (2021). THE IMPERATIVES OF CONTINUOUS AUDITING IMPLEMENTATION FOR PERFORMANCE EVALUATION OF BUSINESSES IN NIGERIA: A QUALITATIVE EXAMINATION. Journal of Contemporary Issues in Accounting, 1(1), 91–100. Retrieved from https://journals.unizik.edu.ng/jocia/article/view/894