IMPACT OF WORKING CAPITAL MANAGEMENT ON PROFITABILITY OF MANUFACTURING BUSINESS: EVIDENCE FROM NIGERIA
Keywords:
Return on Total Assets, Working Capital Management, Inventory Conversion Period, Debtors' Collection Period, Creditors' Payment Period, Cash Conversion Cycle
Abstract
The study investigated the impact of Working Capital Management (WCM) on the profitability of business using Ashaka cement Plc. as a case study. The aim was to examine the importance of WCM to manufacturing firms. Data for the study were obtained from published financial statements of the company from 2015 – 2019. The explanatory variable of the study is WCM proxied by Inventory Conversion Period (ICP), Debtors' Collection Period (DCP), Creditors' Payment Period (CPP) and Cash Conversion Cycle (CCC) while the dependent variable is profitability proxied by Return on Assets (ROA). Results of regression analysis revealed that while ICP and CCC have a significant impact on ROA, DCP and CPP have a negative impact. The result of the multicollinearity test indicated that there exists a high/ severe and impairing correlation between all pair of the explanatory variables implying non-significance and inability of the variables (endogenous factors) to predict future likely changes in ROA. The study recommended in addition to the implementation of an effective Working Capital Cycle (WCC) by manufacturing firms particularly ICP and CCC, the government should aid the profitability of the sector through the creation of a business-friendly environment particularly improved security and infrastructure.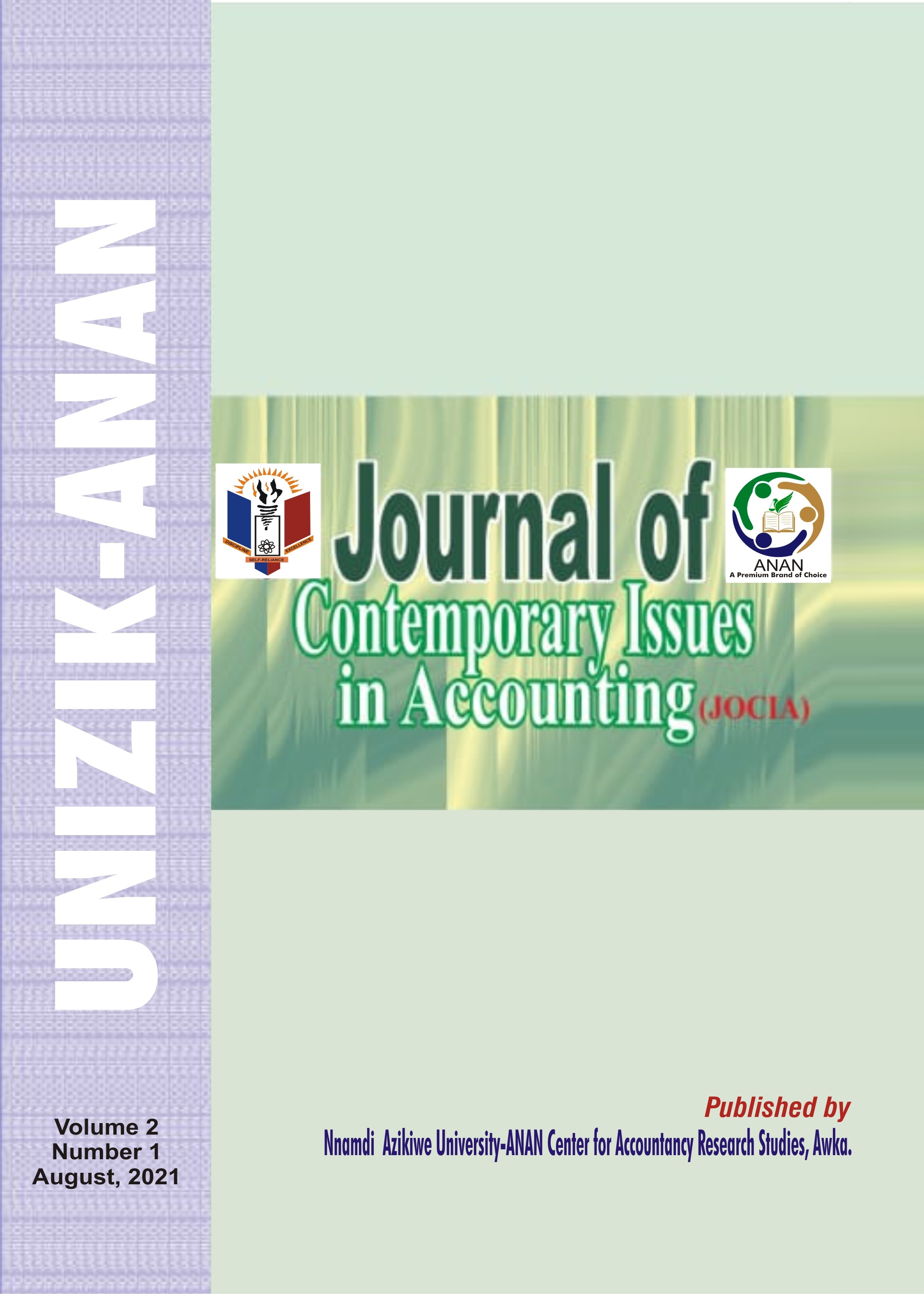 Downloads
How to Cite
Sani, A. I., & Nwite, S. (2021). IMPACT OF WORKING CAPITAL MANAGEMENT ON PROFITABILITY OF MANUFACTURING BUSINESS: EVIDENCE FROM NIGERIA. Journal of Contemporary Issues in Accounting, 2(1), 54–64. Retrieved from https://journals.unizik.edu.ng/jocia/article/view/930