PRINCIPALS' STAFF MENTORSHIP AND NETWORKING PACTICES FOR ENHANCING EFFECTIVE TEACHING IN PUBLIC SECONDARY SCHOOLS IN ANAMBRA STATE
Keywords:
Staff mentorship, staff networking, networking practices, effective teaching
Abstract
This study examined principals' mentorship and networking practices for enhancing effective teaching in public secondary schools in Anambra State, Nigeria. Two research questions guided the study and two hypotheses were tested at 0.05 level of significance. The study adopted the descriptive survey research design. The population of the study comprised 6,649 made up of 267 principals and 6,382 teachers. A sample of 939 consisting 267 principals and 672 teachers was drawn using stage sampling technique. Researchers' developed instrument titled "Principals' Mentoring and Networking Practices Questionnaire" (PMNPQ) which was validated by three experts was used for data collection. The internal consistency of the instrument was ascertained using Cronbach's Alpha and this yielded reliability coefficients of 0.81, 0.79, for the two parts of the PMNPQ and 0.80 for the entire instrument. Out of 936 copies of the questionnaire administered, 901 copies representing 96.3% were duly completed, retrieved and used for data analysis. Mean was used to answer research questions while t-test was used to test the hypotheses at 0.05 level of significance. The result of the study indicated that the extent to which principals provide staff mentorship for teachers for effective teaching in Anambra State secondary schools is high. Principals to a low extent promote staff networking among teachers for effective teaching. Based on the findings it was recommended among others that Principals should provide adequate staff network practices to enhance teachers' effective teaching.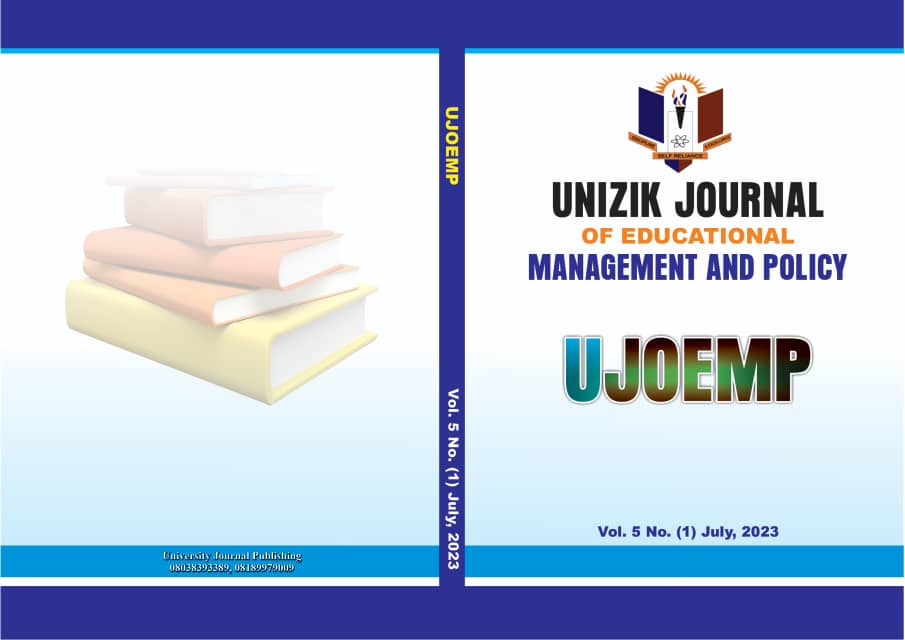 Downloads
How to Cite
Obiekwe, K. (2023). PRINCIPALS' STAFF MENTORSHIP AND NETWORKING PACTICES FOR ENHANCING EFFECTIVE TEACHING IN PUBLIC SECONDARY SCHOOLS IN ANAMBRA STATE. UNIZIK Journal of Educational Management and Policy, 5(1), 38–46. Retrieved from https://journals.unizik.edu.ng/ujoemp/article/view/2163