Effect of Different Mulch Materials on Soil Properties, Growth and Yield of Tomato (Lycoperiscon esculentum mill) at Awka, Southeastern Nigeria
Keywords:
Mulch materials, f1 hybrid, Padma 108, East west tomato seeds, Plastic mulch
Abstract
The experiment was conducted at Soil Science and Land Resources Management Research Farm, Nnamdi Azikiwe University, Awka, to study the effect of different mulch materials on selected soil properties, growth and yield of tomato. The treatment consisting of four mulch materials (sawdust, rice husk, plastic mulch, dry grasses and a control) were evaluated with Randomized Complete Block Design (RCBD) in four replications. Padma 108 f1 hybrid east west tomato seeds were used in the investigation. Data collected were subjected to Analysis of variance (ANOVA) and the means separated using Fishers Least Significant Difference (FLSD) at 5% level of significance. The results of the study indicated that using plastic mulch to grow padma 108 f1 hybrid east west seeds variety for tomato production in the area gave higher yield compared to other treatments. Therefore, application of plastic mulch for tomato production using padma 108 f1 hybrid east west seeds is recommended for tomato producers in the study area. Observations were made on plant height, number of branches, number of leaves, % flowering, % fruiting, which increased on mulched plots than on the control. Soil laboratory results showed that soil pH, soil organic carbon content, available phosphorus and exchangeable cations (Ca, K, Mg, and Na) increased as a result of increase in organic matter with the application of the mulch. Organic mulch precisely Dry Grasses improved the physical properties of the soil.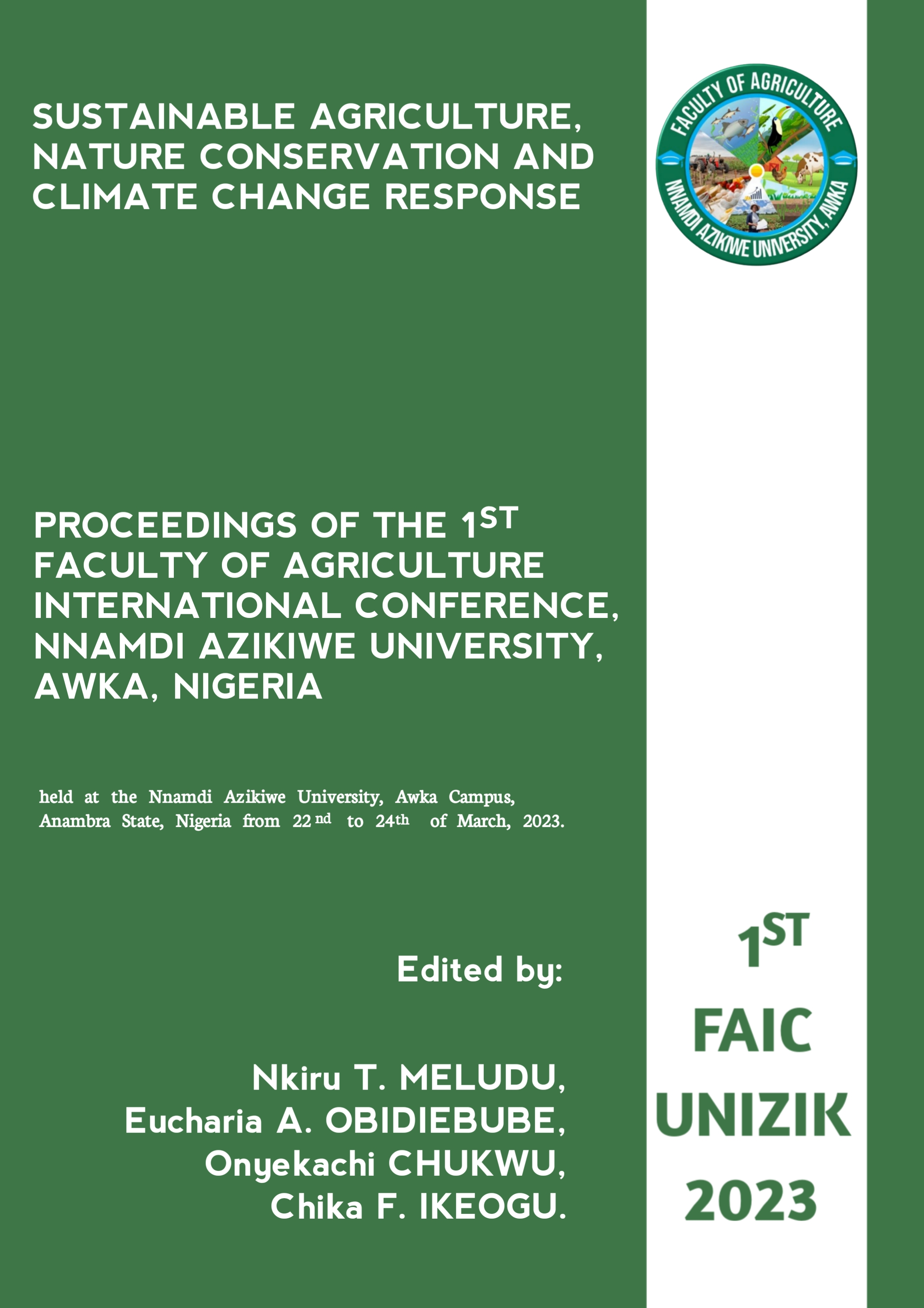 Downloads
How to Cite
Onunwa, A., Nwaiwu, C. J., Madueke, C. O., Nnabuihe, E. C., Nwosu, T. V., & Iwuchukwu, T. (2023). Effect of Different Mulch Materials on Soil Properties, Growth and Yield of Tomato (Lycoperiscon esculentum mill) at Awka, Southeastern Nigeria. E-Proceedings of the Faculty of Agriculture International Conference, 108–114. Retrieved from https://journals.unizik.edu.ng/faic/article/view/1902