Deterrent Methods for Mitigating Crop Raiding By Primates in the Communities around Kainji Lake National Park, Nigeria
Keywords:
Primates, Crop damage, Deterrent methods, Mitigating losses
Abstract
The study identified the deterrent methods employed to prevent crop damage and economic losses in the Support zones of Kainji Lake National park, Nigeria. There is a general perception that primates living at the edge of reserve boundaries are often agricultural pests. Direct method and structured questionnaire were used to obtain information on preventive methods used and it effectiveness in mitigating crop damage by primates. Purposive sampling technique was used for ten (10) communities with serious presence of human-primate conflict. Simple random sampling technique was adopted in selecting respondents from each community. Descriptive statistics and Chi-square test analyses were adopted to investigate the opinions of respondents for significant differences. The results revealed that the various deterrent methods mostly used include, trapping, killing, scare crow, shouting, fencing and stoning which were adopted by 17.8%, 15.5%, 8.9%, 14.5%, 10.2% and 3.3% of the respondents respectively. Majority of the respondents (57.8%) indicated guarding method as the most effective method of preventing crop damage. With respect to the methods and strategies adopted for crop protection, opinions of respondents were also unequally divided, depending on which method or strategy fitted any particular situation (P < 0.05). Guarding method is the most effective method of preventing primates from crop damage in view of their diurnal foraging behaviour. Since most deterrent methods used by local farmers did not take into consideration affordability and use, more methods which must be absolutely effective, affordable and can be operated by the local dwellers be developed.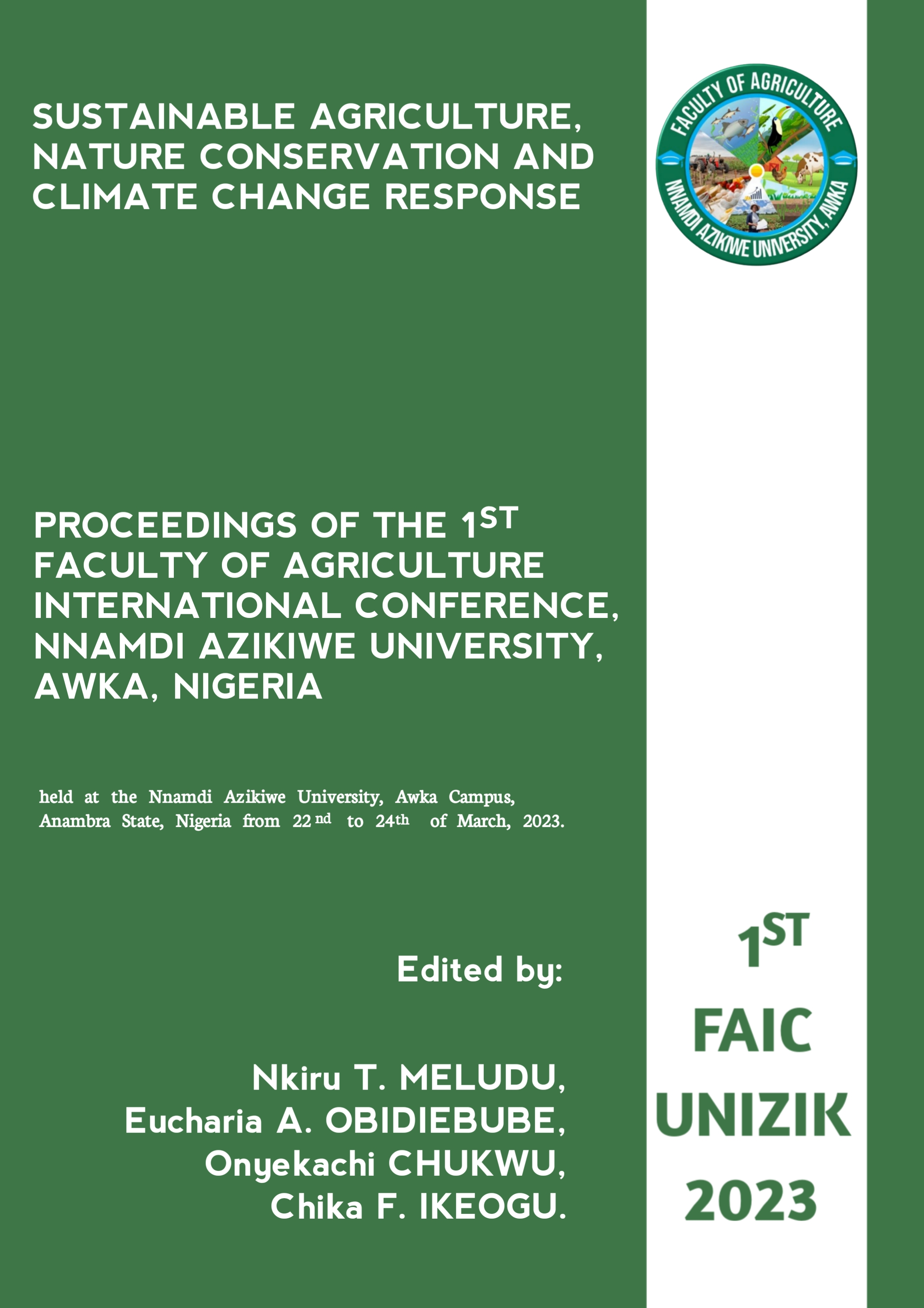 Downloads
How to Cite
Modu, M., Modu, M. B., Yaduma, Z. B., & Lumbonyi, C. A. (2023). Deterrent Methods for Mitigating Crop Raiding By Primates in the Communities around Kainji Lake National Park, Nigeria. E-Proceedings of the Faculty of Agriculture International Conference, 133–137. Retrieved from https://journals.unizik.edu.ng/faic/article/view/1908