Influence of the Levels of Soil Contamination on the Early Growth Performance of Adansonia digitata Linn. Seedlings
Keywords:
Adansonia digitata, Early growth performance, Influence, Soil contamination
Abstract
The indiscriminate discharge of spent engine oil is a major source of soil pollution and the influence of the levels of soil contamination on the early growth and performance of Adansonia digitata was investigated at the forest nursery for the period of twelve weeks. Contaminated and top soil were collected from mechanic garage and Forest Nursery respectively. An headpan was used to measured the contaminated and top soil at gazetteed ratio such as: T1(1:0) Contaminated soil only, T2(1:1) Contaminated soil and top soil, T3 (1:2) Contaminated soil and top soil and T4 (0:1) top soil only. The experimental set up was laid in completely randomization design (CRD) with four treatments and five replicates. Morphological attributes such as shoot height, collar diameter and number of leaves were measured fortnightly for the period of twelve (12) weeks. Inferencial statistics such as Analysis of Variance was employed. The findings revealed that T2 (1:1) contaminated soil and top soil had the best growth vigour in terms of shoot height (4.36 cm) and stem diameter (1.34cm) and its leave mumber followed the best (94.6) and there is significant differences at (p>0.05) level of significance. It can be inferred from the study that Adansonia digitata can be planted at mechanic garages and contaminated soil for cleaning the soil pollution and environment. Further research can be intensified for improvement of the species in terms of economics and ecological benefits it possess.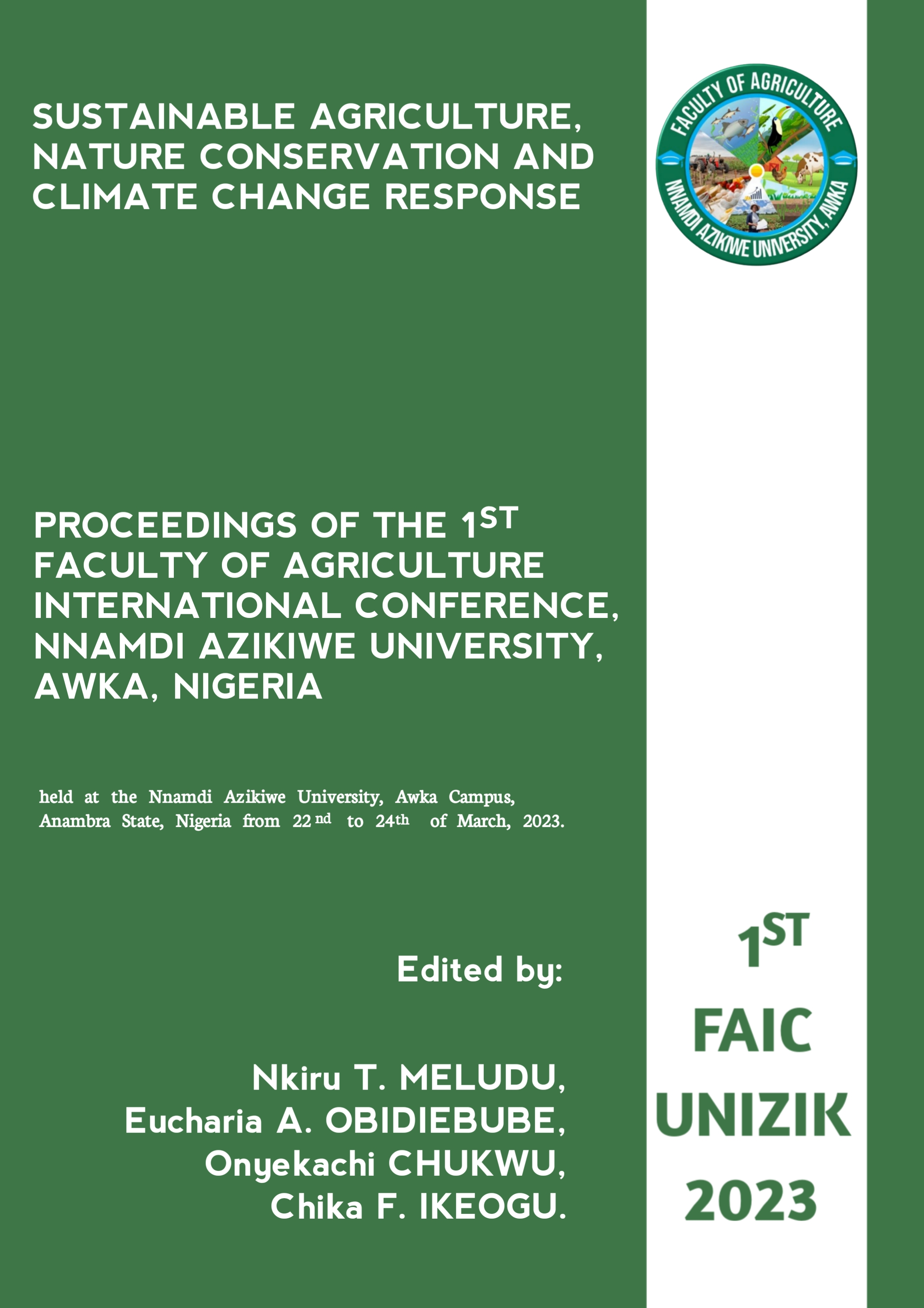 Downloads
How to Cite
Ilu, K. J., Salami, K. D., Jibo, A. U., & Muhammad, Y. K. (2023). Influence of the Levels of Soil Contamination on the Early Growth Performance of Adansonia digitata Linn. Seedlings. E-Proceedings of the Faculty of Agriculture International Conference, 183–187. Retrieved from https://journals.unizik.edu.ng/faic/article/view/1919