Grazing Behaviours of four Nigerian Breeds of Cattle in Awka, South East Nigeria
Keywords:
Bite rate, Breeds, Difference, Grazing, Grazing pattern, Grazing time, Resting position
Abstract
This study was carried out to evaluate the grazing behavior (GB) of four different breeds of cattle (Sokoto Gudali, Red Bororo, Adamawa Gudali, and White Fulani) in Awka, South East Nigeria. The study lasted for 90 days from September-December. Twenty four long weaners (average weight of 83kgs) were randomly allotted to four treatments (breeds) with six animals per treatment. The animals were subjected to rotational grazing system, co-grazed more than 6 ha of range containing grass, legumes and browse plants, the vegetative survey showed an average vegetation height of 2.6cm to 10cm. There was periodic recording of time spent Grazing, resting, bite rate and idle position from all the animals . The result show no significant difference (P>0.05) in the bite rate among the four breeds of cattle, but the highest bite rate was recorded in Red Bororo 3.42 (bite/min). The highest resting time was recorded in Sokoto Gudali 48.08(mins) which is not significantly different (P>0.05) from White Fulani 45.00(mins) and the least resting time was recorded in Adamawa Gudali 35.50(min) which was not significantly different from Red Bororo 39.42(mins). There was no significant different (P>0.05) in grazing time among the breeds. The study further revealed average grazing time of 8:26(hrs) and resting time which ranges from 48:00 - 35:00 minutes among the four breeds. There was no significant difference in the rest position among the breeds which show laying as predominant resting position against standing. the study show that the breeds do not differ on their grazing behavior which disagree with previous works showing breed factor as sources of variation on Grazing behavior among different breeds of indigenous cattle.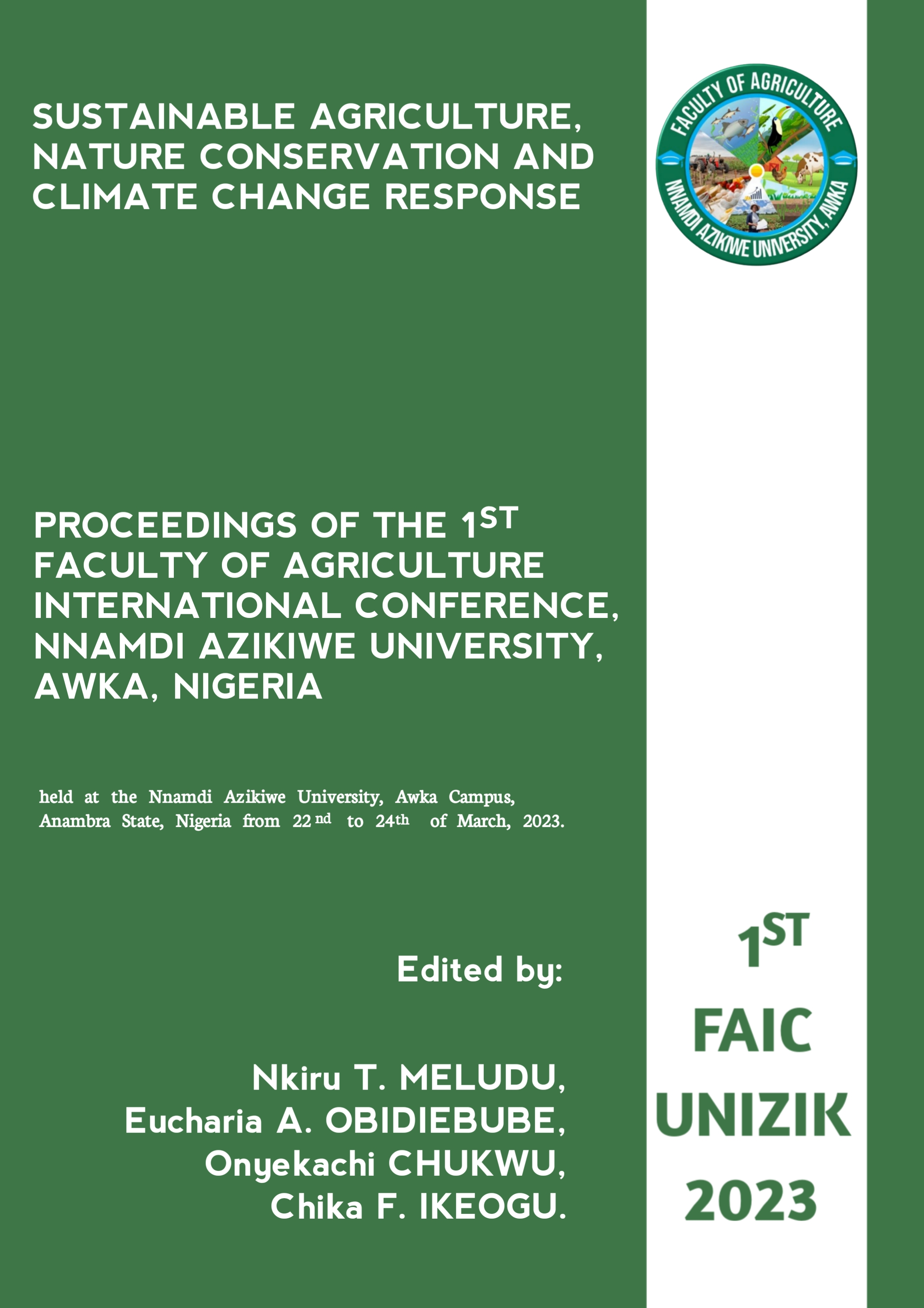 Downloads
How to Cite
Nwankwo, C. A., Onyimonyi, A. E., Okeke, J. C., & Okafor, E. C. (2023). Grazing Behaviours of four Nigerian Breeds of Cattle in Awka, South East Nigeria. E-Proceedings of the Faculty of Agriculture International Conference, 462–466. Retrieved from https://journals.unizik.edu.ng/faic/article/view/2101