CHALLENGES OF PAEDIATRIC RADIOGRAPHY IN SELECTED HOSPITALS AND RADIO-DIAGNOSTIC CENTRES IN ANAMBRA STATE, NIGERIA
Keywords:
challenges, paediatric radiography, selected hospitals, radio-diagnostic centres
Abstract
Background: The difficulties experienced by radiographers in positioning and immobilizing the paediatric patient before and during radiographic examinations have been poorly documented in Nnewi metropolis.
Objective: To assess the challenges encountered by radiographers in conventional imaging of paediatrics in the study area.
Methods: This was a non-experimental prospective cross-sectional survey research. The population size was 45 and consisted of all licensed radiographers working in three selected radio-diagnostic centres with a sample size of 40. A semi-structured questionnaire was used for data collection using consecutive sampling of all radiographers in the selected facilities, who also consented to participate in the study. Obtained data was summarized and presented using frequencies, percentages, mean and standard deviation.
Result: This study found the challenges of paediatric radiography to include: lack of specialized skills 32(92.5%), lack of dedicated paediatric equipment 26(26%), the inability of paediatrics to remain still for the examination 25(62.5%), excess workload/stress 19(47.5%), inadequate immobilization devices 16(40%), apprehensiveness of the paediatrics 13(32.5%), the playfulness of paediatrics 7(17.5%), and poor pain tolerance 1(2.5%). Out of these only, the apprehensive nature of paediatrics was a statistically significant challenge (P<0.05, F=6.845, P=0.015) to paediatric radiography. The most effective way of gaining the co-operation of paediatric patients was through the assistance of parents/caregivers 32(80%).
Conclusion: The significant challenges of radiographers during paediatric radiographic examinations were difficulty in positioning for skull examinations and the apprehensive nature of the paediatric patients. Other challenges included inability of the radiographer to obtain the cooperation of the paediatrics during radiological procedures, lack of specialized skills among radiographers and lack of paediatric-specific immobilization devices.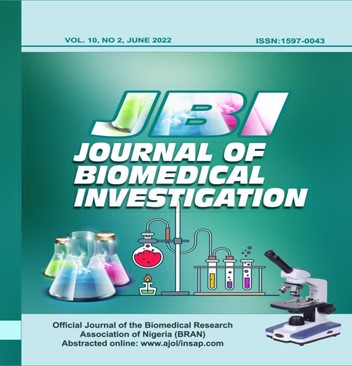 Downloads
How to Cite
Okpaleke, M. S., Nweke, C. B., Ugwuanyi, D. C., Ikegwuonu, N. C., & Chiegwu, H. (2022). CHALLENGES OF PAEDIATRIC RADIOGRAPHY IN SELECTED HOSPITALS AND RADIO-DIAGNOSTIC CENTRES IN ANAMBRA STATE, NIGERIA. Journal of Biomedical Investigation, 10(2), 23–36. Retrieved from https://journals.unizik.edu.ng/index.php/jbi/article/view/1511