JOB SATISFACTION AMONG NURSES IN TERTIARY HEALTH INSTITUTIONS IN EDO STATE NIGERIA
Keywords:
job, satisfaction, nurses, tertiary-health-institutions
Abstract
Background: There is a likelihood of ineffective health care services with insufficient nurses having job dissatisfaction as a result of the recent increase in emigration among health workers, particularly nurses.
Aim: To ascertain the level of job satisfaction, and the influence of selected demographic variables on job satisfaction among nurses in Edo State, Nigeria.
Material and methods: A cross-sectional study design was employed. An adapted self-administered questionnaire was utilized to obtain information from 326 nurses who were consecutively sampled from the tertiary hospitals in Edo State, Nigeria. Mann-Whitney U test, Kruskal-Wallis, and Spearman's rank order correlation tests were used to analyze data, with level of significance set at < 0.05.
Results: The results revealed mean score of participants = 30.36, i.e. they were neither dissatisfied nor satisfied with their jobs. There was no significant correlation between job satisfaction and demographic data (institution, age, gender, marital status, spouse's residence, and year of service), although cadre (p=0.05), academic qualification (p= 0.05) were potent predictors of job satisfaction.
Conclusion: There is neither job satisfaction nor dissatisfaction among nurses in tertiary hospitals Edo State, with only cadre and academic qualifications possibly correlating with job satisfaction.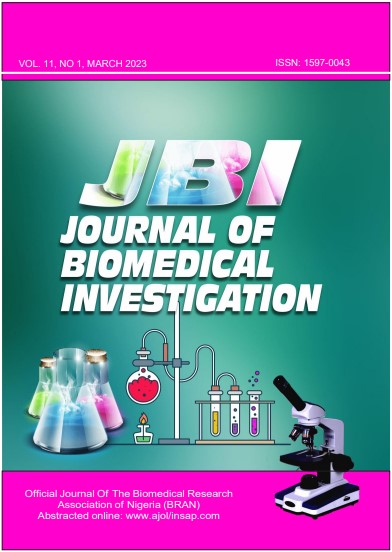 Downloads
How to Cite
NDUBUISI, S. F., MAKATA, N. E., UMUNNAH, J. O., & ANIECHE, J. E. (2023). JOB SATISFACTION AMONG NURSES IN TERTIARY HEALTH INSTITUTIONS IN EDO STATE NIGERIA. Journal of Biomedical Investigation, 11(1), 81–89. Retrieved from https://journals.unizik.edu.ng/jbi/article/view/1994