QUALITY OF LIFE OF PEOPLE LIVING WITH HIV/AIDS IN NNEWI, NIGERIA
Keywords:
HIV/AIDS, quality of life, discrimination
Abstract
BACKGROUND: With the appreciable rise in longevity of people living with HIV/AIDS (PLWHA), the need to investigate their quality of life (QOL) has become increasingly important.
OBJECTIVE: This study aimed at assessing the QOL of PLWHA attending anti-retroviral (ARV) clinics in Nnewi North Local Government Area of Anambra State, Nigeria.
METHODS: The research design for this study was survey. A consecutive non-probability technique was used to recruit 388 PLWHA (113 males and 275 females) for the study. The WHOQOL-HIV Bref was used to obtain data. Subjects' socio-demographic information was obtained using a structured questionnaire.
RESULTS: A significant correlation was found between marital status, age and level of education, between level of independence and age, psychological health and level of education, and social relationship and spiritual/religion/ personal beliefs. The overall mean scores in the two domains of physical health (15.3£3.4) and spiritual/religion/personal beliefs (15.5+3.2) were found to be high. Lower QOL mean scores were observed in social relationships (13.9+3.3). No significant difference was found between males and females in all the domains of the WHOQOL- HIV Bref.
CONCLUSIONS: Discrimination as well as poor living conditions may have an effect on the QOL of PLWHA. Marital and educational status may influence social relationship, spiritual/religion/personal beliefs, and psychological health of PLWHA positively.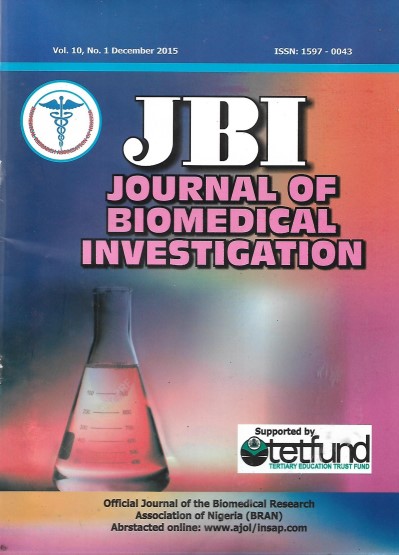 Downloads
How to Cite
UMUNNAH, J. O., Mbata, C., Akosile, C., & Ihegihu, E. Y. (2015). QUALITY OF LIFE OF PEOPLE LIVING WITH HIV/AIDS IN NNEWI, NIGERIA. Journal of Biomedical Investigation, 10(1), 25–36. Retrieved from https://journals.unizik.edu.ng/jbi/article/view/2256