PHYSICAL ACTIVITY PARTICIPATION, EXERCISE SELF-EFFICACY AND SELF-MOTIVATION AMONG STUDENTS IN A NIGERIAN UNIVERSITY
Keywords:
Physical activity, exercise, self-efficacy, self-motivation, university student
Abstract
Background of the study: Despite the well-known benefits of physical activity (PA) participation, college students rarely meet the recommended benchmarks.
Aim of the study: This study was aimed to examine the relationships among PA participation, exercise self-efficacy and motivation among college students.
Material and methods: This cross-sectional study involved a simple random sample of 244 (122 males and 132 females) university students from Nnamdi Azikiwe University, Nnewi Campus, Anambra State, Nigeria. PA, exercise self-efficacy, and exercise self-motivation were assessed using International Physical Activity Questionnaire-short form, Self-Efficacy for Exercise measure and exercise motivations inventory-version 2 respectively. Descriptive and inferential statistics of Spearman's rank order correlation and Mann Whitney U tests were used to summarize and analyze data.
Results: The mean age of the respondents was 23.12±0.2 years. More than half of the respondents were moderately active (63.3%), had moderate exercise self-efficacy (54.9%), and moderate exercise self-motivation (59.4%). PA and exercise self-motivation were significantly correlated (r=0.145; p=0.023), Also, exercise self-efficacy and exercise self-motivation were significantly correlated (r=0.282; p=0.001). Higher participation in strenuous exercise among the male participants (U=6909.5; p=0.040) was observed.
Conclusions: Moderate PA was predominant among Nigerian University Students. PA involvement was linked to increased exercise self-motivation.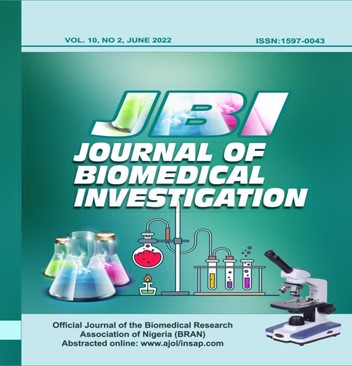 Downloads
How to Cite
Ihegihu, E. Y., Anyaeche, K., Ihegihu, C., Mbada, C., Onwuakagba, I. U., Amaechi, I. A., Nweke, M., & Okonkwo, U. P. (2022). PHYSICAL ACTIVITY PARTICIPATION, EXERCISE SELF-EFFICACY AND SELF-MOTIVATION AMONG STUDENTS IN A NIGERIAN UNIVERSITY. Journal of Biomedical Investigation, 10(2), 94–102. Retrieved from https://journals.unizik.edu.ng/jbi/article/view/1526