ATTITUDE, PERCEPTION AND PRACTICE AND BARRIERS OF PHYSIOTHERAPISTS TOWARDS THE ASSESSMENT AND MANAGEMENT OF RISK FACTORS OF LIFESTYLE-RELATED DISEASES: A CROSS-SECTIONAL SURVEY
Keywords:
Lifestyle-related diseases, attitude, perception, practice, physiotherapists
Abstract
Background of the study: Prevention and management of lifestyle-related diseases (LRDs) are deemed a priority in contemporary  physiotherapy. However, questions subsist in developing countries like Nigeria on the place of physiotherapy practice in the assessment and management of risk factors of LRDs.
Aim of the study: This study provide insights into the attitude, perception and practice of physiotherapists towards the assessment  and management of risk factors of LRDs during patient care.
Materials and Method: A total of 110 physiotherapists were recruited from public and private hospitals in Lagos State, Nigeria. Participants completed an adapted questionnaire. The questionnaire consisted of 10 sections that assessed demographic and physical characteristics, risk factors and management of LRDs, and attitudes of participants in the assessment and management of LRDs. Data was summarized using frequencies and percentages.
Results: Respondents always assessed risk factors of LRDs in the descending order of: blood pressure 68 (61.8%), alcohol use 41 (37.3%), exercise 41 (37.3%), level of activity 40 (36.4%), tobacco use 37 (33.6%), and diet 31 (28.2%). Regarding respondents'  management options for 20% overweight or more, 58 (52.7%) always use exercise regularly, 57 (51.8%) always use decreasing calore intake, 49 (44.6%) always use decreasing dietary fats, 45 (40.9%) always perform specific exercises, whereas 28 (25.5%) advises patients to quit smoking. Also, respondents' reported as 'very effective' the use of exercise (64, 58.2%), healthy diet (61, 55.5%) and weight reduction (57, 51.8%) for changing patients behaviour.
Conclusions: Blood pressure was the most assessed risk factors of LRDs by physiotherapists in Lagos. Physiotherapists in Lagos always advise individuals with LRDs on dieting, weight reduction, cessation of smoking and alcohol intake. Management options of exercise, healthy diet and weight reduction are very effective for changing patients' behaviour.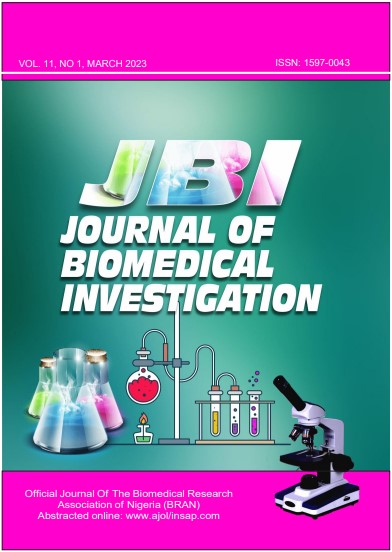 Downloads
How to Cite
OKAFOR, U., AIYEJUSUNLE, C., ADESANYA, O., OGHUMU, S., & UMUNNAH, J. (2023). ATTITUDE, PERCEPTION AND PRACTICE AND BARRIERS OF PHYSIOTHERAPISTS TOWARDS THE ASSESSMENT AND MANAGEMENT OF RISK FACTORS OF LIFESTYLE-RELATED DISEASES: A CROSS-SECTIONAL SURVEY. Journal of Biomedical Investigation, 11(1), 20–29. Retrieved from https://journals.unizik.edu.ng/jbi/article/view/1986