PREVALENCE OF LOW BACK PAIN AMONG OCCUPATIONAL MOTORCYCLE RIDERS IN NNEWI, ANAMBRA STATE
Keywords:
Low back pain, Occupational motorcycle riders
Abstract
Background: Occupational motorcycling has become- the mainstay of transportation in most parts of Nigeria.
Objective: This study investigated the prevalence of low back pain (LBP) among occupational motorcycle riders in Nnewi, southeastern Nigeria.
Method: Data was collected using a 27 - item questionnaire adapted from the one used in a previous study. The consecutive non-probability sampling technique was employed in selecting the respondents.
Results: Two hundred and sixty-nine copies of the questionnaire were completed and retuned out of the 270 administered, indicating a 99.6% response rate. The prevalence of back pain was found to be 40.9% and the body part most affected was the low back (79.5%) followed by the upper and mid back pain (10.2% each); 39% of those who reported LBP belonged to the 40- 49 age group. Only 15% of the respondents who had worked for 1 - 2 years reported LBP. Sitting for long time was the posture identified by most of the respondents as worsening their back pain (33.3%) while standing for a long time was identified by most (66.3%) as relieving their pain. Upright sitting with 90° elbow flexion was reported by most of the occupational motorcycle riders (77.14%) as the most commonly adopted posture during riding. Although 12% of the motorcycle riders had stopped working on some days as a result of the pain; none of them had left the occupation.
Conclusion: LBP may be associated with longer duration of occupational riding and with age although at a certain age (50 and above); it was found to decrease.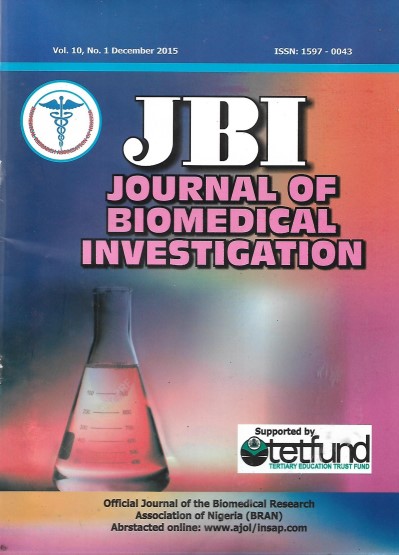 Downloads
How to Cite
UMUNNAH, J. O., Okoye, N., Sibeudu, F., & OKONKWO, U. P. (2015). PREVALENCE OF LOW BACK PAIN AMONG OCCUPATIONAL MOTORCYCLE RIDERS IN NNEWI, ANAMBRA STATE. Journal of Biomedical Investigation, 10(1), 15–24. Retrieved from https://journals.unizik.edu.ng/jbi/article/view/2254