THE PREVALENCE OF INTESTESTINAL PARASITES AND IMPACT OF CRYPTOSPORIDIUM INFECTION AMONG DIARRHOEAL - INFECTED HIV PATIENTS VISITING THE SPECIALIST HOSPITAL, BENIN-CITY, EDO STATE, NIGERIA
Keywords:
diarrhea, intestinal parasites, HIV/AIDS
Abstract
Background of the study: Diarrhea is one of the world's worst health problems, especially in immuno compromised persons.
Aim: The study's main goal was to determine the prevalence ofintestinal parasites and the clinical impact of Cryptosporidium parvum  in HIV-positive diarrhea patients at the Specialist Hospital in Benin City, Edo State, South-Central Nigeria.
Materials and methods: Stool concentration and modified Zehl-Neilson staining was used to evaluate 196 stool samples for intestinal  parasites.
Results: A total of 196 HIV/AIDS-related diarrhea patients (116 women and 80 men) were examined for intestinal parasites. The overall parasite prevalence, density, and age prevalence among diarrhea-infected HIV/AIDS patients were 21.35% and 5.0%, respectively, with  Ascaris lumbricodes (5.6%), Cryptosporidium parvum (5.1%), and Entamoeba histolytica (5.1%) being the second most frequent intestinal parasites surveyed. HIV-infected people of all ages had 5.0% Cryptosporidium-related diarrhea. Patients aged 46–55 years had 2.5% of all cases, whereas those aged 6–15 years, 16–25 years, and 56–60 years had 0%. Cryptosporidium was more common in women (4.0%vs.1.0%) than in men. Both groups showed a statistical difference (P 0.05). Regimen 1A had the most cryptosporidium (3.1%). HIV-related diarrhea was more common among patients with CD4 levels below 350 (4.1% vs. 1.0%, respectively) compared with CD4+ > 350 (136 individuals), who made up the bulk of those tested with a statistical difference between groups. HIV patients with only  bloody diarrhea had a 3.1% prevalence of cryptosporidium, compared to 0% in those with bloody diarrhea and mucus or only mucus;  the odd ratio (OR) was 1.06 (95% CI 0.20–85.27) with P> 0.05. Cryptosporidium oocysts have been found in HIV-infected patients' feces at the Specialist Hospital in Benin City, Edo State, suggesting a relation to HIV diarrhea, particularly in the late stages of illness. It causes 5.0% of diarrhea in this population.
Conclusion: Cryptosporidiosis is frequent in HIV-infected diarrhea patients. Thus, HIV and immuno suppressed patients' diarrhea treatments should incorporate this study's findings.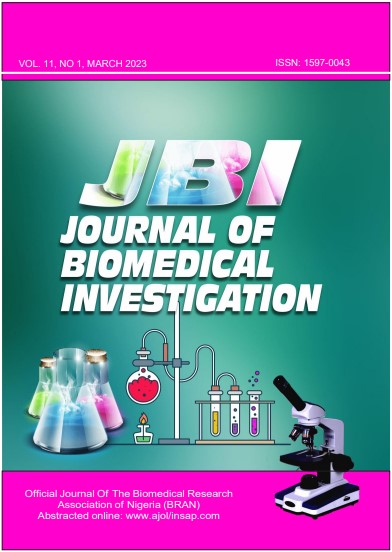 Downloads
How to Cite
OYAKHIRE, F. O., ADEJUMO, B. I. G., AIYEGBUSI, O. V., OGIE, E. O., ENOR, S., EGHO, E. V., ABDULKADIR, U. I., & OBI, H. N. (2023). THE PREVALENCE OF INTESTESTINAL PARASITES AND IMPACT OF CRYPTOSPORIDIUM INFECTION AMONG DIARRHOEAL - INFECTED HIV PATIENTS VISITING THE SPECIALIST HOSPITAL, BENIN-CITY, EDO STATE, NIGERIA. Journal of Biomedical Investigation, 11(1), 54–63. Retrieved from https://journals.unizik.edu.ng/jbi/article/view/1991