ASSESSMENT OF BIOMARKERS OF RENAL FUNCTION IN LEPROSY PATIENTS IN OSSIOMO – OGAN, EDO STATE, NIGERIA
Keywords:
leprosy, renal function, electrolytes
Abstract
Background of study: Parameters such as blood-urea nitrogen, creatinine, uric acid, and electrolytes are good biomarkers of renal  function, which could be considered as suitable prognostic indicators of renal diseases.
Aim: This study aimed at assessing the renal biomarkers of renal function in leprosy patients at Ossiomo-Ogan,Edo State, Nigeria.
Materials and methods: The study was conducted at the Leprosy Rehabilitation Centre, Ossiomo-Ogan, in Edo State, Nigeria, between April and December 2021. This study included 108 people between the ages of 18 and 60 (57 leprosy patients and 51 controls). Parameters such as urea, creatinine, chloride, potassium, sodium, and bicarbonate were assayed using standard methods. The data obtained were summarized using the mean and standard deviation. Comparative analysis was done using an independent sample t-test, while correlation tests were done using Pearson's bivariate correlation test.The level ofsignificance wasset at p 0.05.
Results: Serum levels of potassium and chloride were significantly elevated in leprosy patients compared with the controls (p<0.05).  However, no significant differences were observed in sodium and bicarbonate between leprosy patients and controls (p > 0.05). Findings also indicated no significant differences in serum levels of urea (p = 0.292) and creatinine (p = 0.790) between leprosy patients  and control subjects. Age, BMI, blood pressure parameters, urea, creatinine, and electrolytes in both leprosy patients and controls also indicated no significant correlation.
Conclusion: No significant difference in renal function was observed between leprosy patients and non leprosy-affected individuals. However, the levels of serum urea and creatinine are high, which indicate renal involvement among the leprosy patients. There is a need to analyze renal biomarkers (urea, creatinine electrolytes) as part of routine medical examinations among leprosy patients to  prevent renal failure.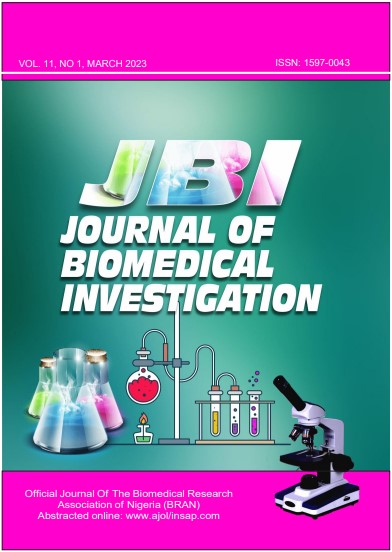 Downloads
How to Cite
ADEJUMO, B. I. G., IDEMUDIA, D. O., UMAHI-OTTAH, G., OYAKHIRE, F. O., AIYEGBUSI, O. V., DIMKPA, U., ABDULRAHMAN, O. N., AKHAUMERE, E. O., & UZOR, S. (2023). ASSESSMENT OF BIOMARKERS OF RENAL FUNCTION IN LEPROSY PATIENTS IN OSSIOMO – OGAN, EDO STATE, NIGERIA. Journal of Biomedical Investigation, 11(1), 9–19. Retrieved from https://journals.unizik.edu.ng/jbi/article/view/1985