KNOWLEDGE AND IMPLEMENTATION OF CAUTI-BUNDLES IN PATIENTS' CARE AMONG NURSES IN A NIGERIAN TERTIARY HEALTH FACILITY
Keywords:
CAUTI-Bundle, Knowledge, Implementation, Patients care, Nurses
Abstract
Background: Between 15-25% of hospitalized patients receive urinary catheters during their hospital stay, predisposing majority to catheter associated urinary tract infection (CAUTI). Owing to the high prevalence of CAUTI globally, CAUTI-Bundle was introduced and adopted as a gold standard of care which should be utilized by nurses while providing care to admitted patients on catheter.
Aim: This study assessed the knowledge and implementation of CAUTI-Bundles in patients care among nurses in a Nigerian Tertiary Hospital.
Materials and methods: A cross-sectional descriptive survey was carried out among 466 registered nurses purposively recruited from Federal Medical Centre Asaba. Data were collected using a pretested researchers' developed questionnaire. The data obtained were analyzed using frequencies, percentages and Chi-square at value less than 0.05 level of significance.
Results: More than half of the nurses 251(66.4%) had adequate knowledge about the use of CAUTI bundles in patients' care while only 175(46.2%) implemented and sparingly adhered to the CAUTI-Bundle protocol while caring for the patients on catheter. There was a significant association between years of experience, cadre (p < 0.05) and knowledge of CAUTI-Bundle.
Conclusion: Although more than half of the participants had adequate knowledge about CAUTI-Bundles, its implementation was suboptimal. As CAUTI continues to pose a challenge to hospital safety and quality healthcare of the patients, nurses who are the keystones to CAUTI bundle implementation, need to have better understanding of which, and in what context implementation strategies should be best utilized to ensure reductions in CAUTIs and catheter days of their patients.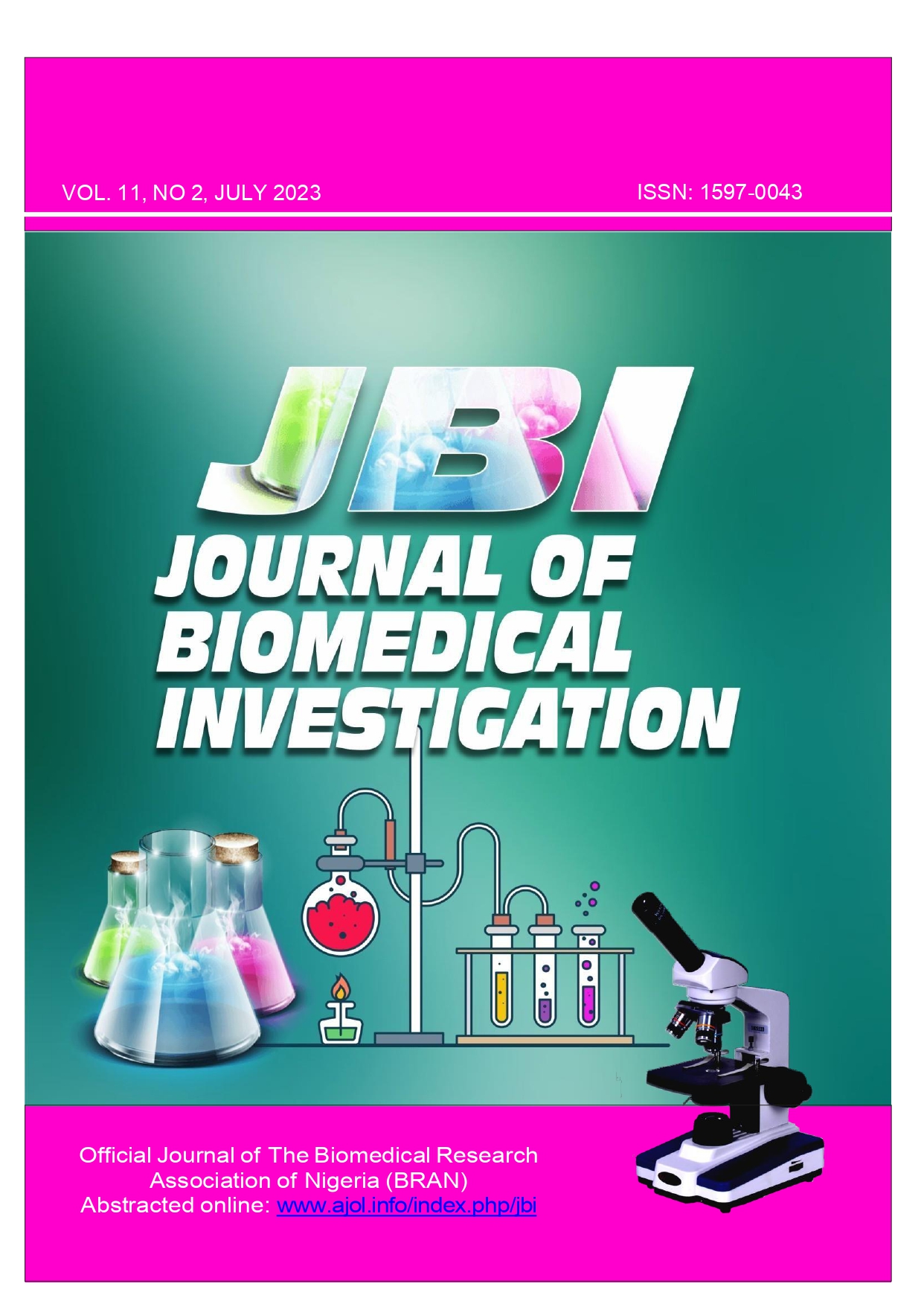 Downloads
How to Cite
Odikpo, L. C., Ezike, O. C., Onyia, E. .O, Amadi, O. C., Egbuniwe, M. C., Nwaneri, A. C., MAKATA, N. E., Agbapuonwu, N. E., Ihudiebube, S. C., Ojong, I. N., & Okedo, H. (2023). KNOWLEDGE AND IMPLEMENTATION OF CAUTI-BUNDLES IN PATIENTS' CARE AMONG NURSES IN A NIGERIAN TERTIARY HEALTH FACILITY. Journal of Biomedical Investigation, 11(2), 86–96. Retrieved from https://journals.unizik.edu.ng/jbi/article/view/2536