MOLECULAR DETECTION OF CEFOTAXIMASE MUNICH (CTX-M) RESISTANT ACINETOBATER BAUMANNII IN A TERTIARYCARE HOSPITAL IN SOUTHEAST NIGERIA
Keywords:
Multidrug resistance, Acinetobacter baumannii, hospital infections
Abstract
Background: Acinetobacter baumannii (A. baumannii) is one of the numerous organisms responsible for multidrug resistant, hospital acquired infections in many tertiary health care institutions worldwide.
Aim: To detect the presence of cefotaximase (CTX) resistant A. baumannii in NAUTH Nnewi, Southeast, Nigeria.
Materials and Methods: Clinical isolates of Gram-negative bacilli (n=210) were obtained from several clinical specimens. All isolates  were phenotypically identified in the laboratory using standard cultural methods. Antimicrobial susceptibility tests were performed on  all A. baumannii species detected using the Kirby Bauer disc diffusion technique. Isolates resistant to any of the 3rd generation Cephalosporins were screened for ESBL activity using the Double disc synergy test. Polymerase Chain Reaction wasthen used to detect  the presence of CTX gene from the ESBL positive isolates.
Results: Out of the 210 Gram-negative bacilli, 20 (9.5%) were Acinetobacter species. The organisms were most resistant to amoxicillin-clavulanic acid and the 3rd generation cephalosporins. Cefotaximase (CTX) gene was observed in 3/20 (5%) of the Acinetobacter species.
Conclusion: Multidrug resistant Acinetobacter baumannii was prevalent in the study area, although the rate of CTX production was  relatively low. Consequently strict application of good infection prevention and control measures in the hospital setting is necessary to  curb the menace associated with this organism.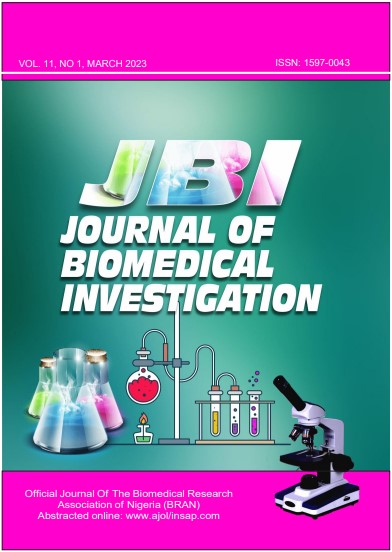 Downloads
How to Cite
OKORO, A. E., AKUJOBI, C. N., AGHANYA, N. I., UKIBE, S. N., NNEMELU, P. O., OKWESILEZE, C. V., EZEAMA, J. C., AKUAKOLAM, I. M., & AJUBA, I. M. (2023). MOLECULAR DETECTION OF CEFOTAXIMASE MUNICH (CTX-M) RESISTANT ACINETOBATER BAUMANNII IN A TERTIARYCARE HOSPITAL IN SOUTHEAST NIGERIA. Journal of Biomedical Investigation, 11(1), 41–46. Retrieved from https://journals.unizik.edu.ng/jbi/article/view/1989