A COMPARISON OF PURE NATURAL HONEY AND EDINBURGH UNIVERSITY SOLUTION (EUSOL) IN THE MANAGEMENT OF CUTANEOUS ULCERS
Keywords:
Honey, Eusol, Cutaneous, Ulcer, Management
Abstract
Honey is an ancient remedy for the treatment of infected wounds. This study compared the effects of Pure Natural Honey and Edinburgh University Solution (EUSCL) in the management of cutaneous ulcers. Sixteen participants with cutaneous wounds/ulcers were studied to assess the efficacy of pure natural honey as wound dressing in comparison with Edinburgh University Solution (EUSOL). The participants were grouped into; Honey group (n=15) and EUSOL group (n=12). On daily basis, the wound sites were cleaned with saline and the base of the ulcer swabbed for microbiology culture and sensitivity studies. Thereafter, the patients' wounds were dressed with sterile gauze soaked in honey or Eusol as the case may be. The result showed that among the honey group, 80% of the ulcers were rendered sterile within one week and 90% healing was achieved within six weeks while among the BUSOL group the ulcers became sterile within one week, but only 33.3% of the ulcers healed within six weeks. Reduction of tissue oedema was seen much earlier and was more remarkable with ulcers on honey dressing. Honey is tissue-friendly. The antiseptic and wound healing properties when considered along with its low cost and high availability make it a good wound dressing agent.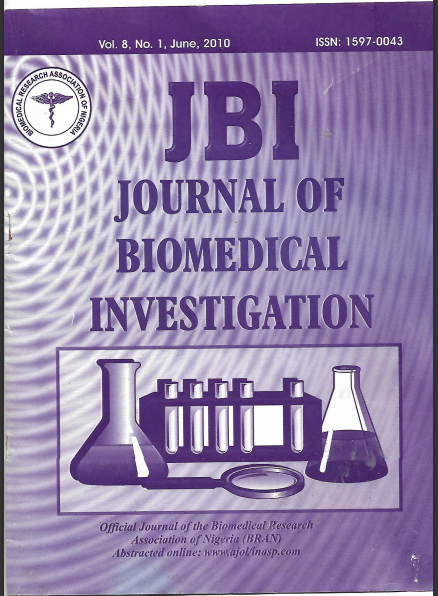 Downloads
How to Cite
Onyiacra, I., AKUJOBI, C. N., Adeyemi, O., Atinomo, C., & Uba, O. (2010). A COMPARISON OF PURE NATURAL HONEY AND EDINBURGH UNIVERSITY SOLUTION (EUSOL) IN THE MANAGEMENT OF CUTANEOUS ULCERS. Journal of Biomedical Investigation, 8(1), 32–35. Retrieved from https://journals.unizik.edu.ng/jbi/article/view/2140