CEFTRIAXONE RESISTANCE IN TERTIARY HOSPITAL SOUTH EASTERN NIGERIA: A RETROSPECTIVE STUDY
Keywords:
ceftriaxone, resistance, cephalosporin, Nigeria
Abstract
Background: Amid the global crisis of antibiotic resistance, including ceftriaxone resistance, physicians continue to prescribe ceftriaxone as an empiric first line treatment for both community acquired and hospital acquired infections. The study aimed at detecting the rate of ceftriaxone resistance to isolated bacteria in Nnamdi Azikiwe University Teaching Hospital, Nnewi.
Methods: A check list was used to extract information from the Antimicrobial Susceptibility testing records in the Medical Microbiology and Parasitology Laboratory of the hospital, over a period of one year. Information including patient's sex, ward, specimen type, bacteria isolated, and their ceftriaxone susceptibility profile were documented on a proforma. Statistical analysis of the data was done using STATA version 13 statistical package.
Results: A total of 225 isolates were subjected to ceftriaxone sensitivity testing. The prevalence of ceftriaxone resistance in the total bacteria population was 110/225(48.89%), while resistance rates for Staphylococcus aureus, Klebsiella species, Escherichia coli and Pseudomonas aeruginosa, the commonest pathogens implicated in health-care associated infections were 12/19(63.2%), 19/35(54.3%), 43/81(53.1%), and 13/25(52.0%) respectively. The specimen from which isolated organisms showed the most resistance was wound swabs 33/44(75.0%). There were statistically significant relationships between isolated bacteria and ceftriaxone resistance (P= 0.034), as well as cultured specimen and ceftriaxone resistance (P= 0.001).
Conclusion: The rate of ceftriaxone resistance in this setting is high, hence, there is a need to review the antibiogram of several pathogens in the hospital and come up with a new antibiotic for empirical use.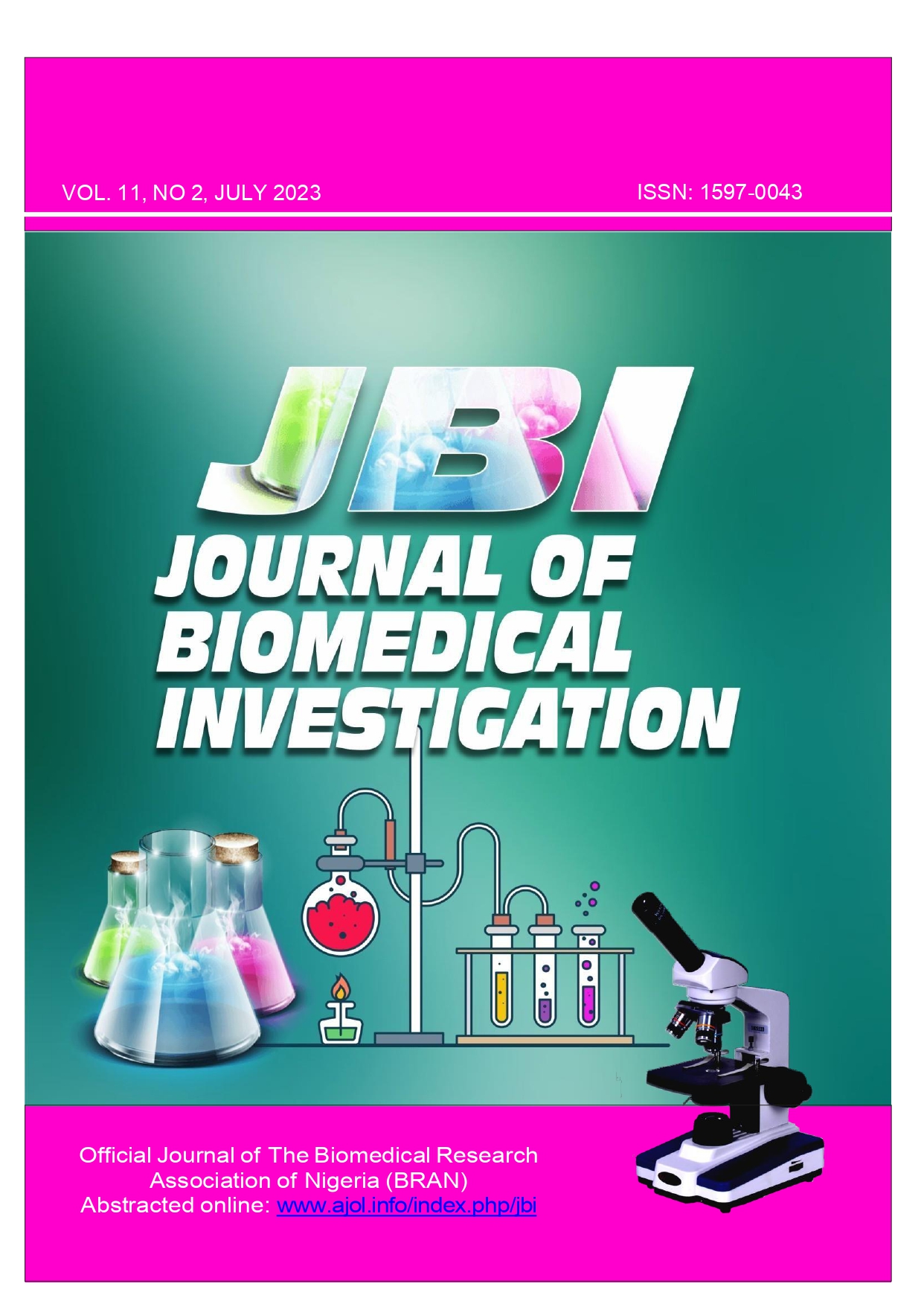 Downloads
How to Cite
Ushie, S. N., AGHANYA, N. I., Ilokanuno, C. N., UFOAROH, C. U., Onubogu, U., Ezeador, C., & AKUJOBI, C. N. (2023). CEFTRIAXONE RESISTANCE IN TERTIARY HOSPITAL SOUTH EASTERN NIGERIA: A RETROSPECTIVE STUDY. Journal of Biomedical Investigation, 11(2), 159–168. Retrieved from https://journals.unizik.edu.ng/jbi/article/view/2541