ANTIMICROBIAL ACTIVITIES OF AQUEOUS EXTRACT OF RIPE ANNONA MURICATA LINN. (SOURSOP) FRUIT PULP ON CLINICAL ISOLATES
Keywords:
antimicrobial activity, Annona muricata, clinical isolates, aqueous extract
Abstract
Introduction: Antimicrobial resistance poses a great challenge and so is of great public health concern. Traditional healers employ a  variety of medicinal plants, including Annona muricata Linn., to treat infectious diseases, especially those caused by multidrug  resistant microorganisms.
Aim: To assess the antimicrobial properties of ripe Annona muricata Linn. fruit pulp against some clinical isolates.
Materials and Methods: Ripe Annona muricata Linn. fruit pulp, distilled water, and clinical isolates were used in this study. Annona  muricata fruits was obtained from Nnewi, Anambra State, Nigeria. The in-vitro antibacterial and anti-fungal activities of aqueous  extracts of ripe Annona muricata Linn. fruit pulp was determined using the agar disc diffusion technique. This investigation relied on use of both bacterial and fungal isolates. The organisms were collected from Nnamdi Azikiwe University Teaching Hospital Nnewi's stock culture. Cultures were transported to the laboratory by resuscitating them in peptone water, then sub culturing them into a nutrient agar medium and incubating them at 37oc for 24 hours. Data was presented using frequency counts.
Results: Aqueous extracts of ripe Annona muricata fruit pulp showed antibacterial and anti-fungal activity, with zones of inhibition diameter as large as 36mm for Staphylococcus aureus and 30mm for Proteus spp., Klebsiella spp. (33mm), Pseudomonas aeruginosa (20mm), E. coli (24mm), Candida albicans (30mm) and Aspergillus spp. (30mm) all demonstrated considerable susceptibility to the ripe Annona muricata Linn. fruit pulp extracts.
Conclusion: The study concluded that the aqueous extracts of ripe Annona muricata Linn. fruit pulp exhibited some antimicrobial activity to both clinical bacterial and fungal isolates, which may explain why it is used locally to treat diarrhoea and other illnesses.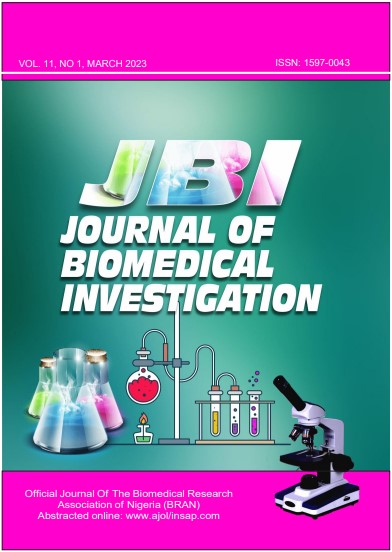 Downloads
How to Cite
OKEKE-NWOLISA, B. C., EGEONU, C. O., ENWEANI-NWOKELO, I. B., ANUKAM, K. C., & EYEGHRE, O. A. (2023). ANTIMICROBIAL ACTIVITIES OF AQUEOUS EXTRACT OF RIPE ANNONA MURICATA LINN. (SOURSOP) FRUIT PULP ON CLINICAL ISOLATES. Journal of Biomedical Investigation, 11(1), 1–8. Retrieved from https://journals.unizik.edu.ng/jbi/article/view/1984