TRANSFUSION TRANSMISSIBLE INFECTIONS AMONG BLOOD DONORS IN A TERTIARY HOSPITAL, SOUTHEAST NIGERIA: ANY CHANGE OVER TIME?
Keywords:
Blood donor type, changing trend, transfusion, transmissible infections, chemiluminescent, micro-particle, immunoassay
Abstract
Background: Transfusion-transmissible infections (TTIs) remains a global issue and great health concern. There is need for continuous monitoring, stringent donor testing and selection to ensure downward trend in the prevalence of TTIs and make progress in blood transfusion safety.
Aim: To evaluate the changing trend in prevalence of TTIs among blood donors in a Nigerian Tertiary Hospital.
Materials and Methods: This is a retrospective study of results of donor screening within the study period. Relevant data from the donor register were retrieved and entered into Excel spreadsheet after obtaining ethics clearance. These include demographics, donor type and chemiluminescent microparticle immunoassay results for human immunodeficiency virus (HIV), hepatitis B surface antigen (HBsAg), hepatitis C virus (HCV) and syphilis (venereal disease research laboratory). Statistical analysis was performed using STATA[1]20. Chi-square and regression analysis was used to test for associations and the level of significance was set at P-value < 0.05.
Results/Conclusion: A prevalence rate of 4.8% transfusion-transmissible infections was found amongst the blood donors with prevalence rate of 1.2% for HIV, 1.5% each for HCV and HBsAg, and 1.0% for Syphilis. The trend in prevalence of TTIs, donor type and other demographics remains unchanged in the. This can be attributed to the deep rooted beliefs, myth, cultural perception and practice of the locales.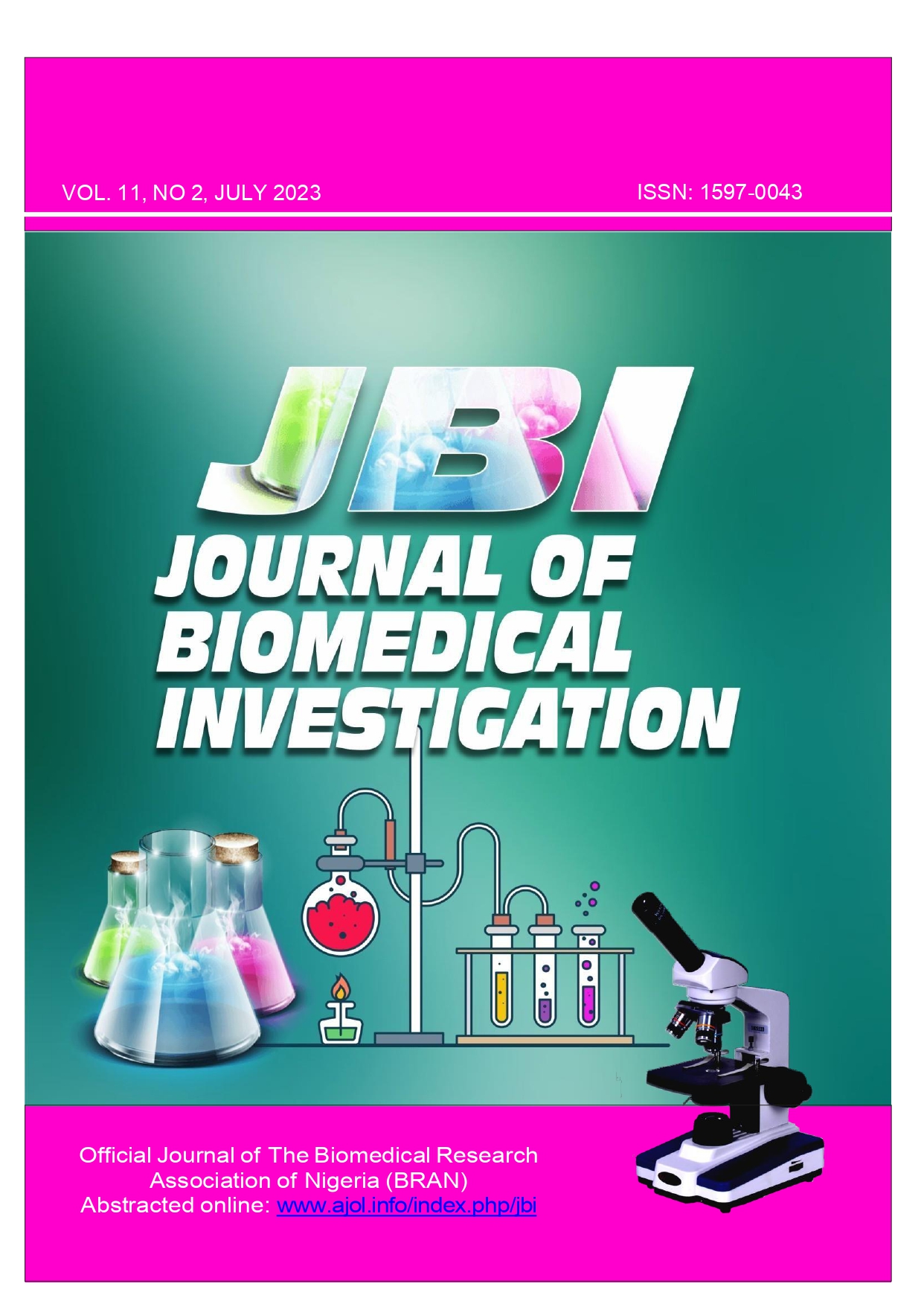 Downloads
How to Cite
Ajuba, I. C., Ushie, S. N., Nri-Ezedi, C., Onwurah, O., Nwankwo, I., & Ilokanuno, C. N. (2023). TRANSFUSION TRANSMISSIBLE INFECTIONS AMONG BLOOD DONORS IN A TERTIARY HOSPITAL, SOUTHEAST NIGERIA: ANY CHANGE OVER TIME?. Journal of Biomedical Investigation, 11(2), 128–141. Retrieved from https://journals.unizik.edu.ng/jbi/article/view/2539