SURVEY OF COMMON AEROBIC BACTERIA ASSOCIATED WITH WOUND INFECTIONS AMONG PATIENTS IN NNAMDI AZIKIWE UNIVERSITY TEACHING HOSPITAL (NAUTH), NNEWI, ANAMBRA STATE
Keywords:
Honey, Eusol, Cutaneous, Ulcer, Management
Abstract
The aerobic organisms associated with wound infections in Nnamdi Azikiwe University Teaching Hospital, Nnewi were ascertained. Two hundred wound swab samples from patients suspected to have wound infection were obtained. These samples were processed immediately in the microbiology laboratory using Blood, MacConkey and Nutrient agar plates. The result showed that 188 (94%) of the samples yielded growth and 12 (6%) yielded no growth. Of these, 146 (77.7%) were single microbial infections while 42 (22.3)% were due to poly microbial infections. The organisms isolated in order of frequency were: Staphylococcus aureus 75 (32.5%), Escherichia coli 60 (26%), Pseudomonas aeruginosa 49 (21.2%), Proteus spp19 (8.2%) and Streptococcus spp 3 (1.3%). The infection rate was least in children 0- lyear. This could probably be due to the high level of hygiene observed by the mothers as well as the high circulating antibodies. Broadly speaking, the prevalence of wound infection'can be reduced drastically if aseptic procedures are observed especially hand washing and sterilization as well as routine screening of healthcare providers for carriage of Staphylococcus aureus and those found to be carriers could be removed from the clinics/wards and relocated to offices where they would not be in contact with patients until properly treated.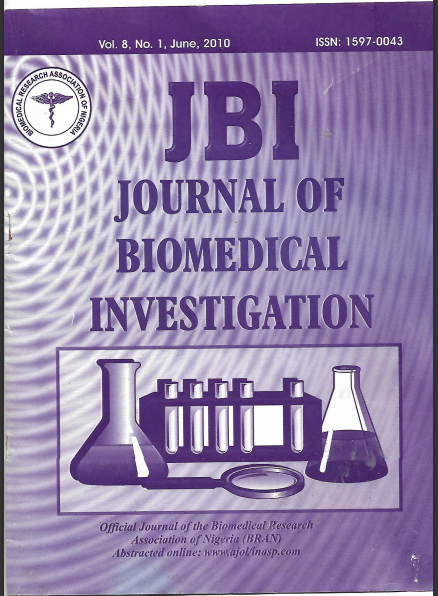 Downloads
How to Cite
AKUJOBI, C. N., Nlemadim, I. E., Ofodeme, C. N., & CHUKWUMA, G. O. (2010). SURVEY OF COMMON AEROBIC BACTERIA ASSOCIATED WITH WOUND INFECTIONS AMONG PATIENTS IN NNAMDI AZIKIWE UNIVERSITY TEACHING HOSPITAL (NAUTH), NNEWI, ANAMBRA STATE. Journal of Biomedical Investigation, 8(1), 1–4. Retrieved from https://journals.unizik.edu.ng/jbi/article/view/2121