EFFECTS OF BIOMASS COOKING FUELS ON THE RESPIRATORY HEALTH OF HOUSEHOLD MEMBERS IN ENUGU STATE, NIGERIA
Keywords:
Air pollution, biomass, smoke, cooking fuel, respiratory health
Abstract
Background of the Study: A large proportion of households rely on biomass fuels for cooking and space heating. Combustion of biomass fuels emit a mixture of health-damaging air pollutants capable of impacting negatively on the human health.
Aim of the Study: This study was carried out to ascertain the harmful effects which the use of biomass cooking fuels inflicts on the respiratory health of household members in Enugu State of Nigeria.
Materials and Methods: A multistage, stratified, and systematic random sampling was used in this cross-sectional study, which included 502 respondents from 232 households in 6 of Enugu State's 17 Local Government Areas (LGAs). A semi-structured questionnaire was used to collect information about respondents' socio-demographics, cooking fuel type, cooking apparatus/stove, and so on. Certified medical personnel observed and evaluated the respondents for nasal irritation and chronic obstructive pulmonary disease.
Results: Of the 502 participants in the study, 248 (49%) had respiratory health issues such as nasal irritation or chronic obstructive pulmonary diseases. Respiratory problems were more common among those who cook with biomass (48%) than those who cook with fossil fuels (0.8%). Compared to fossil fuels (liquefied petroleum gas and kerosene), 95% of the study population use biomass as the preferred cooking fuel, out of which 73% use unprocessed wood. The highest prevalence of respiratory health outcomes was observed among biomass users who cook with unprocessed wood (37.5%).
Conclusions: The findings of this study indicate a high reliance on biomass fuels, which may have resulted in a significant  manifestation of its effects on the population's respiratory health. This study clearly shows that those who use biomass cooking fuels have worse respiratory health outcomes. This implies that these biomass cooking fuels emit high levels of air pollutants, which are harmful to the respiratory health of the users.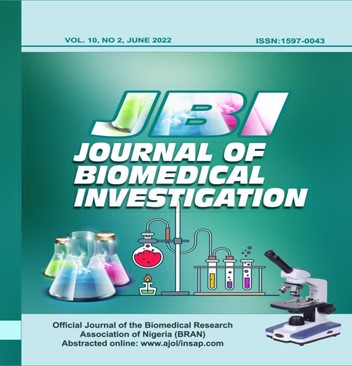 Downloads
How to Cite
Abonyi, I. C., Eze, P. M., Okorie, E. A., Umunnah, J. O., Asogwa, E. U., Abonyi, D. O., Ugwu, N. C., Aronu, C. N., Nwachukwu, M. C., Amadi, C. C. O., & Amadi, A. N. (2022). EFFECTS OF BIOMASS COOKING FUELS ON THE RESPIRATORY HEALTH OF HOUSEHOLD MEMBERS IN ENUGU STATE, NIGERIA. Journal of Biomedical Investigation, 10(2), 37–47. Retrieved from https://journals.unizik.edu.ng/index.php/jbi/article/view/1512