EFFECTS OF AEROBIC EXERCISES ON SELECTED ANTHROPOMETRIC CHARACTERISTICS OF PREGNANT WOMEN ATTENDING ANTENATAL CLINIC OF A NIGERIAN TEACHING HOSPITAL
Keywords:
Aerobic Exercise, Physical Fitness Parameters, Pregnant Women
Abstract
Background: A substantial number of women stop exercising when they discover they are pregnant, and only few begin participating in exercise activities during pregnancy. The adoption or continuation of a sedentary lifestyle during pregnancy may contribute to the development of certain disorders. In view of the global epidemic of sedentary behaviour and obesity-related pathology, prenatal physical activity was shown to be useful for the prevention and treatment of these conditions.
Aim: The aim of this study was to investigate the effect of aerobics on some physical fitness parameters of pregnant women attending the ante natal clinic of Rivers State University Teaching Hospital, Port Harcourt.
Methodology: Sixty-four pregnant women who completed the study were simply randomized into experimental (n=38) with age range 25 – 43years and control (n=26) with age range 19 – 41years; their pre-intervention values of hand grip strength, mid upper arm circumference and percentage body fat were taken and recorded. A ten week, three times weekly aerobic exercise (of 40– 45minutes duration) training was administered on the experimental group only. Post-intervention values was also taken from all participants and obtained data summarized using mean and standard deviations. Analysis of covariance was used to test the effects at 0.05 alpha level.
Results: Post-intervention Hand Grip Strength of the pregnant women was 35.87+4.09N (experimental group) and 23.62+4.09 N (for control). The mid upper arm circumference of the pregnant women in the experimental group changed from 29.15+2.85cm to 28.81+2.74cm, while that of the control group changed from 28.93+2.03cm to 29.35+2.06cm. The percentage body fat of the pregnant women in the experimental group increased from 39.06+10.44% to 41.80+10.30% and in the control group from 40.21+5.69% to 45.25+5.68%.
Conclusion: It was concluded that Aerobic Exercise Training improved the physical fitness status of the pregnant women in Rivers State University Teaching Hospital.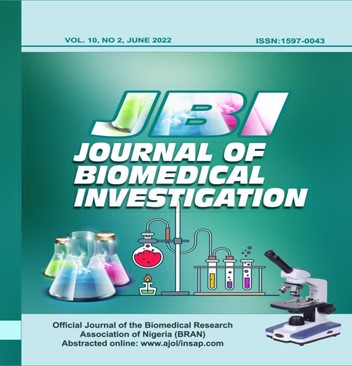 Downloads
How to Cite
Madume, A. K., Kua, P. L., Woko, C. N., Nonye-Enyindah, E. I., & Inyang, M. E. (2022). EFFECTS OF AEROBIC EXERCISES ON SELECTED ANTHROPOMETRIC CHARACTERISTICS OF PREGNANT WOMEN ATTENDING ANTENATAL CLINIC OF A NIGERIAN TEACHING HOSPITAL. Journal of Biomedical Investigation, 10(2), 62–74. Retrieved from https://journals.unizik.edu.ng/index.php/jbi/article/view/1523